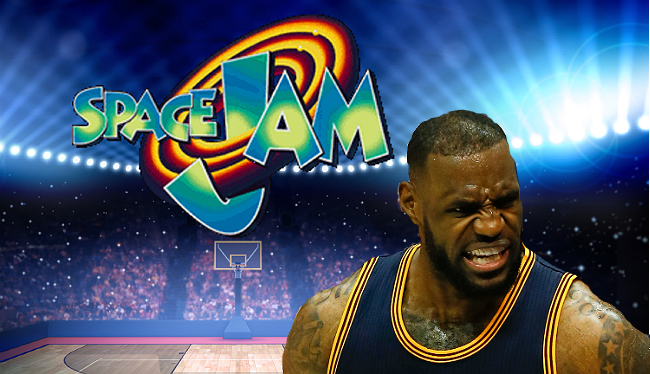 Space Jam director Joe Pytka never thought that the story of an NBA superstar teaming up with Bugs Bunny to play against aliens would work. "I thought the first Space Jam was a silly idea," he told Entertainment Weekly in a recent interview about the film's 20th anniversary. While the film still carries a ton of nostalgic appeal, Pytka admits that it isn't the greatest movie (something our old colleague Matt Ufford reminded everyone of this week), and he certainly doesn't think that LeBron James and Stephen Curry need to make a sequel.
Pytka even warned James and director Justin Lin in May, saying, "Don't do it. It's doomed." He explained that Michael Jordan was a one-of-a-kind star and the "perfect storm" of supporting players was simply better than today's stars. Jordan even admitted that James wouldn't be his choice. In this week's EW interview, Pytka doubled down on his assertion that James and Curry don't hold a candle to Air Jordan, and also revealed that James wasn't the first NBA star interested in taking on the Monstars.
A few years ago, Pytka says representatives for Atlanta Hawks center Dwight Howard approached him to helm a sequel. He turned down that overture due to his belief that a new film wouldn't work without the unprecedented global reach and appeal of the original production's star.

"I've worked with LeBron and I've worked with Steph Curry, and as good a player as LeBron is and as good a player as Steph Curry is, they're not Michael Jordan," he argues. "We will never see another player like him. He was a transcendent figure, much like Muhammad Ali. He was beyond his sport. These guys aren't." (Via Entertainment Weekly)
That's a pretty bold statement, and First Take, Pardon the Interruption, and Skip Bayless Shouts Over Shannon Sharpe could mine this topic for weeks. But Pytka finally admitted the real reason he doesn't want another Space Jam film:
"I don't want them to make it. That's probably the real reason, isn't it?"
Let's look at the bright side. At least it won't be Howard fighting off the aliens with his fart-powered basketballs. But since this sequel is inevitable, one thing definitely must happen: Tune Squad coach Master P.