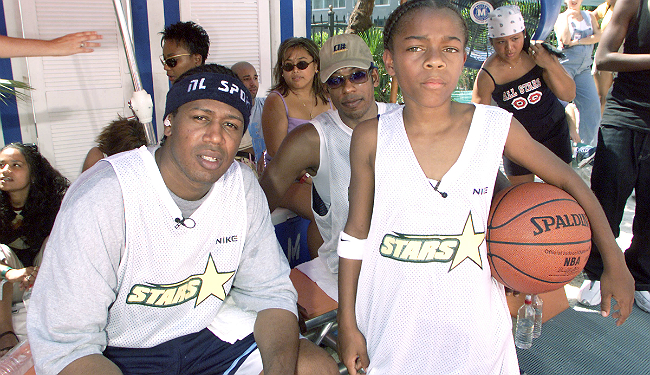 An entrepreneur until the day his gold tank storms the pearly gates, Master P is a man who never gives up. In fact, it's because of that ruthless business mentality that we'll always remember him more for his non-music ventures than his 14 studio albums (and countless collaborations), especially when it comes to his sports legacy. For starters, he negotiated arguably the worst contract in professional sports history as Ricky Williams' agent. And there was also that time that he and The No Limit Soldiers faced off against Curt Hennig's West Texas Rednecks. Truly WCW's finest moment.
Let's not forget the two contracts he signed to play in the NBA – the Hornets in '98 and Raptors in '99 – and especially the time he dropped 17 in the NBA's All-Star Weekend Celebrity Game. The guy can ball. That's why he told TMZ's Raq Rants that he's ready to get back into the NBA – as a coach.
On his time in the NBA: "To come from hip hop, to be able to be the last cut in the NBA, I don't know too many people who ever get that shot. It's a lot of hard work."

On his basketball league of 15 years and his ultimate goal: "Brandon Jennings, DeMar DeRozan, Lance Stephenson – all those guys are in the pros now, they came through my program, which is the P. Miller Ballers. I love being able to coach. My goal is to next be an NBA coach. I want to be the first hip hop artist to be an NBA coach, because of all this experience and knowledge I have."
This, of course, brings to mind the time that Bill Simmons wanted the Milwaukee Bucks to hire him as GM, and all of the Sports Guy's fans shouted, "Who says no to this!" While that never happened, this absolutely must happen. And it must be the struggling New Orleans Pelicans. He's a Louisiana man, promoting his "Louisiana Hot Sauce" mix tape and getting the Soldiers back together for a benefit concert at the NBA All-Star Weekend in New Orleans.
It's up to the Pelicans to save themselves by hiring Percy Miller to be their new coach. His daughter Cymphonique can perform the National Anthem. His oldest son Romeo can be GM, and his youngest child Mercy can suit up as King Cake Baby. It's the ultimate win-win-na-na-nanaaaaa.