Brian Grubb: Space Jam 2 is happening and the director of Fast Five is making it. That doesn't even sound real. It sounds more like one of those fake stories that gets legs on Facebook and then you end up having to debunk it to 10 to 15 people in real life. And yet, here we are. What an odd, magical time to be alive.
LeBron James is allegedly all but signed on to star, which is fine. He's the sensible choice from a basketball perspective, and he was surprisingly good in Trainwreck, so everything appears to be in order there.
But there is at least one other question here: If they're doing another Monstar lineup, which NBA stars will get space-lasered onto the team?
I'll tell you now, this is very important to me. I've ranted many times in many places about the roster of the original Monstars. It was a poorly constructed team. It had a point guard (Muggsy Bogues), two power forwards (Charles Barkley, Larry Johnson), and two centers (Patrick Ewing, Shawn Bradley). Where is the perimeter shooting? I will go to my grave believing that Mitch Richmond should have been a Monstar.
SO. Let's make a better team for this new version, equal parts talented and fun. We can do this. I trust us.
Martin Rickman: We've got to start at the point. That's the guy through which everything flows. You're never going to get the Muggsy – a small, super active, wonderfully bubbly person who was perfect for this role – but you can get others with just as much charisma and that je ne sais quoi that you're looking for.
Guys like Kyrie Irving, Damian Lillard, and Steph Curry are all fine and good, but I'm going with Russell Westbrook. He's got the style, the panache, the attitude, and the energy to be a great Monstar. Plus, the Monstars could use some triple doubles, anyway, right?
Brian Grubb: Russell Westbrook is basically a Monstar already, so this makes good enough sense to me.
Shooting guard is a lot of fun because we can go a few different ways. There's the obvious choices like Dwyane Wade and James Harden, and Wade might be fun because of his history with LeBron, but I'm going to throw something out here just to see if it sticks…
J.R. Smith
I feel like maybe this is the role he was meant to play.
Martin Rickman: "You trying to get the pipe?"
"No, Earl. I'm trying to save the world from these dang aliens."
[J.R. stares blankly]
So now we have to fill the small forward role. This one is tough, as there are lots of good options here. We could go Kevin Durant, but this seems lazy. Paul George might already have a future in broadcasting after he did sideline duty during the All-Star Celebrity Game this year, and he's a super likable dude. Carmelo is Bron's friend and might push to get the role. Kawhi Leonard might go the entire movie without saying a single word, which could make for some terrific comedic scenes.
But the clear cut answer here is Giannis Antetokounmpo. The Greek Freak is the perfect Monstar. He just is. He'll translate well to the animated world. And he can do pretty much anything. Try guarding him, puny Looney Tunes (or 2016 appropriate Looney Tunes substitute, I dunno, Vine stars or something).
Brian Grubb: So here's the problem: We are having too much fun. A lineup of Russ, J.R., and Giannis is almost recklessly enjoyable, but our squad needs structure. So sorry, perfectly good candidates Draymond Green and Kristaps Porzingis (filling the Shawn Bradley role of gangly white dude with boxy haircut), but our power forward needs years of experience and the kind of veteran playoff presence to battle LeBron in an intergalactic basketball game.
We need Tim Duncan. A Tim Duncan Monstar. It'll be worth it just to see him do full body convulsions when the laser zaps him. And to see Popovich as himself trying to figure out what's happening. POP IN SPACE JAM.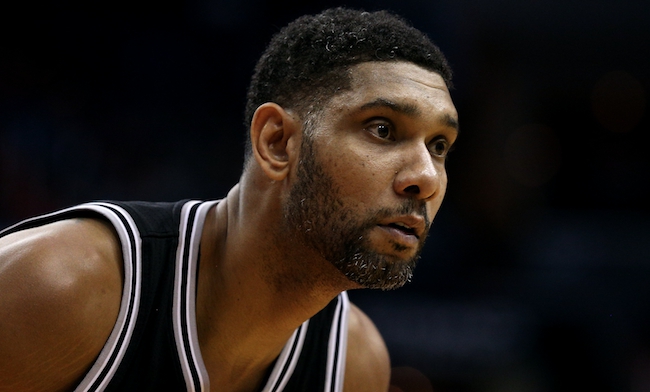 Martin Rickman: And the center position is simple. It's Anthony Davis. Why even have The Brow and rock it so unabashedly if you're not going to see it turned into a cartoon alien basketball playing monster? Am I wrong?
So our lineup is:
PG: Russell Westbrook
SG: J.R. Smith
SF: Giannis Antetokounmpo
PF: Tim Duncan
C: Anthony Davis
Are we missing something? You just know people are going to be mad at us. We could have made our Monstar starting five a bunch of ¯_(ツ)_/¯, and people would still jump right to the comments to tell us who their starting five is and how wrong we are and disrespectful to the original Space Jam we were.
Brian Grubb: P.S. Swackhammer played by live-action Sam Hinkie in heavy green prosthetics.
Martin Rickman: Hinkie Swackhammer is trading all his Monstars for future picks. Trust the Space Process!