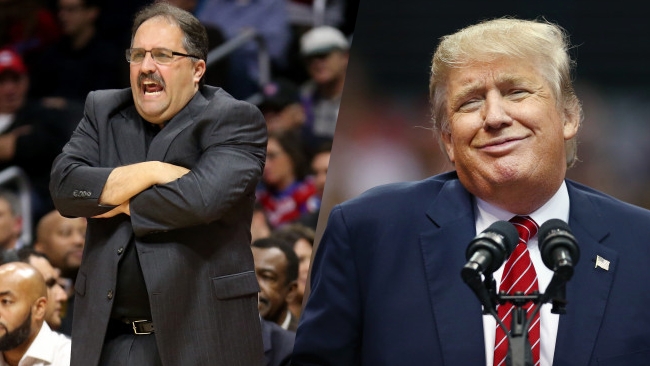 The disappointment and hot takes regarding Donald Trump being elected president are hardly limited to Hollywood's liberal elite. On Monday night, the Detroit Pistons visited the evil Los Angeles Clippers only to be humiliated in an 82-114 loss. Andre Drummond led the Pistons in scoring with just 15 points, while Chris Paul and J.J. Redick combined for 44 to improve to 6-1 on the season. The Pistons' problem, it turned out, wasn't about X's and O's or the Clippers being dirty floppers. Instead, it was about Donald Trump.
Detroit's backup center Aron Baynes reportedly told coach Stan Van Gundy that the team was distracted by Trump's campaign and the idea that the controversial billionaire and reality star might actually win. Obviously, much to the shock of the entertainment industry and delight of Jake Arrieta and Curt Schilling, Trump defeated Hillary Clinton.
Never one to keep his opinions to himself, Van Gundy unleashed on Trump to the press on Wednesday in a six-minute rant, according to the Detroit Free Press, and it's safe to say that if the Pistons win the NBA Championship next season, SVG might skip a White House visit.
Let's dust off some of our favorite GIFs for a good, old-fashioned popcorn party…
"I don't think anybody can deny this guy is openly and brazenly racist and misogynistic," Van Gundy said. "We have just thrown a good part of our population under the bus, and I have problems with thinking this is where we are as a country."

"It's just, we have said — and my daughters, the three of them — our society has said, 'No, we think you should be second-class citizens. We want you to be second-class citizens. And we embrace a guy who is openly misogynistic as our leader.' I don't know how we get past that."
"Martin Luther King said, 'The arc of the moral universe is long, but bends toward justice.' I would have believed in that for a long time, but not today. … What we have done to minorities … in this election is despicable. I'm having a hard time dealing with it. This isn't your normal candidate. I don't know even know if I have political differences with him. I don't even know what are his politics. I don't know, other than to build a wall and 'I hate people of color, and women are to be treated as sex objects and as servants to men.' I don't know how you get past that. I don't know how you walk into the booth and vote for that."

"It's embarrassing. I have been ashamed of a lot of things that have happened in this country, but I can't say I've ever been ashamed of our country until today. Until today. We all have to find our way to move forward, but that was — and I'm not even trying to make a political statement. To me, that's beyond politics."
"And then you read how he was embraced by conservative Christians. Evangelical Christians. I'm not a religious guy, but what the hell Bible are they reading? I'm dead serious. What Bible are you reading? And you're supposed to be — it's different. There are a lot of different groups we can be upset at. But you're Christians. You're supposed to be — at least you pride yourself on being the moral compass of our society. And you said, 'Yeah, the guy can talk about women like that. I'm fine with that.' He can disparage every ethnic group, and I'm fine with that."

"It's incredible. I don't know how you go about it, if you're a person of color today or a Latino. Because white society just said to you, again — not like we haven't forever — but again, and emphatically, that I don't think you deserve equality. We don't think you deserve respect. And the same with women. That's what we say today, as a country. We should be ashamed for what we stand for as the United States today."
Read the entire rant at the Detroit Free Press. It's worth it, although we are going to need a lot more hot buttery topping.