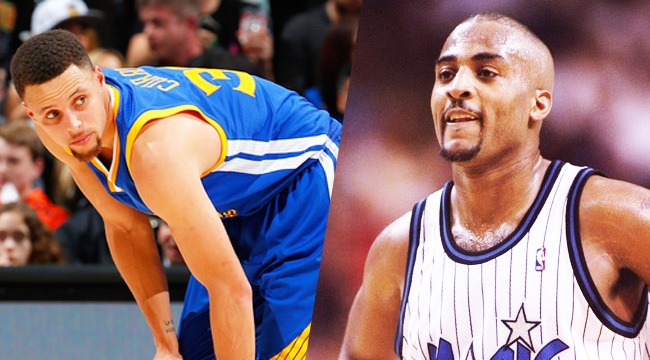 Dennis Scott knows what he's talking about. Even if the "3-D" character he plays on NBA TV seems buffoonish to you, the former Magic sharpshooter set an NBA record for three-pointers in 1996 with 269. The previous high, set just a year before, was John Starks at 217, and before that Dan Majerle set the record with 192. And Scott's high-water mark stayed as the record for 10 more seasons before Ray Allen overtook him, which offers Dennis a reprieve of sorts from anyone questioning his expertise. So when 3-D spoke up for Steph Curry on Tuesday, we didn't just dismiss what he was trying to preach as more of the same cantankerous doggerel best left to the Association's backwoods nursing home in Springfield. No, we actually thought we'd share it to continued our status as an NBA aggregation nerve center.
Former NBA players have been maligning Stephen Curry's historical season since around the All-Star break. Scott thinks, by way of CSN Bay Area's Monte Poole it's because "they couldn't do it."
He's right, of course, even if it sounds almost as defensive as Chuck, the Big O, and others. But no one can duplicate what Curry's doing, and perhaps that's the real problem.
Maybe everyone sounds rash when talking about Steph, on either side of the debate about his greatness? Certainly most of NBA Twitter does. His in-game dramatics lend themselves really well to embellishment. Hyperbole is normalized in the impulsive quagmire Twitter has created, and that's magnified to extraordinary degrees when people are watching actual history unfold in front of them. The lucidity of the moment, too, can lead all of us to go overboard. "Holy crap, I'm gonna tell my kids about what Steph just did," says a 20-something hoops fan who is still just trying to get laid. And that's where the former players step in to try and temper all the excitement.
NBA veterans just can't understand how a scrawny, 6-foot-3, 190-pound former Davidson guard can turn the entire Association on its head. They get LeBron, simply because of his size and agility. Even Durant makes sense, with that impossible length and the high release point on the wet jumper. Steph is a paradox, though, and we all fear what we don't understand.
We're just glad 3-D finally said something so at least one retired NBA player doesn't sound so obnoxiously out of touch with today's game.