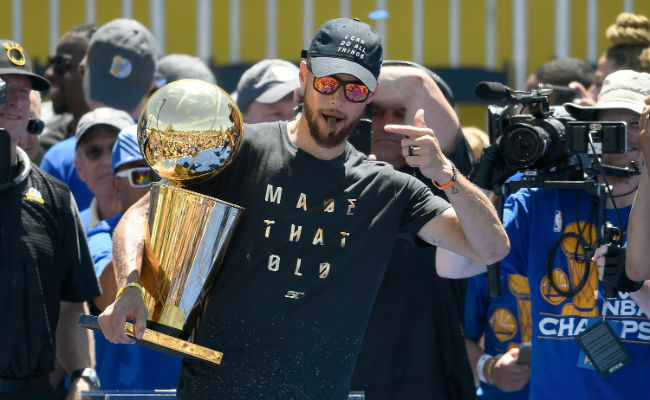 Stephen Curry says he wasn't mocking LeBron James when he mimicked him on the dance floor. In fact, he says it was something he did out of respect. Curry explained himself after video emerged of him dancing like James at Harrison Barnes' wedding, where Kyrie Irving happened to be. Irving, of course, has requested a trade out of Cleveland and away from James, making many wonder if the dance moves were another subtle swipe at James.
Curry is golfing in the Elle Mae Classic this week and spoke to reporters about his dance moves, which garnered considerable attention over the last few days. But Curry says him doing the same moves as James was not a swipe at the Cavaliers star, but a sign of respect.
"Obviously, I didn't know anyone was filming, so once I saw the video, I knew it was going to blow up," Curry said Tuesday while at the Web.com Ellie Mae Classic.

"It's not something, if you look at it through the keyhole of just that 20 seconds, you don't really understand what I'm doing. Ever since [LeBron] posted that first video, I've loved it because he made a song that maybe a lot of people wouldn't have know pretty popular just by doing that video. So he's got me doing that dance," Curry said.
It's believable enough, but until the Irving drama is settled in Cleveland, anything like this will be taken to mean something much larger than it actually is.