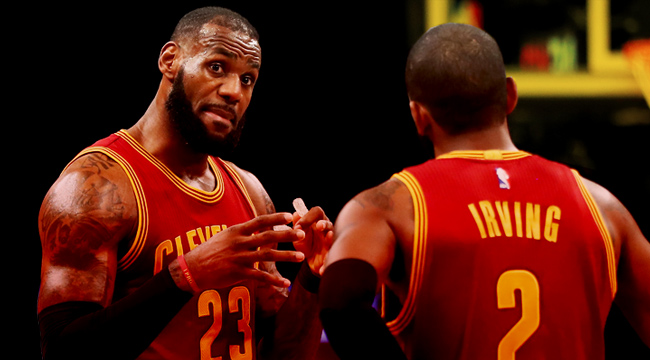 The entire NBA news cycle has been buoyed by the desires of one player in Cleveland and, in an interesting turn of events, the player is not LeBron James. Well, at least it isn't exactly about LeBron James.
Kyrie Irving requested a trade from the Cleveland Cavaliers and the team publicly acknowledged discussions of moving the All-Star point guard in a press conference that included both owner Dan Gilbert and new general manager Koby Altman. While many jumped to declaring Irving's request as a "demand" of sorts, reporting around the situation has overtly avoided the use of that particular description, lending credence to the thought process that simply because Irving wants a trade does not mean the Cavaliers actually have to grant him one.
Because the situation is complicated and, well, Irving is clearly unhappy alongside the best player on the planet, the Cavaliers should perform due diligence in extracting as much value as possible for him on the open market. With that said, Cleveland is in the rare position of a team that has a legitimate chance to win the 2018 NBA title (even in a Golden State Warriors world) and, in short, moving away from Irving and in another direction while remaining highly competitive is a difficult proposition.
Recouping full value for Irving would most easily be accomplished in a forward-facing move that would include young, cost-controlled players and/or the inclusion of draft compensation. With James on board at least for one additional season, though, that combination is likely less appetizing for the Cavaliers, simply because keeping their centerpiece in Cleveland (and not Los Angeles) for 2018 and beyond requires full commitment to the pursuit of titles. That brings about the question of whether the Cavaliers can simultaneously move Irving and remain as good, or even improve, on the floor in the immediate timeframe.
In a perfect world, this seems plausible. Irving has definitive flaws in that his defensive effort is inconsistent at best (and horrific at worst), creating real issues in both regular season and playoff situations. Offensively, he is a dynamic shot creator with arguably the league's best handle and very few players in the NBA are better at converting "bad" shots in an efficient manner than Irving. Still, his regular season performance leaves plenty to be desired as an A-list superstar and that can be taxing, even for a team and a franchise so singularly focused on the pursuit of titles.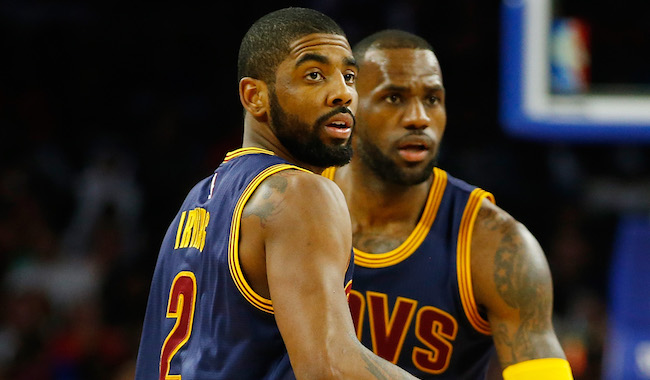 With that as the backdrop, packaging Irving for a combination of proven, malleable pieces could have considerable appeal. James is an incredible facilitator and, more so than any current player, makes teammates better with his vision, gravity and overall impact. As such, the Cavaliers, at least on paper, would not need a ball-dominant player in Irving's mold on the floor, especially if the team could deploy an off-ball offensive player that could defend point guards at a high level on the other end.
In fact, the "surround LeBron with shooters" mantra has been executed with second units in Cleveland for a while and the results have been breathtaking at times.
James, though, isn't getting any younger and, while he is absolutely incredible, the ceiling of this Cavaliers team is raised by Irving's ability to explode. At his age and odometer reading, it would likely be unwise for Cleveland to ask LeBron to take on a full-time workload as a creator and on-ball force and, frankly, the presence of Derrick Rose won't (or at least shouldn't) be a reason to believe the team will avoid it in a post-Irving world.
Throw in the fact that Irving's offensive firepower is one of the (very) few reasons that Cleveland was able to bridge the gap, at least at times, with Golden State in recent years and the conundrum arrives.


Is there really a scenario in which the Cavaliers move Irving and actually have a better chance to defeat the Warriors in June? It seems far-fetched. Yes, the issues outlined above are real and, as we could see in the very near future, there are real concerns about Irving as the guy instead of the other guy next to LeBron James.
At the same time, it takes a lightning-in-the-bottle scenario for any team in the NBA to withstand the charge of a full-strength Warriors team and it would be difficult to compile a better remedy than that of the possibility that James and Irving could combine for 80 points on a given evening.
There is, of course, the issue of personality and, on the outside, it is one that can't fully be answered. At this point, it is conceivable that the Irving-James-Cavaliers relationship has deteriorated to the point where a trade may be on the only option and that has to be stated for the record. However, the potential that all parties could come to some sort of truce for a calendar year does not seem terribly far-fetched, especially in light of reporting around the situation and how Irving has been reeled in previously.
Ramona Shelburne, Dave McMenamin and Brian Windhorst of ESPN bring word.
Over the previous few months, the Cavs had been worried about Irving's mindset. They knew at times he'd grown unhappy with playing a secondary role on the team. Griffin had several conversations with Irving throughout the year, sources said, trying to find ways to improve the situation. But Irving had become irritated before, the side effects of James' greatness — and largesse — wearing on him. The Cavs had been able to navigate it, and they hoped to again.
Part of the respect level garnered by previous GM David Griffin was with regard to the management of personalities, chiefly with that of James and Irving, around the organization. Griffin is gone and that matters but, if James and/or Irving begin to see the light in realizing that the best way forward on a one-season is together and not apart, a bond could be recreated.
It is, candidly, a lot of fun to consider scenarios with Kyrie Irving captaining his own team with free rein offensively and the ability to put together scoring exhibitions that would entertain the basketball world. On the flip side, it is equally riveting to ponder LeBron James being supported by defense-first, shooting-capable lineups that would allow him to unleash his full force one more time in an "Alpha Dog" manner without a defined No. 2 option.
At the end of the day, though, Cleveland's safest and, by extension best, route for the 2017-2018 season involves Kyrie Irving in a Cavaliers jersey if peace can be brokered.