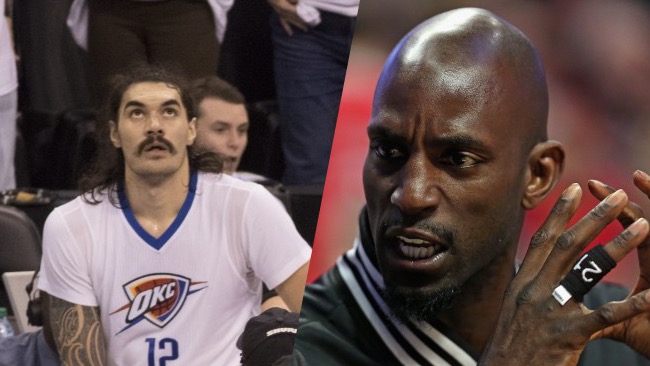 Kevin Garnett's retirement is opening up a whole can of wonderful stories about the soon-to-be Hall of Famer's trash-talking skills. Everyone wants to hear the words he's used to annihilate other men's souls on the basketball court. Everyone wants to know how wild he was off of it, too.
One current NBA player, though, found something few other KG foes could: a way to avoid the big man's razor tongue. Watch as Thunder center Steven Adams explains how he convinced Garnett he couldn't speak English, in order to get him out of his ear with all those poisonous barbs:
Steven Adams said Kevin Garnett stopped trash talking him because Adams convinced him he couldn't speak English. pic.twitter.com/ZIWmzAWkMx

— Fred Katz (@FredKatz) September 25, 2016
Funny story, but of course Adams pays his reverence as well, noting how Garnett's communicative skills were not just all about saying stuff that makes opponents feel rotten. He was also able to act as an energetic, motivating nucleus for all of his rosters, forcing teammates to defend with rare passion and five-man harmony.
It's that intangible element that Garnett's closest followers were remember most. A towering competitor who could vacillate freely between the smooth and the brash, the Big Ticket was undeniably a peak athlete in the NBA, but it was his personality that drove his teams to excellence. Such conductors of men simply do not exist very often.
But that wasn't the only interesting question Adams was asked on Oklahoma City's media day. NBA refs have been asked to crack down on the "unnatural acts" that's really ambiguously worded code for the sort of nut-punching Adams experienced firsthand against Golden State's Draymond Green in their Western Conference final this past season. When Adams was asked about it, he said he first thought it was a joke.
Steven Adams on "the Draymond Green rule," where the league will look at "unnatural acts" like, kicking: pic.twitter.com/sGbjytkWBL

— Royce Young (@royceyoung) September 25, 2016
"It's such a bizarre thing" Adams says. "Helped me out a lot I think."
Steven Adams remains the best.