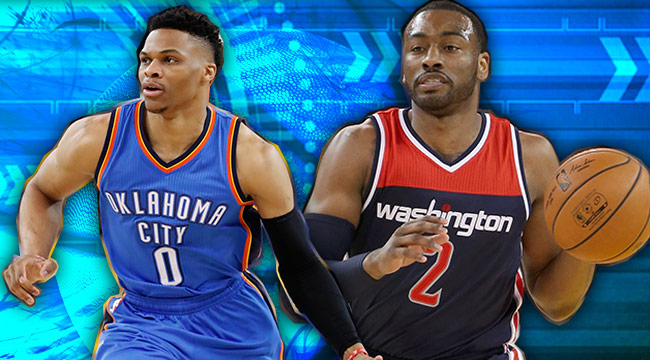 In the NBA, speed is a prize and virtue for the large, and an absolute necessity for the small. This list, while less than completely scientific, adheres largely to that truth. A more quantified ranking — where we compile 40-yard dash times, or something of the like — would probably be a boring collection of point guards, some of whom you've never heard of and have no reason to hear of. Forwards have made our list, though, which takes into consideration the effect of a player's speed on the game, how they use it, and whether it makes them any better.
This isn't empirical, it's a compilation relying almost exclusively on the eye test. Who scoots past defenders with relative ease? Who is never chased down to get blocked from behind? You get the idea. There are going to be some omissions and some guys that make you scratch your head. So here are the 15 fastest players in the NBA right now, ranked. As always, please let us know who you think should have been included, and who we should take off this list.
15. Tyler Ulis
As an incoming rookie for the Phoenix Suns, Ulis has to earn a higher spot. But the 5-foot-9 Kentucky alum made a lot of front offices slap their foreheads in dismay at Summer League, darting around the court with hyper-intelligent conviction, while disrupting opponents and making plays before anyone else saw them develop. The second-round draft pick's career could be a symposium in just how many size disadvantages can be made up for with speed.
14. Avery Bradley
Bradley's ceaseless hustle on defense is a huge part of what makes his Boston Celtics such a groan-inducing matchup for opponents. He's extremely hard to get away from, and also helps his team push the ball back to the other end in exhausting fashion. He'll often guard a guy full court, a tactic hardly ever employed during the grind of an 82-game regular season. He's quick enough to get away with it, though, and fast enough to recover if he does get beat.
13. Andre Roberson
Perhaps no player was discussed for his lack of three-point shooting touch as much as Roberson was in the 2016 playoffs. With a menacing full-court presence and series of devastating cuts to the rim to break down defenses, though, the lengthy Andre provided the athletic, speed-heavy blueprint for how to make up for lack of range shooting in the modern game.
12. Jeff Teague
The current Indiana Pacers point guard was a huge part of the Atlanta Hawks' floor-spreading vision over the past two renaissance seasons, particularly the 2014-15 campaign that saw the Hawks clinch the No. 1 seed, send four players to the All-Star game and make it to the Conference Finals. Seemingly every swing of the ball depended on his ability to get quickly toward the rim so to begin the set of chain-reaction passes that led to open shots.
11. Elfrid Payton
Payton is another example of a player who has to be fast. Lacking a shooting touch, he and his crazy hair close the gap by getting after every play like a scrappy bullet train. Among guys who played at least 70 games last season, Payton and that glorious hair had one of the fastest average speeds in the NBA, per tracking data. Payton is No. 2 in average defensive speed among those players appearing in at least 70 games, too.
10. Victor Oladipo
Leaving Payton and the Magic for what could be the fastest team in the league, with Roberson and the Thunder, Oladipo's speed should be maximized by the perpetually pace-pushing Russell Westbrook, and the ensuing dunks will be manna for OKC fans. Dipo is a bulkier guard than you might realize if you've never seen him in person, with wide shoulders and an imposing torso, like a bulkier Dwyane Wade, but he's a great on-ball defender (his speed on defense is faster than most, too), and his best game is still about explosiveness and speed.
9. Dennis Schroder
Taking Teague's pace in Atlanta is a younger, quicker version of him in many ways, but also a point guard with a flair for the artisanal who Hawks optimists hope doesn't break too far out of the lines drawn by coach Mike Budenholzer. The German guard is steadily improving his jumper, but it's his forays into the paint, and anticipatory lunges for steals that show off his quickness and tempo. The Hawks better hope his speed can be sustained as a starter, now.
8. Ronnie Price
Price is a perfect example of a player who needs his speed. The 33-year-old, who last played for the Suns, has long depended on it for fringe roles in the league. Currently, he lacks one.
7. Kyrie Irving
Kyrie is extremely fast, but what's more important are the ways that he is fast. Irving knows just when to stop, start again, stop again, spin, and blow by you at the moment he's made you weak with his trickery. He's also deceptively fast, rather than just quick. He can tear down the court as rapidly as some of the other top guys on this list, but it's his change-of-speed and otherworldly handle that makes him an All-Star and one of the best point guards in the Association.
6. Ish Smith
Ish Smith's speed gave the sad Philadelphia 76ers an offensive boost, creating a short period of broke man's glory last season that gave Philly's fans something to watch. He was third in average speed among players who appeared in at least 70 games last season, and while his low profile means he's not going to ever pop into anyone's head when they think of the fastest players, he does pop when you watch him act as a blur on the court.
5. LeBron James
James has lost a step, but proved with his iconic block of Andre Iguodala in the Finals that he can always reach back and hit his full gait when necessary, and remind you that he's a point guard trapped in Karl Malone's body. He's so big and fast that when he turns on the afterburners, his legs are churning almost as fast a player six inches shorter and 50 pounds lighter, but his stride is substantially larger. He's a big body that covers a huge amount of space in a short period of time. That's why he's our highest non-guard on this list; he's a freak, in the best sense of the term — even after logging over 38,000 minutes in the regular season over a 12-year career.
4. Derrick Rose
Much is made of Rose's physical decline after so many leg injuries, and there's no doubting that he isn't the full-court terror that he used to be. Closer observers know, though, that he can still blow by entire defenses, and that style and mindset are larger hurdles for him than speed, which he has still has in reserve. Madison Square Garden denizens will get an opportunity to see this up close next season.
3. Eric Bledsoe
After missing much of 2015-16 following the third big knee injury of his career, one hopes that Bledsoe can get back to his previous speeds. He was a terror as a backup for Chris Paul in Los Angeles, and despite reservations from many league observers, Phoenix got a gem as a lead guard — when he can stay healthy. For now, we'll consider him as fast as he was when we last saw him.
2. John Wall
John Wall's use of speed has led to him becoming the unlikely lead creator in a certain highlight category: chase-down blocks. Every time Wall kills a fast break at the last possible second, it gives hope to undersized athletes everywhere. Except, Wall isn't undersized, and his speed isn't limited to defense, either.
1. Russell Westbrook
Westbrook's speed is the most potent drug in the league. When he gets a defensive rebound and pushes the ball back the other way for a one-man, rim-to-rim fast break, before any of the opposition has the time to react, it's the most exciting play in basketball. No one gets the heart beating faster on the fast break, and no man inspires more fear in opponents. He's a one-man open floor wrecking crew, and he just got the reins to his first team ever when KD left. Expect even more on-court detonations.