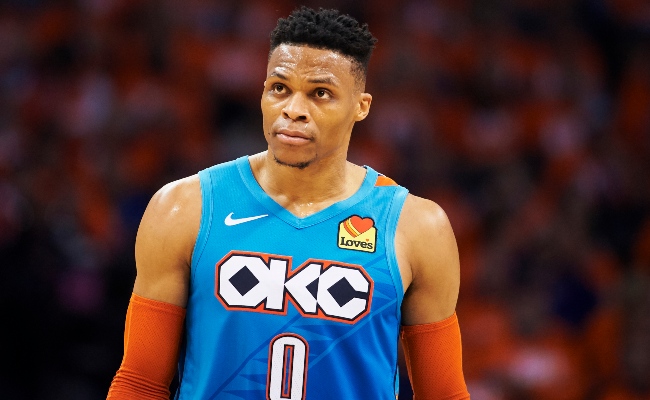 It's baffling to think that, coming off his third straight year of averaging a triple double, a feat most hoops pundits thought might never be replicated, that we're witnessing the decline of Russell Westbrook. Yet, after a brutal shooting performance in their first-round loss to the Blazers, and a tough season efficiency-wise all across the board, it's possible he's already crested the peak.
Paul George could seemingly read the writing on the wall, and despite signing an extension with OKC last summer, he jumped at the opportunity to team up with Kawhi Leonard in his hometown of Los Angeles. That development, of course, is what prompted the Thunder to move quickly on trading Westbrook to the Rockets in exchange for Chris Paul.
As tough a pill as that was to swallow, particularly for Thunder fans, the organization had apparently already been envisioning a future that did not include their former league MVP. In fact, according to a recent report, the front office was already considering putting Westbrook on the trade block as soon as next summer prior to George's request.
Via Howard Beck of Bleacher Report:
The clock was already ticking loudly on the Westbrook era, with team officials quietly preparing to hit the reset button next summer, per sources, after one more run. George's surprise trade request simply accelerated the process—and freed the Thunder to make the moves they knew were overdue for a team that couldn't win a playoff series.
The franchise did an incredible job of future-scaping amid a difficult situation, bringing back an enormous haul of assets this summer that should set them up nicely for a full-fledged rebuild. Of course, there's still the question of Paul, who will clearly want to join a contender at this stage of his career but whose contract will remain a huge sticking point on negotiations.
Westbrook's unwavering loyalty to the Thunder, in light of Kevin Durant's exit, has long endeared him to the fanbase in OKC, and there was hope he might accomplish the increasingly rare feat of remaining with the team that drafted him for his entire career. But with seismic shifts happening around the league, particularly in the West, neither players nor their teams can afford to be complacent if they want to stay relevant.