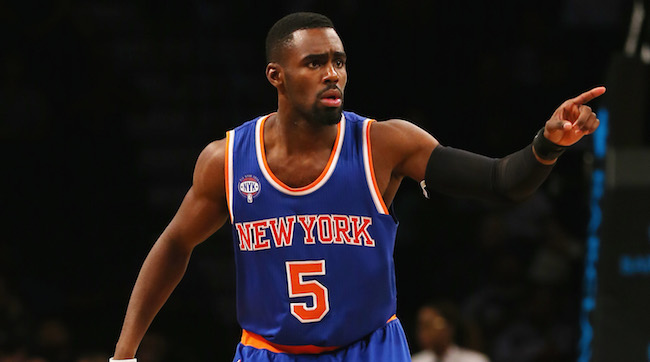 Even with Phil Jackson air-drying his toes in exile somewhere in rural Montana, the specter of his disastrous tenure in New York still haunts the franchise to this day. Case in point: the Knicks pulled one of the biggest head-scratchers of the offseason when they elected to bring back Tim Hardaway Jr. on an exorbitant four-year, $71 million deal.
The Knicks, of course, had given up on their former lottery pick and sent him to Atlanta just two years into his young career in the summer of 2015 in exchange for Jerian Grant. Now, after luring him away from the Hawks in free agency, Hardaway enters the 2017-2018 season with unavoidable – if not unfair – expectations attached.
Going in, it seemed unlikely he'd be able to meet those expectations, and the early returns aren't looking terribly promising. It's a reality Hardaway is keenly aware of, and the 25-year-old shooting guard didn't mince words when evaluating his own sub-par performance after opening week.
"I'm not playing the way I wanted to play and it [stinks]," Hardaway said. "You've got to move on, get back in the gym and work. My teammates have my back. They're giving me confidence each and every day so I go out there and play."

***

"When the ball's in my mind and I feel like I have daylight I feel like it's leaving my hand really good, just like it did in preseason. It's just either too long or too short, but they're all on line. And some rattle in, some rattle out. But I'm not going to stop shooting, keep on shooting the ball. That's what I'm here for, that's what I do."
Hardaway is averaging a paltry 9.3 ppg and is shooting a positively abysmal 24.3 percent from the field, including 22.7 percent from downtown.
The good news is that it's still early, but Hardaway will need to get back on track soon if he wants to prove that his pairing with newly-crowned franchise cornerstone Kristaps Porzingis has any chance of working out in the long term.
(Newsday)