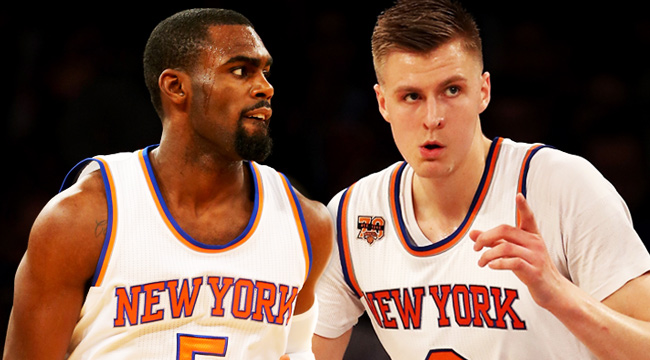 When viewing things through the warped prism that is the New York Knicks organization, it is sometimes difficult to judge what should and shouldn't come as a "surprise." Was it really that shocking when young Kristaps Porzingis became so frustrated with the current regime that he skipped last season's exit interview…or that Phil Jackson grew so drunk off his own legend that he threatened to trade the Knicks' best homegrown prospect in 30 years, leading to his own dismissal…or that Carmelo Anthony, having finally outlasted his tormentor Jackson, only then called for a trade out of New York?
These are the Knicks, bruh. The 2016-17 season featured Derrick Rose going AWOL during a game and franchise legend Charles Oakley getting arrested courtside during another. Compared to that, the offseason was relatively smooth.
But even the most imaginative MSG observer couldn't have imagined that the Knicks would bring back prodigal son Tim Hardaway Jr. with a whopping four-year, $71 million deal. Hardaway, the former Knicks first-round pick, was traded for Jerian Grant in a 2015 draft-night deal that coincidentally happened the same evening the Knicks drafted Porzingis. Sure, Tim had rebuilt his value with a strong 2016-17 campaign with the Hawks, but Atlanta didn't even bother to match the Knicks' bid on their restricted free agent. It was at the time — and remains to this day — a bizarre move, even by Knicks standards.
Regardless of how one feels about the contract handed out to Hardaway, what's done is done. What remains now is the question of what the 25-year-old shooting guard can do to help the Knicks. And when I say "Knicks," I'm referring almost exclusively to Kristaps Porzingis, the franchise's crown jewel. Hardaway and Porzingis passed by like ships in the night in 2015, but now they are inextricably tied to one another for the next few years.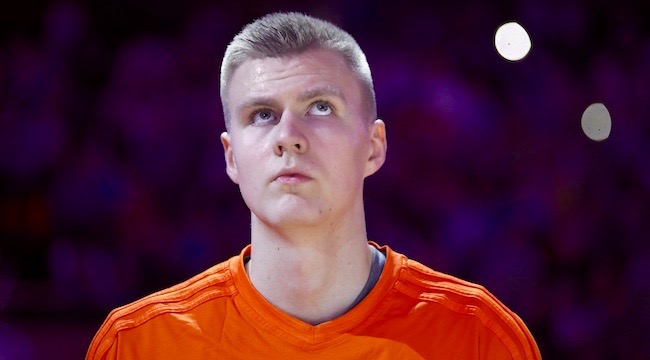 The Latvian Unicorn didn't receive much help from any of his teammates in Thursday night's season-opening loss to the Thunder, and that includes Hardaway, who was mired in early foul trouble and finished with a mere eight points on 3-of-10 shooting. Porzingis was a one-man show in OKC, dropping 31 of the Knicks' 84 points.
Still, it was easy to see why Hardaway will be important to Porzingis, who struggled to get his shot off in the second half as the Thunder's defense closed in around him. The Knicks need perimeter scoring to take some of the pressure off their 7'3 big man, and despite his opening night dud, the scion of Tim Hardaway is just coming into his own as a getter of buckets.
Hardaway was one of the better scoring shooting guards in the league last season after Jan. 1, dropping 16.9 points per game on a tidy 47.0 percent shooting (38.8 percent from deep). He developed a knack for going off against big-time opponents, such as this 29-point game against the Spurs, or this 36-point explosion against the Cavs, or this 23-point fourth quarter against the Rockets.
The former Hawks scorer actually picked up his scoring for the Knicks in the preseason, averaging 17.8 points on 50.7 percent shooting (43.2 percent from three) for a team that didn't have Porzingis in the lineup most of the time. With Porzingis just coming back from a hip injury which cost him the last few games of the preseason, perhaps it should come as no surprise that the two of them failed to click in the opener.


But make no mistake: Hardaway's game is in many respects tailor-made to bring out the best in Porzingis's offense. He may not be close to the kind of scorer as Porzingis's former partner-in-crime, Carmelo Anthony, but he also doesn't possess Melo's stifling habit of gluing himself to his favorite spot on the elbow. An offense featuring Porzingis and Hardaway should be much more free-flowing … if head coach Jeff Hornacek knows what he's doing, that is.
One of the more frustrating facets of the Kristaps Porzingis Experience is the Knicks' utter inability to take advantage of a kid who can run faster than pretty much any 7'3" human being on the planet. Hornacek's Knicks finished 17th in the league in pace despite the fact that the offense was helmed by the still-extremely-fast Derrick Rose. The Knicks haven't played fast since the Mike D'Antoni days, and in truth that slow-'em-down philosophy had a great deal to do with Melo, who prefers to take his time and savor his jab-steps.
Hardaway loves to get out and run — it is probably his finest asset as an offensive player. The Hawks finished 10th in the NBA in pace last season, and nobody in the ATL ran harder than young Timmy. Atlanta played 2.1 possessions faster with Hardaway on the court, by far the highest number of any Hawks regular.
How can a shooting guard help a team play so much faster? Hardaway Jr. may not be the passer his legendary father was — he'll never put up big assist numbers — but he is very good at always moving the ball forward in transition, a habit that he continued for the Knicks in preseason.

The Knicks still may not have a point guard capable of running a fast break, but they do at least have a guard who excels at getting the ball to any teammate running ahead of the pack. If New York can actually dedicate themselves to running, the Hardaway/Porzingis fast break could be deadly, producing highlight dunks on a nightly basis.
Things never seem to work out the way they're planned at MSG, and one of the main reasons for that is that the Knicks have employed some God-awful planners over the years. Paying Tim Hardaway Jr. $71 million was probably not a good plan. But that doesn't mean combining the skill sets of Hardaway and Porzingis is doomed to fail. The rapport that could form between these two supreme athletes could become one of the more low-key intriguing aspects of what, on the surface at least, appears to be another lost season in New York.