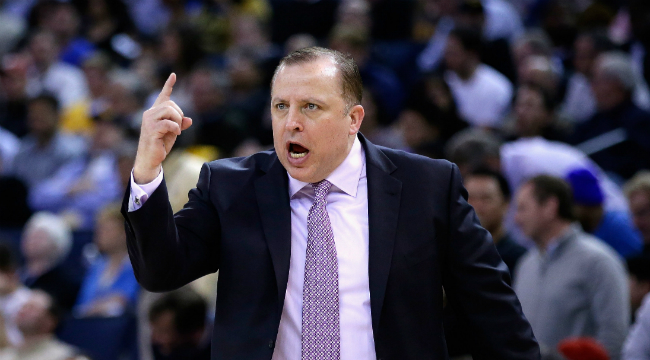 Minnesota Timberwolves Head Coach Tom Thibodeau is a wonderful, unhappy, beautiful man. The NBA is exponentially more entertaining with his exhausting coaching style and crippling misery. The Timberwolves have a lot going for them as we head into the 2017-18 NBA regular season, though. They've got a fantastic young core, and landed veterans Jimmy Butler, Jeff Teague, and Taj Gibson this summer with the intent of making a real push for the playoffs. They look competitive on paper, but don't you dare give that paper to Thibodeau.
The Wolves sit at 2-1 in preseason play, not that records have any significants whatsoever at the moment. More importantly, the Wolves have looked pretty good thus far. Again, it's only preseason, but they beat the Warriors in China. Maybe that counts for something? If you thought practicing and playing in China would force Thibodeau to change his approach, you'd be sorely mistaken.
"Thibodeau, who holds the dual road of head coach and president of basketball operations, has lived up to his reputation as a hard-driving taskmaster since the team arrived in Shenzhen on Oct. 1. Jet-lag be darned, practices have been long and arduous. The Timberwolves, who play their third and final preseason game on Sunday against the Golden State Warriors before heading home, open the regular season at San Antonio on Oct. 18."
Andrew Wiggins added "You get used to it. You know he wants what he wants, and that's what he wants to see. He wants hard work, long practices."
In case there was any doubt, Tom Thibodeau wants to win, and he wants to win now. For once, this isn't just Thibs being Thibs. The Wolves have the pieces in place to compete. It's time.
You can consider this a direct message to the likes of Karl-Anthony Towns, Andrew Wiggins, Shabazz Muhammed, Gorgui Dieng, Tyus Jones, and the rest of the Timberwolves' kids. Gone are the days of rookie mistakes and stat padding. Gone are the days of player-development-over-wins minutes distribution. Either you're helping the team win games, or you're riding the bench.
With any Tom Thibodeau team, you run the risk of burning your players out before you can even reach your destination. Here's to that not happening to the Timberwolves this season. They've got a fun roster with a psychotic head coach, and those are the ingredients for a fun first-round playoff series. We're rooting for you, Thibs.
If you're looking for a progress report on where the Timberwolves are at this very moment, Thibodeau gave you exactly that by revealing something we should have known already.
Never change, Tom Thibodeau.