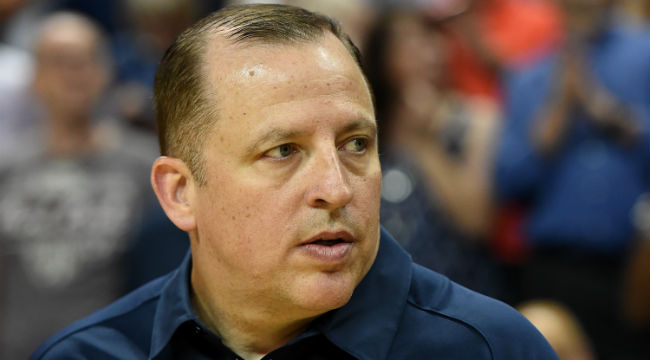 USA basketball passed its first test at the 2016 Olympics with flying colors. Behind a huge game from Kevin Durant, the Americans manhandled China, 119-62. It's sort of cliche to say something like this, but the game wasn't as close as the score indicated, which is impressive, because the Americans won by 57 points.
But of course, because basketball coaches are basketball coaches, they will always try to find areas where the team can improve if the USA wants to win a gold medal. Take, for instance, American assistant and new Timberwolves coach Tom Thibodeau, who said this about the national team's defense:
"Every night you want the bar set high," Thibodeau said. "So there's a lot of things we did well, but I'm sure there are things that we could do a little bit better. And that's what we want to keep our focus on."

When a helpful reporter followed up by suggesting that the Americans had to have registered at least an "8 and a half" with the way they tormented China in a 119-62 rout, Thibodeau shot back: "I wish I had a professor in school like you."

So as we all know, the standard that Thibodeau is setting is completely insane, but in a good way. China's 62 points were really low, sure, but they also shot 36 percent from the field and committed 24 turnovers. Additionally, outside of the team's leading scorer – ex-NBA first-round pick Yi Jianlian, who had 25 points – no one had more than seven points. It was a stifling performance by the Americans, but Thibodeau knows more about defense than just about anyone, so if he thinks there are things that the team could have done better, he's probably right.
Keep Venezuela's basketball team in your thoughts and prayers, because they play the USA next, and if Thibodeau has his way, they won't score more than 20 points. That game will take place on Monday, and it will tip off at 6 p.m. EST on NBCSN.
(via ESPN)