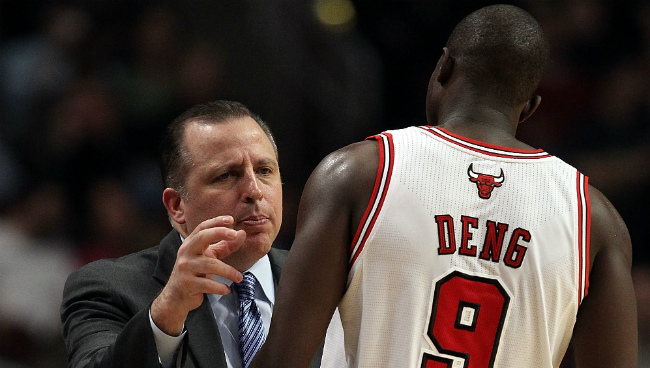 Think back to 2011. That was a fun time, right? The world wasn't as blatant of a burning hellscape as it is now (it still was a burning hellscape, mind you, we were all just better at ignoring it), everyone wasn't horribly irony-poisoned from spending all of their time on the internet arguing with their extended family about whether basic human rights are good, and the Chicago Bulls were 62-20 under the guidance of first-year head coach Tom Thibodeau.
It was a good time for Thibs, a longtime assistant and defensive ace who finally got his shot to show what he could do leading a team. In response, the Bulls went 62-20 and Derrick Rose won the league's MVP award. Since then, things have gotten kind of weird for Thibodeau — the Bulls fired him after the 2014-15 season, when tensions between the two sides boiled over. He's now in Minnesota, leading a Timberwolves team that is talented but features rumblings of internal strife.
But as is the case with many of us as we inch closer and closer to the crushing finality of death, we look back on the best moments of our lives and long for them. The difference is not all of us can bring them back, but Thibs — in addition to being the Wolves' coach — is the team's president of basketball operations, and baby, he has the ability to pull off stuff like this.

Shams Charinia reported later in the afternoon that, indeed, the Timberwolves and Deng's people would get together to discuss a potential deal to join Thibs in Minnesota.
This, objectively, rules. Deng's tenure with the Los Angeles Lakers came to an end over the weekend, as the two sides finally agreed to a buyout to lead to Deng hitting the open market. While he didn't see the floor all that much in L.A., Deng was awesome for the Bulls at his peak — he was a two-time All-Star and a legitimate two-way threat who also led the league in minutes per game in back-to-back seasons, as Thibodeau rode him and his starters frequently (something that still occurs with the Wolves).
A lot has happened since then, but Thibodeau has shown a propensity for wanting ex-Bulls on his team in Minnesota. He signed the perpetually-underrated Taj Gibson last summer, got Rose after he was waived following the 2018 trade deadline, and even reportedly has some interest in Joakim Noah should he become available like everyone expects once the Knicks figure his situation out.
If those who forget the past are doomed to repeat it, then congratulations to the 2018-19 Minnesota Timberwolves on bringing the core of the 2010-11 Bulls to their team and winning 62 games before running into LeBron James in the conference finals.