The Toronto Raptors' 2017-18 season, one in which the team found unprecedented regular season success, ended the same way as it has the last two years: at the hands of LeBron James and the Cleveland Cavaliers. Toronto could point to being competitive in the first three games of the series, but Game 4 went completely off the rails as the Cavs trounced them, 128-93, to complete the sweep.
Cleveland won games in seemingly every way imaginable, whether it be a massive comeback in Game 1 in which they didn't even lead in regulation, blowing a big lead in Game 3 only to have LeBron save them at the buzzer, or the comfortable victories in Games 2 and 4. The final game was such an emphatic, dominant performance that it left most viewers with the same question: What do the Raptors do now?
Toronto enters a third offseason in a row in which they have to answer the same main question, and it will only get harder for them to preach patience with a core group that has an apparent ceiling in the postseason. The Raptors are well over the cap for next season with no real wiggle room to try and shuffle their roster. There are no obvious answers for Toronto's problems, which is what makes that question so difficult.
The Raptors have built themselves one of the East's best teams. It's a squad that can seemingly roll out of bed and rack up 50 wins in a season, guaranteeing a top-4 seed in the conference. However, the postseason has never been kind to the Raptors, and for all the talk about how things would be different this season for a variety of reasons, the end result was the same.
DeMar DeRozan had a fantastic regular season, expanding his offensive game to be more efficient with a career-best 55.5 true shooting percentage while averaging 23 points, 5.2 assists (also a career-high), and 3.9 rebounds per game. Against the Cavaliers in the playoffs, however, DeRozan was at his worst, scoring 67 points on 66 shots over the course of the four-game sweep with his three worst +/- outings of the season in succession to end the year.

After posting one of his best three-point shooting seasons of his career, DeRozan went out with a thud from distance. DeRozan had an 0-for-9 series from three-point range and quit taking them altogether once things shifted to Cleveland. In Game 3, he was benched down the stretch in favor of a lineup featuring C.J. Miles and Fred Van Vleet, which rallied back from 17 down only to see James defeat them. In Game 4, his season ended a quarter earlier than his teammates when he was ejected for a controversial Flagrant 2 foul on Jordan Clarkson, hitting him in the head on a layup attempt.
It was a miserable series for DeRozan who saw all the goodwill he rightfully earned over the regular season evaporate, much like the Raptors as a whole. Everyone that bought in on this group felt betrayed by the Cleveland series. This was the most vulnerable a LeBron team has looked since his first Cleveland stint, and the Raptors couldn't even get a game off of them. This was a chance to answer questions and make a statement. Instead, the mockery of this Toronto squad for never being able to get over the hump only grew louder and the questions about whether it's time to blow up the DeRozan-Kyle Lowry backcourt have returned with a rejuvenated vigor.
The problem facing Masai Ujiri is that there isn't a good answer to the Raptors' problem. DeRozan and Lowry are scheduled to make $58.7 million next season and $61 million in 2019-20. Couple that with Serge Ibaka making $21.6 and $23.3 million in those seasons and you've eaten into nearly 80 percent of the team's cap space. Jonas Valanciunas makes $16.5 million next year and has a $17.6 million player option he will almost assuredly pick up in 2019-20, which leaves you with trades and the draft as your only hopes for roster improvement over the next two years.
The good news is that no team in the NBA has gotten more out of non-lottery first round picks and second rounders than the Raptors in recent years. Van Vleet, OG Anunoby, Pascal Siakam, Norman Powell, and Delon Wright have all blossomed into useful role players, which is an astounding run of success that late in the draft.
However, as has been said many times, building a team that succeeds due to a quality 11-deep rotation rather than elite top level talent tends to have its faults in the playoffs. When facing Cleveland in the playoffs, when LeBron is going to cruise past 40 minutes per game, the problems of leaning on a bench unit and stars that don't possess tremendous offensive firepower are exasperated.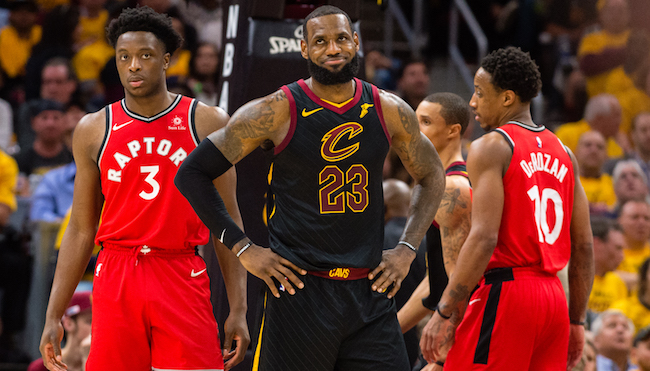 And it is here that you find the true problem facing the Raptors (and, for now, every other team in the East). They have built their team the "right way" through the development of draft picks dating back to DeRozan and Valanciunas, savvy free agent signings like Lowry, and smart trades like swapping Terrence Ross, who was redundant on the wing, for Serge Ibaka, who would theoretically give them strong rim protection. It's how you build a consistent and sustainable winner and create a strong culture inside the franchise, particularly in Toronto, which has never been a free agent destination.
Despite all of that, they do not have LeBron James and will never have LeBron James, so their ceiling remains whatever round of the playoffs they meet the team that has LeBron James. They aren't alone, as this has been the case for every Eastern Conference team since 2011. It's an infuriating fact of life in the East, and at this point, the best hope for Toronto to see that ceiling lifted is for James to jump to the West this summer. If that happens, it opens up a world in which parity may be able to exist, with the Celtics moving into the position of favorite once their stars are healthy, followed by the Raptors, Sixers, Pacers, Wizards, Bucks, Heat and the rest.
However, should James remain in the East, whether in Cleveland or in a move to a team like Philadelphia, his team will remain the final, seemingly unbeatable boss for the rest of the conference. For the Raptors, they simply don't have the firepower to take down LeBron's team and will have to ask the even more difficult question: Is it better to stick with this group and know the end result, or break this team apart and hope you find a missing puzzle piece along the way?
The Raptors would be foolish to not explore trade possibilities for pretty much everyone on their roster, particularly their five highest-paid players, but it remains to be seen what kind of value they can recoup in a deal. DeRozan figures to be the player most likely to fetch a strong return, as some team would likely be willing to convince themselves they're the ones that can unlock his talents fully. That said, could the Raptors get anything that would genuinely improve their chances in the East?


The most intriguing fake trade that, at least as of now, has no real traction or sourcing behind it is packaging DeRozan and something else to land Kawhi Leonard. The Raptors have tried just about everything when it comes to slowing down LeBron. They signed DeMarre Carroll to a monster contract hoping he could be the defensive presence on the wing they needed, but Carroll's knee was never right and that signing failed. This year it was Anunoby's turn, and while he tried admirably, it was too tall of a task for the rookie.
But what if they could add Leonard, a legitimate top-5 player in the NBA when healthy, for DeRozan and some sweetener (whether in the form of draft picks or role players or both)? The Spurs might see DeRozan as the kind of guy Pop could unlock by opening up his range (as they did with Leonard) and getting him to commit fully on both ends of the floor. Again, this is pure speculation, but if things are as toxic in San Antonio between Leonard and the Spurs as some have suggested, perhaps this piques their interest. The obvious question for Toronto in that scenario is whether Leonard will commit to them long term, given his apparent desire to be in a larger market.
Aside from that pie in the sky deal, there aren't really any realistic chances for the Raptors to make a significant upgrade by trading DeRozan (or Lowry or Ibaka), which may just leave them in the same place they have been for three years. Toronto will then hope for continued internal development, something they've been very good at, and that their stars continue to evolve.
There's no good answer to the Toronto problem, chiefly because it's barely a problem of their own making. Maybe DeRozan and Lowry simply aren't playoff performers and need to be swapped out, but it seems just as likely that it's as simple as them not having LeBron James. And for that, there isn't a fix.