TORONTO — For those who believe the success of an NBA team is tied to its star power, the fifteen minutes of the Toronto Raptors fame, and the attention span that followed, is over. It either ended with the championship parade or Kawhi Leonard leaving for his ultimate heart's trifecta: Los Angeles, the Clippers, and Paul George. The Raptors response to this? A nod, a shrug, and even a sigh of relief, because all it means for Toronto is getting back to business as usual.
The annual case of preseason amnesia by media and the NBA fanbase at large when it comes to Toronto has, for years, worked wonders for the team. It has meant impressive starts to the seasons via consistent, quiet work and the freedom for exploration of roster rotations without pressure put on the optics for its players. Granted, there has never been an NBA title in the mix before now to overlook, but rest assured, it will happen quickly, and Toronto will proudly wear it the same as all the other chips on the franchise's shoulder.
With Leonard on the roster, Toronto did get unprecedented American broadcast time, and many fans and critics got a taste of a team not only foreign in location, but in familiarity. The things that were surprising to the more casual fan last year — the versatility of Kyle Lowry, the fearlessness of Fred VanVleet, all the extra gears the team was getting from Serge Ibaka — had been there for years. It's not an oversimplification to say the only things missing from last year's Raptors team are Leonard and Danny Green, which, admittedly, are major losses.
That's where the line of thinking that takes Toronto out of contention in the East comes from. How could a team lose their superstar for nothing and not suffer a steep drop-off? What's lost in that direct, A-to-B outcome is nuance, all the flourishes that make Toronto so tough to pin for the occasional observer. Chemistry, combativeness, and ingenuity are the foundations of the franchise by virtue of having been the key components to its long-time core's success.
In a league that sustained so many shifts over summer, the Raptors are sitting in a unique position of familiarity despite losing a pair of starters. When looking at players chemistry, the team kept more than it lost. Its core, led by Lowry, have been together for a long time as far as team lifespans go, and there is something of a cultural knowledge keeping in Lowry's continued leadership.
Asked on media day what the future looked like for Lowry and the franchise, Raptors president Masai Ujiri was frank.
"Kyle has an incredible legacy here that I think we all have underrated" Ujiri said. "We've had our ups and downs and bumps and grinds, but the inner core of who he is as a player and what he's done with this franchise, he definitely deserves that [legacy status]."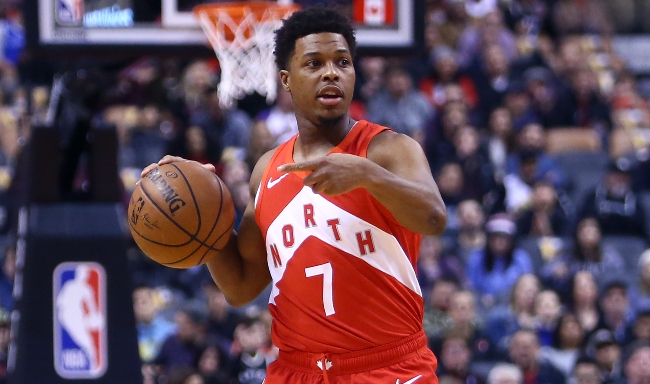 He remains the core of the team not just by virtue of that fact, but because of his continued growth. Lowry is a player who can easily be written off as having hit a ceiling, or some preordained expiry. But every season Lowry has played for the Raptors, especially in a leadership role, he has grown, sought out ways to improve his game, and led by example to a team that never seems satisfied. Even now, with a title under their belt, the point every player came back to during the Raptors media day was that they wanted more. They'd had a taste, hit the top, and saw no need to rest on laurels. It wasn't in their nature.
The success of the Raptors team culture was evident with the speed that Leonard and Green were acclimated, and proved under pressure with the mid-season addition of Marc Gasol, who has quickly become fundamental to the squad and a natural fit in Toronto's feel-good dynamics. With more league parity than ever given the smattering of All-Stars that fell from East to West, chemistry is going to be a key component to giving teams an advantage given the wide open field in both conferences.
There's already been ample discussion about key new relationships around the league, but the proof is always in the pudding and how that then gets shared around on court. The Raptors already know how they get along and running most of the team's championship core back is going to be something like a Hadron Collider for its new additions. Toronto made a lot of player pickups this summer, almost all of them under the radar in a free agency dominated by some of the biggest names in the league, but these are also the kinds of overlooked players who tend to do well in Toronto given its emphasis on player development.
Necessity was what made Toronto an early arbiter of the NBA's Developmental League. Ujiri's knack for spotting young talent and using the Raptors farm team, the 905, to refine guys like VanVleet, Malcolm Miller, and of course, Pascal Siakam, was an answer to the lack of interest from bigger names. Even players who would go straight to the Raptors could count on an increase in minutes. It seems an obvious solution, but guys getting more game time, even in the G League, means more experience and better distribution of minutes for starting players.
Load management was a huge focus for the team's medical staff last year as it looked Leonard coming off a season out and wanting the best from him when he was in. And going back to chemistry, names get known in the city. A voracious fanbase that can list the stats of any player on the roster within days of their arrival, there is a deep appreciation for players who sign in Toronto, even with the myth of it being a desolate, small market for basketball that is finally, hopefully, diminishing.
The way that the city has adapted, and thrived, in becoming a destination for basketball while acknowledging the work it took to get there is the same approach taken by Raptors players in developing their game. Before ingenuity was required league-wide by players looking to become less two-dimensional — adding a three-pointer to their skillset, better ball handling, bulking up — it was the required reading in Toronto. Any edge was one to sharpen, no matter how weird it might look, and the Raptors eked out plenty of ugly wins this way for a long time. But now that the team's next generation of players are champions, their development and growth will look more like refinement, trying out versatility and taking on new roles.
Gasol will get a chance to have a full season with the team, as well as doubling up on the floor with Ibaka in the same rotation that worked so well in shutting down the Bucks and the Sixers. VanVleet will see more starting minutes, growing in his role as a Lowry protege with a quieter kind of toughness. Poised to have a season he missed out on last year due to bad luck and injury, OG Anunoby is another young player Ujiri and Nurse will look to for becoming a roster staple. Nurse told media ahead of the Raptors training camp that Anunoby looked "free and clear and happy," flashing " a little more of a smile on his face in the pick-up games I saw in the last few weeks and he's gonna have a great year."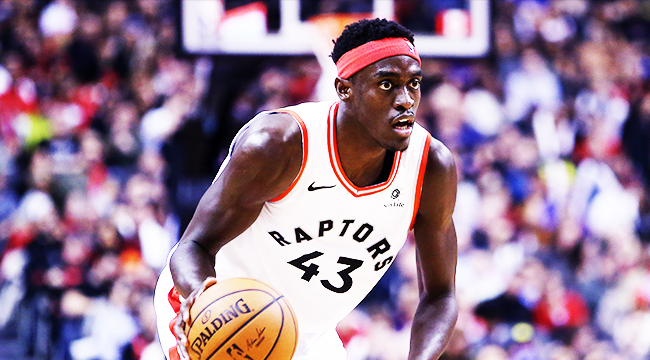 And of course, there is the center of the Raptors expanding universe: Pascal Siakam, who already has the speed to debilitate defenders in his ISO game and bursts of agility he has learned to hone and use to blow back bigger, more experienced players time and again during the Raptors' playoff run. He put on substantial size this summer, looking to buffer the difficulty he sometimes faced when guarded by imposing players like Joel Embiid and Giannis Antetokounmpo. He admitted on Media Day he wanted more opportunity for ball-handling, to test his capacity as a playmaker, and that he's been working on his shooting and mid-range game.
Given these improvements, there's no limit to Siakam's versatility. He's big and strong enough to stack up as a power forward, but quick enough to put in minutes at small forward. His intuitive style is perfectly fostered by a coach like Nurse, who is frankly wild for rotational experimentation.
The thing about sea changes is they aren't typically recognizable when something is in the middle of one. The Raptors playoff run and Finals win drew parallels to the Pistons overtaking the Lakers in how impossible it seemed that an underdog could be so disruptive and execute so cleanly in what was a dynasty-ending upset. But the reasons underdogs do that so well is because they are so hungry. The Warriors aren't over, but they are a completely different team, and in besting them, the Raptors had a direct hand in ushering in this new era in the NBA.
To dismiss them as contenders before the season has even started is to assume they are somehow sated from the win they spent years — basically since franchise inception — chasing and finally tasted. That kind of practiced hunger doesn't just up and get full, the same way a team with all that bone deep, cultural knowledge of what it is to lose, to work, to improve, doesn't forget. The entire landscape of the league may have changed, but the Raptors, in how they see themselves, in what they want, haven't.