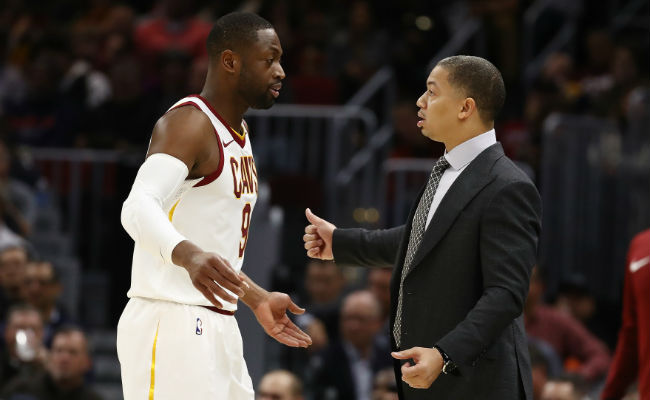 This is the time of year where everyone wonders 'what's wrong with the Cleveland Cavaliers," though you have to admit that this year things do seem particularly dire.
The Cavs can't defend and there are endless whispers about unrest in the locker room and the likely trades the team will make to fix all of the above. Whether any of those moves actually come to fruition is hard to say, but what's clear is that the team will try to fix what they currently have on the roster while GM Koby Altman does what he can in the market.
For Tyronn Lue, himself potentially on the hot seat in Cleveland, that means tinkering with a lineup that has produced flashes of championship-caliber offense and loads of problems on defense. And while some in Cleveland have deferred to those in charge, such as J.R. Smith offering to come off the bench if necessary, it seems that according to ESPN, Tyronn Lue wants to be careful with his tinkering.

On Thursday he announced that Tristan Thompson is starting again, with Jae Crowder coming off the bench. That moves LeBron James to the three and Kevin Love to the four. But beyond that, Lue has said he wants to be careful not to disrupt what he characterizes as the "best bench" in team history.
Lue was asked if he considered making a change at guard — Isaiah Thomas has yet to find a rhythm after returning from a serious hip injury that sidelined him for 7 ½ months and JR Smith has struggled all season — and said, "we thought about it … right now is not the time."

Part of Lue's decision to stick by Smith, sources told ESPN, is that he still considers him the team's most physical defender at the 2 guard spot. Lue also wants to keep Dwyane Wade as the leader of the second unit, pointing out, "our bench is the best bench, I think, in Cavs history. We want to keep that intact as much as possible."
Much of his hesitance in swapping out guards is likely to do with Isaiah Thomas, who is coming up to speed with the Cavaliers after missing much of the season's first half recovering from a hip injury. Thomas has always struggled defensively, but it's thought that putting Thompson back in the lineup can help Thomas on the defensive end.
Still, it's high praise from Lue about his bench given the number of players in the starting lineup, like Smith, who have struggled this season. Despite the dip in play from Cleveland against a tougher schedule in the month of January, Lue seems protective of his players. Perhaps he has confidence they'll turn it around, even if the air support doesn't come from a the Clippers or Hornets.