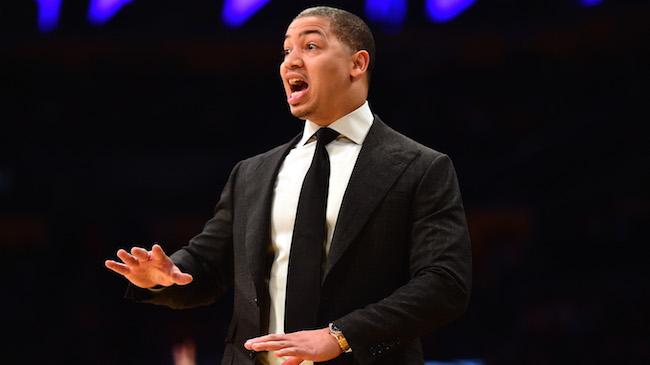 The Cleveland Cavaliers have a lot going on right now, as the Kyrie Irving trade saga doesn't seem like it's ending any tie soon. But while the team's front office is trying to figure out what it's going to do after the physical it gave Isaiah Thomas produced subpar results, head coach Tyronn Lue is out looking for unconventional ways to bolster the team's bench.
Lue was spotted at the BIG3 championship game, and while he got to witness some fun basketball, he was also there to do some scouting. Namely, he was there to scout Trilogy guard Rashad McCants, according to the BIG3.
Cleveland Cavaliers coach Tyronn Lue was in attendance, reportedly to scout Trilogy's Rashad McCants, who was the first overall pick of the inaugural BIG3 draft. If that was the case, Lue probably liked what he saw. McCants led Trilogy with 22 points and scored the last 5 points to close out the game.

The line was in a release sent out by the league that has since been edited.
Going into BIG3 and looking for talent is definitely odd, but McCants is probably one of the few guys who could do something positive in the NBA. He'll be 33 when the season starts and has always been talented, but just never really put it together during his first run in the NBA.
The thought of a BIG3 player making the leap to the NBA seems a bit out there, but if anyone can, you'd think it'd be McCants. And if nothing comes of this, well, hopefully Lue had a fun time watching the final game in the inaugural BIG3 campaign.