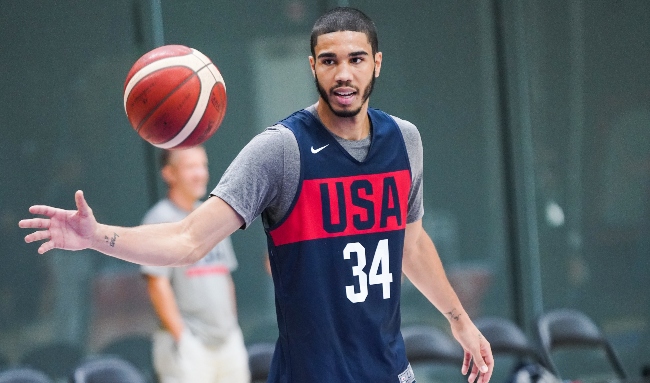 USA Basketball hit a bit of a bump in the road during its lead-up to the 2019 World Cup on Wednesday. According to multiple reports out of Los Angeles, the group of players who are competing for one of the 12 roster spots lost to a collection of talent that featured a number of G League and overseas players. It wasn't particularly close, as the Jeff Van Gundy-led group won by 19 points.
There was a ton of intrigue about how things went down, and thanks to HoopJab, footage from the game has hit the internet. The footage picks up with 6:37 left and the national team trailing, 9-5, so a whole lot ends up happening to get to the final score, 36-17.
There are some moments that really stick out — like a jumper Jayson Tatum that barely hit the backboard early in the video and a missed dunk by Donovan Mitchell around the 9:58 mark — but the thing that sticks out above everything else is how out of sorts Team USA looked, especially next to a group of G League and overseas players who seemed hungry to prove they belong. The opposing squad moved the ball crisply and hit shots as they came, while the national team simply did not look to be on the same page.
It does bear mentioning that the opposing squad featured a number of players who have played with one another in the red, white, and blue before, as a handful of them were on the team that went through World Cup qualifying and were coached by none other than Van Gundy. Plus, in a one-off, 10-minute scrimmage, the likelihood of something weird happen is awfully high.
But still, considering how weird this cycle has been for the national team with players dropping out or passing on the opportunity to take the floor with some frequency, this is the last team that the United States needed as it's gearing up for a trip to China. We'll get to see if this was just a bad day or something much worse on Friday, when the Americans take on Spain.