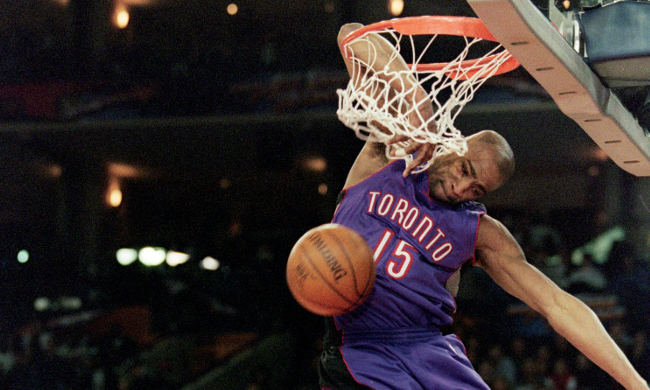 Two weeks ago, a video from WeDontBluff.net made the rounds, and it featured the NBA's oldest active player, Vince Carter, answering questions about the NBA Dunk Contest. Specifically, would he be willing to judge an upcoming contest? But he very politely shot that idea down and called the All-Star Weekend his "rest time." After all, he who is Half Man, Half Amazing is two months from being halfway to 80, so the guy should use his down time to catch up on naps and episodes of NCIS.
But the money quote came when the interviewer brought up a 2015 viral image of Carter's vertical at age 38 compared to Andrew Wiggins at 19, and he asked the Grizzlies forward if he could still compete in the dunk contest against today's young stars.
"It's possible," Carter said reluctantly, adding, "I don't know if I could win, but I think I'd make it interesting." Naturally, just the hypothetical situation excited fans – Carter vs Zach LaVine? Yes, please! – but then his simple quote snowballed into the rumor that Carter might actually compete, 17 years after he blew our f*cking minds by hanging from the rim by his elbow.
That was certainly news to Carter, who did not hold back in revealing that the video was from last season, and he has absolutely no intention of missing this year's rest time.
"I heard about that video way after the fact," Carter says, sitting courtside at Madison Square Garden recently. "All of a sudden people were like, 'You're in the dunk contest?' I was like, 'Where is this coming from?' Whatever clown that reported it, it's like, just call the source first. Just ask me! Come to any training camp and ask me."

"In the video, I never said I was going to be in the 2017 Dunk Contest. That interview was from last year, and the guy had asked me about P3 Training Camp, where they had the vertical leap photo of me and [Andrew] Wiggins."

"Also, look at that video: I had on a sweater in the summer? Everybody analyzes everything about a video, picture, whatever. Why don't they do the same with this? I had a sweater on at training camp?" (Via NBA.com)
Carter admits that he could "probably do one" dunk and then he'd "need a day" before he could pull off another, but in no way could he actually hang with LaVine and the other competitors. Most importantly, though, Carter remains steadfast in his Seinfeldian reasoning for never competing after that unforgettable 2000 dunk.
"And why would I want to mess with the memory of that magical night back in 2000?"
Tell 'em, Vinsanity.