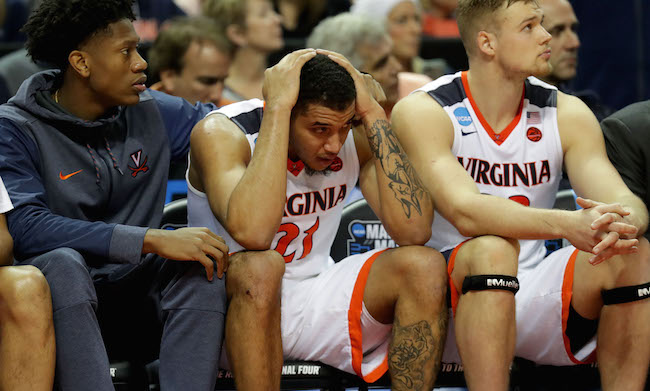 The first weekend of the NCAA Tournament is one of the best times of the year for basketball fans and, arguably, is the best four-day stretch to be a basketball bettor. With games tipping at 12:15 p.m. ET and running well past midnight, there is a never-ending supply of action.
That can be good if you get hot but can also lead to very poor decision making when you find yourself on tilt and trying to recoup some losses from earlier in the day. In any case, the sheer volume of games to fire on makes for a thrilling day and for a lot of opportunities to get weird and a bit reckless.
Some like to spray the board with small bets, while others will get much heavier on their action in a few focused and strategic places. For heavy hitters, the early rounds provide an opportunity to get aggressive on money line parlays of big favorites. Those don't pay out at a high return rate, but they tend to be safe, and if you're willing to put a lot of money on the line, you can make a solid chunk doing this. The problem with this strategy is when one goes wrong it will go very wrong.
For example, when Virginia fell in a stunning 20-point blowout loss to 16-seed UMBC, becoming the first No. 1 seed to lose in the first round of the NCAA Tournament, a lot of money line parlays got busted up, including one poor bettor who watched a $20,000 bet to win $870 go up in flames. The mystery bet was casually announced in vague terms by CG Technology's VP on Twitter, and ESPN's David Purdum followed up to get the details on the three teams involved.
I can only imagine the helpless feeling that was watching the second half of that game, waiting for Virginia to turn it on only to see the Retrievers run away. The biggest problem with such an aggressive money line parlay is that it's really hard to recoup any value out of a hedge. There's not a lot to gain from betting UMBC prior to tipoff when you're entering the third leg of that parlay, especially considering that was the game he probably felt was a lock, and by the time it felt real, bookmakers had wised up and made the Retrievers even odds or better to win.
This one probably just had to be stomached as a brutal loss and a reminder that nothing is certain, even a savings-account-style bet that should provide minimal return on investment but also minimal risk of total loss. On the other side of things, six bettors at William Hill took home $2,500 after wagering $100 on the UMBC money line (134 bettors took the Retrievers outright in total), but the book did well on the side as 82 percent of the money wagered on the game spread was placed on Virginia. CG Technology also took an $800 money line bet on UMBC that paid out $16,800 to a very happy bettor.
If there is any positive to take away for our poor, dejected parlay haver it is that he isn't alone in having a brutal beat on a major money line parlay on Saturday. The Las Vegas Review-Journal reported on Saturday that a bettor at the Wynn lost a three-leg $100,000 money line parlay that would have fetched him $26,000 in return on the third and final leg as well when Marshall stunned Wichita State as a 13-seed. The other two teams in that parlay were North Carolina and Cincinnati, who both won comfortably in their games on Saturday afternoon.