Zach LaVine survived multiple dunk-offs against Aaron Gordon last Saturday night to win his second consecutive Dunk Contest.
After consecutive 50s for both dunkers in the final round, they kept upping the ante by dropping 50s after each before LaVine trumped Gordon's 47* with an East Bay Funk Dunk just inside the free throw line. It was clear when Gordon tried to figure out the timing of a dunk off the scoreboard, that at least one of them had run out of pre-arranged aerial acrobatics. They just kept tying with 50s, and there's only so many dunks you can keep in your pocket before you gotta break them out.
Except, Jordan Clarkson claims LaVine still has at least one dunk he didn't try.
When Isaiah Rider first broke out the East Bay Funk Dunk in the 1994 Dunk Contest, we can remember friends just shaking their heads like they had witnessed an extraterrestrial land on the front yard. It felt like a huge deal; although, that's primarily because we were still in middle school at the time, when Dunk Contests took on an idealized status.
But to put the ball between your legs twice before flushing it? That's crazy. Then again, before we saw LaVine put it between his legs while launching mere inches inside the free throw line, which stands 15 feet back from the backboard, we would have said that's crazy, too.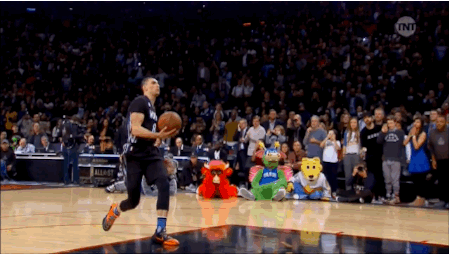 So if LaVine tries to three-peat in Charlotte next February, don't be surprised if he's ironed out any wrinkles in the double East Bay or whatever prevented him from unleashing it on dumbfounded fans in Toronto.
*shoulda been a 50.