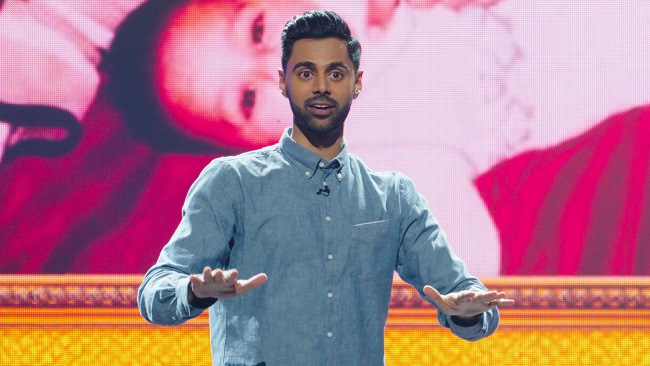 Welcome to Comedy Now, a weekly column cataloging what comedy fans should know about what's available in the streaming world. Whether it's a brand new special, an old classic, or the oddball show that defies categorization, we'll list as many as we can for your enjoyment right here. Who knows? We may even throw in a few non-streamable bits on occasion, like tour announcements from our favorite comics. You can check out the previous column here.
What's Now
Yes, Hasan Minhaj is leaving The Daily Show, but not Comedy Central
Last week, Netflix officially announced that The Daily Show correspondent Hasan Minhaj's previously revealed Netflix talk show had an official title: Patriot Act with Hasan Minhaj. The first late night-style talk show to be hosted by an Indian-American, Patriot Act was described as "unprecedented" due to the fact that Netflix initially ordered 32 episodes. Then on Thursday, Minhaj said goodbye to host Trevor Noah and everyone else and performed a final segment about MoviePass. Even so, this doesn't mean that he's done with Comedy Central, which dropped a tease of Minhaj's upcoming sketch comedy special Goatface on Twitter.

Ronny Chieng: International Student is now available to stream on Comedy Central's app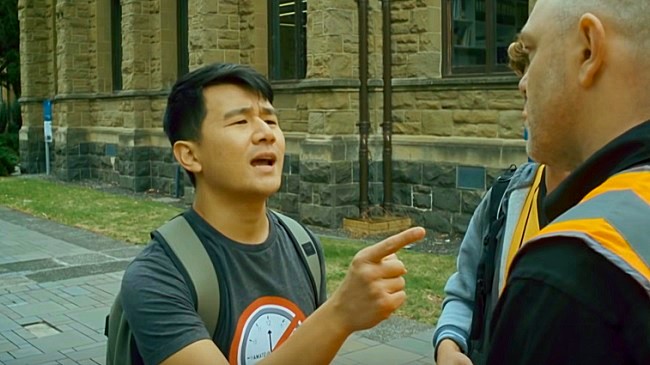 Although it premiered last year on Australian television, The Daily Show correspondent (and Crazy Rich Asians star) Ronny Chieng's series International Student is now available to stream in its entirety on the Comedy Central app. The Malaysia-born comedian and actor based the show on his experiences as a law student in Australia, and while many of its jokes and references are decidedly unknown to American audiences, Chieng modeled it on shows like Broad City and South Park to make it as accessible as possible. "It was kind of silly and absurd," he told Uproxx. "Every episode has a satirical message."
What's New(s)
Hannah Gadsby is writing a book about Nanette and quitting comedy
As the global comedy stage continues to churn following the release of Australian comic Hannah Gadsby's monumental special Nanette in June, it seems the comedian hell-bent on quitting comedy is now going to write about it. As first reported by the New York Times, Gadsby is writing Ten Steps to Nanette, "a memoir that follows the funny and sometimes dark events of the Australian comedian's life leading up to her realization that she had to quit comedy as she knew it." The book will be released by Allen & Unwin in Australia next year, while publisher Ballantine has purchased its American rights.
Epix greenlights Unprotected Sets, a late night comedy docu-series from Wanda Sykes
With comedy specials, as well as movies, television shows and documentaries about stand-up, popping up everywhere thanks to the current boom, Epix has greenlit a new series from executive producers Wanda Sykes and Page Hurwitz. Cleverly titled Unprotected Sets, the show "will take a raw, unfiltered look at stand up through the eyes of the funniest up and coming comedians from across the country." In a press release, Sykes explained, "We're excited that we get another opportunity to give up-and-coming comics a chance to shine."

Jerry Seinfeld books a few show for November (but only a few)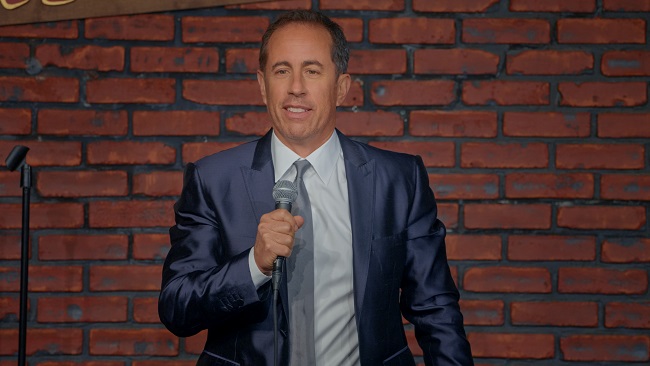 On November 2nd and 3rd, stand-up comedy's increasingly irate spokesperson, Jerry Seinfeld, will ditch the cars and perform for three shows only. Dubbed Seinfeld Live, the limited run of shows will take place at the Hollywood Pantages Theatre in Los Angeles. Presale tickets are available through August 23rd at Midnight, with sales opening up the following morning. Even so, Seinfeld's three performances are expected to sell out fast (if they haven't already), so if you're itching to see what the Jerry Before Seinfeld comic has in store for his second Netflix special, then you may want to act fast.
What's Later
The real-life Van Wilder has a comedy special coming out on Netflix
If Bert Kreischer's name rings a bell, then it may have something to do with a 1997 Rolling Stone article that profiled him as "the top partier at the Number One Party School in the country." Both the article and its subject subsequently inspired the Ryan Reynolds college comedy National Lampoon's Van Wilder. Since then, Kreischer has been a regular on The Joe Rogan Experience and hosted numerous reality TV shows. And now, thanks to Netflix, the stand-up comic is getting his first special out. Secret Time drops next Friday, August 24th on the streaming giant.