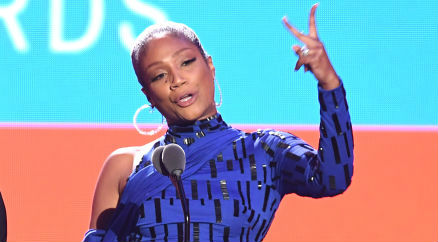 Tiffany Haddish has spent the past year or so completely capturing the hearts of the comedy-enjoying world, even if she's not telling the whole story about who bit our beloved Bey.
Haddish has been on that grind as an actor and comedian for well over a decade, but it was her turn in last year's blockbuster Girls Trip that shot her into the stratosphere. Since then, she's been everywhere, including an SNL hosting gig. She'll be in September's Night School alongside Kevin Hart, will star in Nobody's Fool in November, and will be part of Ike Barinholtz's satire The Oath in October. And that's not even counting her roles lined up for 2019, including a role in The Lego Movie 2: The Second Part.
But the big news for Haddish this week is that modern-day signifier of true standup comedy success: her own Netflix standup special. Netflix announced on Tuesday that Haddish will tape an hour-long special in early 2019 for release later next year.
This, of course, is not Haddish's first standup special, but it will be her most high-profile one to date. Tiffany Haddish: She Ready! From the Hood to Hollywood came out in 2017, right when she broke big. The Showtime special was warmly received, and it's likely her Netflix special will follow suit.
With no release date, there's no possibility to mark your calendar just yet … so maybe just keep the back three-quarters of 2019 free, just in case.