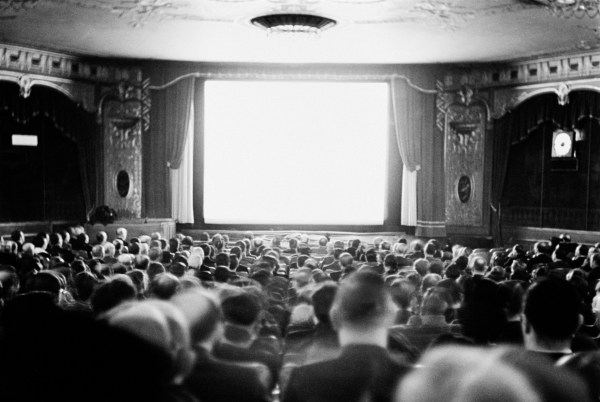 THE ADULT FILM MINUTE: Once per month, except for occasionally when it's more frequent than that, Dr. Chauntelle Tibbals will be telling us a little bit about what's going on in adult entertainment and why it should matter to you.
We've all got opinions – and given my area of erotic media expertise, sometimes one's opinions can slide over into the realm of fact. As such, here's a list of the (objectively determined) 6 Best Classic Porn Movies EVER.
Just kidding.
I used my opinions, as well as the opinions of two other vintage porn pros, to come up with a collection of must-see classic titles, just for you. Thanks to Bryn Pryor, an adult industry luminary and director of Showtime's X-Rated: The Greatest Adult Movies of All Time (2015), and Jeff Vanzetti, webmaster of IAFD.com, the IMDB of porn and one of the most useful resources on the entire Internet, for helping me out with these selections.
FYI: Most links following NSFW.
The Opening of Misty Beethoven (1976)
In The Opening of Misty Beethoven, sex worker Misty Beethoven is totally over her job. Her work has become as routine as any boring office occupation. But then she meets suave Dr. Love, who shakes up sex for Misty via a series of inspirational encounters. In an interesting twist, Misty later does the same for him.
According to Pryor: "Henry Paris' adult masterpiece is, well, a masterpiece. It's smart, funny, sexy, well-acted, and well-written. Constance Money, who plays Misty, is fresh and gorgeous. Jamie Gillis [Dr. Love] was the best actor ever to grace the adult biz, and he was never better than he was in Misty Beethoven. If the aspiration of the time was to make a 'real' movie with sex in it, no one has done it better, even decades later."
According to Pryor: "I had never seen this film until I started screening movies to profile for X-Rated, and it blew me away. It is genuinely hysterical. Patterned after the MGM musicals of the '30s, it's the story of two [women] working their way up the showbiz ladder in New York. The choreographed, Gone With the Wind, 'burning of Atlanta' group sex scene is worth the price of admission on its own."
If you want to get all feminist about your erotica – which I, of course, often do – Café Flesh will break your heart. It's very post-apocalyptic Blade Runner in its schtick, a tale of gender inequality, marginalization, and betrayal that's lived with me since the moment I first watched it.
Shot classic porno style, where the sex is intertwined in the overall narrative (vs the "narrative – sex – narrative – sex – etc" structure that's become more common in recent decades), this film will make you furious about something you expected in the first place. Ladies especially, prepare to feel a tiny sliver of ice enter your heart.
Long before people were talking about the (supposedly) rising phenomenon of porn that (supposedly) depicts incest – it's called "faux-cest" people, and it's not the same as incest – there was Taboo and Taboo II.
According to Vanzetti: "Taboo II was the very first porno I ever rented from a clerk at the local video store. In Taboo, Kay Parker bangs her son Mike Ranger. In the second film, Mike's girlfriend has to fend off (spoiler alert: unsuccessfully) her own brother's advances, and he also scores with their mother (Honey Wilder) – hot sex within a narrative that has some very unconventional emotional underpinnings, to say the least. The best thing here is the sex has stakes – consequences – something which almost every other porno leaves out."
I Like To Watch gets at voyeurism in a way that feels real. Plus, what we're watching is pretty intense. People often talk about contemporary adult content as if it's somehow more extreme or mechanically different than sex filmed in previous decades. I Like To Watch shows us that most sex acts have always been present in porn, it's just the technology and production style that's change.
According to Vanzetti: "There's a scene with Little Oral Annie swallowing Kevin James to the root that really has to be seen to be believed. This is a modern scene dressed up in '80s clothes – super sloppy BJ, anal, and swallowing."
Vanzetti says it best: "Trinity Brown has a trailer we endlessly made fun of in college. The voiceover was so strident – 'Trinity Brown has ADVENTURE! Trinity Brown has SEX! Trinity Brown is full of FAST ACTION and FAST WOMEN!' It's an 'Adam-12' level cop story with some great sex in it. Performers John Leslie and Colleen Brennan have a pair of scenes… well, one scene broken up… that are super hot, and Colleen later hooks up with the legendary Jamie Gillis. It's great stuff and a real time capsule."
—
These six classic porn titles aren't necessarily the best or the most important vintage adult films ever, but they do all hold a special place in our collective hearts. There are dozens more that could've been included in this very subjective list – these are just a few that showcase the historical depth of adult content production.
Pryor put it best when he said, "Porn is often considered a disposable genre, but behind the scenes and over time, you'll find that there are people who are every bit as dedicated to their projects, their work, and their craft as in any other art form. This has been the case now for decades."
Dr. Chauntelle Tibbals is a sociologist specializing in gender, sexualities, work, and media. Read her book Exposure: A Sociologist Explores Sex, Society, and Adult Entertainment, and learn about sex doll dominoes.