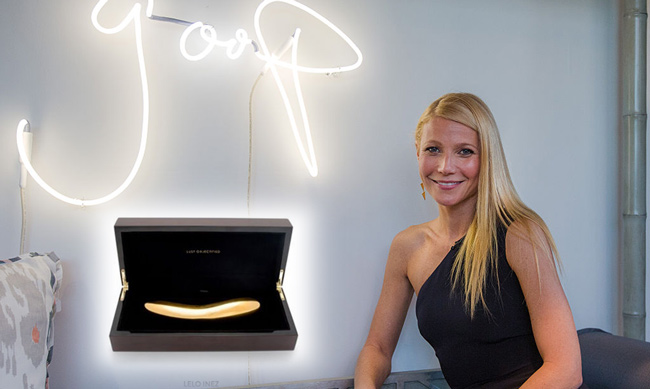 Sure, Gwyneth Paltrow is second generation Hollywood royalty who reportedly had Steve Spielberg as a Godparent and gets a lot of grief for being rich and out of touch, but in a lot of ways, Goop is no different than any other obnoxious lifestyle brand. It sells a lot of ridiculous crap most of us couldn't afford and would be idiots to buy even if we could. I mean, here's GQ showing Chris Evans in a $900 jacket stuffing Budweisers into a Louis Vuitton gym bag. You know, as you do.
Of course, knowing all of that isn't going to stop me from making fun of her for selling a $15,000 gold-plated sex toy, which sounds like the punchline of that old joke about buying your wife a diamond ring and a dildo. The "Inez," by Lelo, is advertised on the Goop page "Not-so-basic Sex Toys," which promises "a few of our favorites for all scenarios."
The main scenario being "having too much money," presumably. Clicking through to Lelo, where the Inez is listed under the category "luxury dildos," the product (available in stainless steel or 24-karat gold, both the same price) comes with two definitely real testimonials from two satisfied, totally-not-fake customers:
Leanne: What could be more luxurious than a golden dildo? Enough said.
"The Luxurious Dildo Experience" was the name of my jazz fusion trio.
Jean: Because these are made of gold and silver, it means they can conduct heat — adding temperature changes to a dildo sent me TO THE MOON
Your days of freezing bananas and microwaving zucchini are over! Lelo never says whether the gold is microwave safe, but I assume not. Probably you can heat it in a convection oven? Be sure to consult with your personal chef and/or dildo butler before use.
It also comes with "free discreet shipping," which seems a little silly to me. Isn't half the fun of a gold dildo showing off to the neighbors that you can afford to spent $15K to go f*ck yourself?
Naturally, the Lelo Inez is the most expensive thing on Goop's Not-Basic sex toy page, but there are plenty of other fun things. Like the much-more-affordable $395 Kiki De Montparnasse Droplet Necklace, "a discreet vibrating necklace that turns into vibrating nipple clamps." From a brand named for a famous Paris Golden Age libertine. That'll go well with my Zelda Fitzgerald brand engraved schnapps flask.
Elsewhere, the award for best ad copy goes to the "Naturotica Wellness Mandingo," whose name alone conjures images of Victorian psychoanalysts curing society women's "hysteria" with the help of a well-endowed slave.
"It may not be high tech," reads the blurb, "but the bloodstone wand is thought to heal as it stimulates."