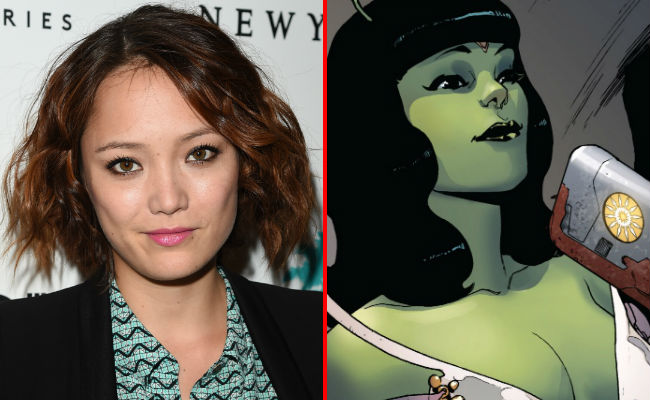 The news that Matthew McConaughey turned down Marvel Studios and writer/director James Gunn's villain role for Guardians of the Galaxy Vol. 2 spread like one-dollar bills on a dance floor Thursday morning. As a result, everyone focused on the film's need for a protagonist and skipped over that casting of French actress Pom Klementieff. No indications were given as to who the star of Spike Lee's Oldboy remake was playing, so everyone moved on to reconsidering Magic Mike's artistic merits and sobbing McConaughey-sized tears.
According to Deadline, however, we should all be paying attention to Klementieff right now. Why? Because sources indicate that the 29-year-old actress will be playing Mantis, the second female member of the Guardians. The character was created by Steve Englehart and Don Heck in 1973, and first appeared in Avengers #112. Her real name is unknown in the comics, as she was taken from her French father and Vietnamese mother by the members of a Kree religious sect. Believing her to be the next Celestial Madonna, Mantis' captors wiped her memory and trained her in martial arts and gifted her with telepathic abilities.
Gunn previously stated that he wanted to bring more female characters into the mix. During a Twitter Q&A with fans back in September, he went so far as to answer a fan's question about there being "a new female member" of the crew with a very emphatic "MAYBE."
If Deadline's sources are right, then it would appear that Gunn is about to meet his own professed goal of increasing the percentage of female superheroes in the Marvel Cinematic Universe. Mind you, she's going to be yet another green one, but hey — at least he's making good on his promise.
(Via Deadline)