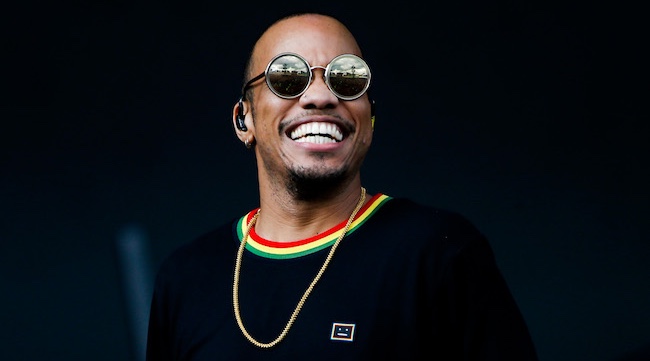 Anderson .Paak may not be an international man of mystery, but that's the vibe of his latest single, "Bubblin'," according to his Beats 1 Radio chat with Zane Lowe. Produced by Jhalil Beats and Antman Wonder, he says the track reminded him of "some Black 007, action-adventure, high-speed chase type of music." Check it out below.
During the interview debuting the new track, he also revealed some information about his upcoming album — which will include involvement from Dr. Dre — and humblebragged about his insane work ethic, claiming to have over 65,000 songs "in the vault" from various recording sessions. In at least one session for "Bubblin'," Paak says that he tried to get British rapper Little Simz on the track, but wound up finishing it solo after some bicoastal writing sessions. The prolific creation process should pay off, he says, because it's resulted in "a quality piece right here. This one should stick for at least six summers."
As far as the involvement of Dr. Dre, Paak exclaims that the Beats By Dre founder is doing a little of everything: "He's in there producing beats. He's in there producing melodies, writing, ideas on sequencing, everything. Just the biggest help just having him as the filter, everything. It's like whatever we need. Ideas for the videos, all that. We breaking everything down with the big homie." The full interview can be heard below.
[protected-iframe id="a19d12a38a5cf80d72407dfdefd8c9ea-60970621-76566046″ info="https://embed.itunes.apple.com/us/embedded-player/idsa.9b98b6e0-59f0-11e8-b5e2-d6ee56bc082d" width="650″ height="315″ frameborder="0″ scrolling="no" allowfullscreen=""]
The NxWorries singer-rapper can also be seen in A Tribe Called Quest's final music video for "Space Program" and his previous single, "'Til It's Over," appears in a recent Apple commercial starring FKA Twigs.