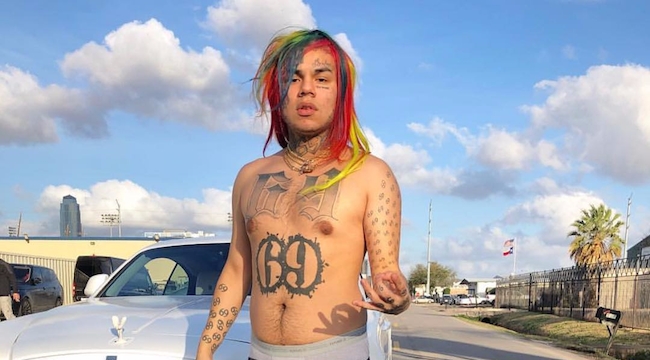 Tekashi 69 has had some trouble with the law lately, and now there's more news on that front: TMZ reports that the 22-year-old rapper was arrested on Sunday night by federal agents and is now facing racketeering and firearm charges.
Citing "law enforcement sources," TMZ says that the rapper was arrested by ATF (Bureau Of Alcohol, Tobacco, Firearms And Explosives) agents in New York City. Also arrested were Tekashi's former manager Shottie, Faheem Walter — also known as Crippy, Tekashi's bodyguard who was shot about a month ago — and another associate, all on the same charges. The investigation was reportedly a joint effort between the ATF, the New York Police Department, and Homeland Security.
This arrest is the latest development in an eventful month for Tekashi. In late October, he was reportedly sentenced to four years of probation for failing to meet the terms of a plea agreement in a 2015 case for the unlawful use of a minor in a sexual performance. Earlier this month, the rapper was also set to film a video with Kanye West and Nicki Minaj before the set, a rented $80 million estate in Beverly Hills, was the site of a drive-by shooting, during which nobody at the scene was hurt.