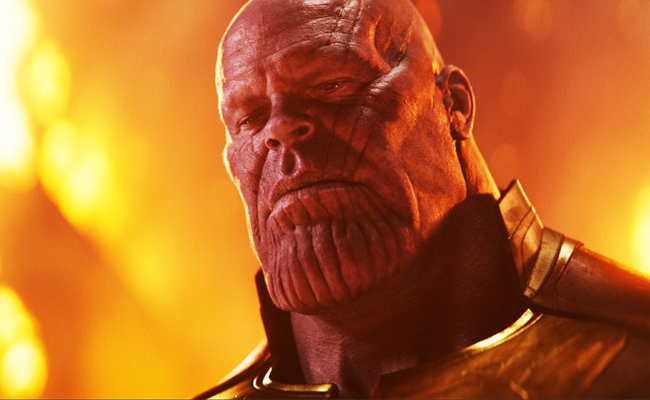 Avengers: Infinity War co-writers Stephen McFeely and Chris Markus dropped by Kevin Smith's Fat Man on Batman podcast last night, where they discussed, among other topics, the status of Avengers 4. The film, which will be released on May 3, 2019, is shrouded in mystery — most of what we know is who won't be back (Heimdall) and who will be (most of the characters from Infinity War, plus Captain Marvel and Hawkeye) — but progress has been made.
"Status of Avengers 4 is that we shot it, but it's not due for a while," McFeely said. "There's time for reshoots and fixing and we're just scrubbing through it now. The Russo brothers have been in there for a few weeks now after the press tour and all that. And the whole team is getting together tomorrow." Filming is only half the battle — now comes the reshoots and time-consuming post-production details, like making sure Thanos is the right shade of purple.
"It's disheartening to come off of the one that's all done and made $2 billion," Markus told Smith, "and get in the room that's just full of part, you know? And it's just like, oh shit, it's not done." The Clerks director also asked the writers how they would "fix the DC Universe." (Only one movie, Wonder Woman, in the DCEU has a Rotten Tomatoes score over 60 percent — the "worst" movie in the MCU is Thor: The Dark World… with a 66 percent "Fresh" rating.)
"I mean, I would look at what Marvel did out of necessity, in that they didn't have their A-list characters," Markus said. "They didn't have Spider-Man. They didn't have the X-Men. They went down a line and found a, I mean, he's pretty f*cking famous, he's Iron Man, but he wasn't there, and they made a really good movie out of it… I might put Batman and Superman and everybody else, I mean Wonder Woman is doing fine, aside for a second. Go through the vast world and go, 'That guy' or 'That girl,' and go, 'Let's just make a really good movie and not a universe and see what happens.' There's a lot of spaghetti being thrown at the wall." (Via)
It's not a bad strategy: that guy… that girl… that Aquaman?
(Via Comic Book)