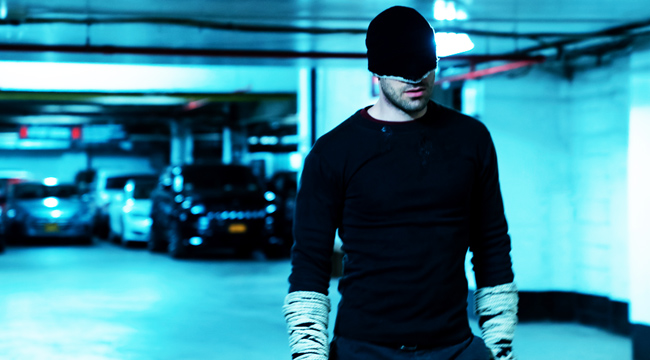 This time last year, Marvel and Netflix revealed that Vincent D'Onofrio would reprise his role as the villainous Wilson Fisk in the third season of Daredevil, which stars Charlie Cox as the hero. It was welcome news, to be sure, but it also served as a sort of salve for the fact that season three would see yet another showrunner taking the reins of the flagship series. While Steven S. DeKnight helped to usher things in with season one, Doug Petrie and Marco Ramirez helmed season two — and The Defenders after it.
So why would Marvel and Netflix need to cycle through showrunners so often? Considering the poor reception to The Defenders from critics and fans alike, Marvel and Netflix's decision to go with someone besides Petrie and Ramirez makes sense. As for DeKnight, he had to depart the show due to commitments to another project. Either way, Daredevil's third season is all the better with new showrunner Erik Oleson, an Arrow alum who has successfully managed to inject some new life into the show.
Or, at least that's the way it appears in the first six episodes of season three, which were provided to critics ahead of the whole season's release on Friday. Following the explosive events of The Defenders finale, which saw Matt Murdock's blind vigilante supposedly die beneath the rubble of a collapsed building, the first episode immediately grabs that thread and follows it into the fiery depths of the New York underground. Quite literally, in fact, as Murdock's plunge into the waters of the Hudson is what saves his life.
Soon after his pastor, Father Lantom (Peter McRobbie) and a nun named Sister Maggie (Joanne Whalley) bring the fallen hero back into the orphanage that raised him and slowly, but steadily, revive him. His recovery occupies a great deal of the first episode, though thankfully, Oleson and his show's writers apparently decided not to stretch things out too much. The latter is one of the first signs that, unlike the previous two seasons of Daredevil (and the rest of the Marvel/Netflix shows), season three is going to waste far less time than usual. Of course, that's not to say that it won't include subplots involving Foggy Nelson's (Elden Henson) extended family or Karen Page's (Deborah Ann Woll) murderous actions in season one, because it does.
While these and numerous other additions to the greater Daredevil story are included, and while they may feel excessive at times, Oleson's season seems far leaner than everything that has come before it. The stories he and the writers have crafted are largely responsible for this, but so too are the casting choices. This is especially true of D'Onofrio's Fisk, whose Breaking Bad-esque rise to power in the first season was one of its best attributes. His role in season two was much briefer than some viewers would have preferred, but whenever he was present, it worked like a charm.

This time, it's just as much about Fisk's return to power as it is about Murdock's recovery and redemption. But neither is capable of succeeding on their own, and that's where Oleson's two other character and casting decisions shine brightly. The first is Whalley's turn as Maggie, the gruff nun who runs the orphanage where Murdock grew up. Her prescription for everyone in her care, with ailments both physical and spiritual, is tough love. She is especially fond of prescribing it for the wounded vigilante's many battle scars, even with Father Lantom disagrees.
"He wants to know that he's still got it," she tells the priest, who has grown uncomfortable with Murdock's training regimen in the church basement. "Heal the body and the spirit will follow." Lantom corrects her, saying that "it's the other way around," but Maggie insists that "he needs this." It's a small scene the two share, they think, away from Murdock's prying ears, but it's also a great example of the character's profound impact on Daredevil's return. What's more, it serves as one of many profound turns by Whalley.
Of course, the addition to the roster that everyone has been talking about since the rumors first surfaced, and since the show basically confirmed at the 2018 New York Comic Con, is that of Bullseye. Known primarily as Benjamin "Dex" Poindexter (Wilson Bethel) this season, the FBI agent turned villain occupies the same space that season one afforded to D'Onofrio's Fisk. That is to say, just as viewers got to see the latter become the Kingpin, they will now follow along as the bureau's top marksman is pushed over the edge into full-blown villainy.
It's best not spoil the precise manner by which Fisk manages to manipulate Poindexter into doing his bidding, but rest assured that once Oleson and company finally swing those gears into motion, the revelation will be well worth the wait. The new baddie's arrival on the scene is perhaps one of the new season's best achievements — not simply because of the character's popularity in the comics, but due to the careful manner by which the writers and Bethel breathe life into him.
Poindexter, for all his faults, may be one of the most sympathetic television antagonists in recent memory. In many ways, he is just as much a victim of his circumstances as Murdock has been. Then again, his character is so richly layered that, even without the puppeteer's involvement, audiences will be left to wonder if Bullseye would have been born regardless. It's an implicit question without an answer, and the remainder of Daredevil season three most likely doesn't provide anything like a probable solution. But that's okay, because Poindexter's journey — and the journies endured by Fisk, Sister Maggie and Murdock — are all worth the watch this time around.
'Daredevil' season three streams Friday on Netflix.