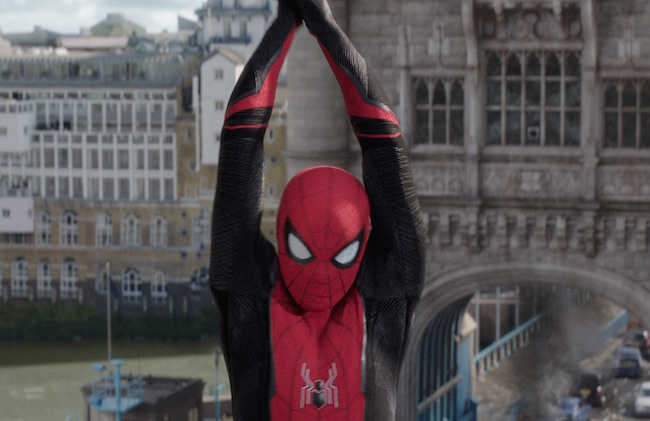 Warning, there are huge spoilers for 'Spider-Man: Far From Home' coming up.
Spider-Man: Far From Home leaves us on a cliffhanger as Mysterio had one last trick up his sleeve: framing Spider-Man for some heinous acts, then revealing Peter's secret identity through J. Jonah Jameson's conspiracy web show. (You can read director Jon Watts talking all about the return of J.K. Simmons right here.)
So, what now? In the comics, Peter's identity being revealed to the world was part of Civil War, which obviously is already a Marvel movie. Spider-Man himself, Tom Holland, has some ideas where this story should go next, but he's not really saying in case they might actually happen. "If I have my way?," asks Holland, "I was talking with Jon Watts and [producer] Amy Pascal last night, and both of them are very excited about it, so I don't want to talk about it in case it becomes a reality."
As for Jon Watts when he's presented with the same question as to where this goes now, Watts says, "I mean, it opens up so many possibilities," but then reminded himself that Far From Home is still a new movie and he's still not technically done with his duties for this one yet.
When the idea of introducing Norman or Harry Osborne is brought up, Watts doesn't seem particularly interested, "Well, there are a lot of Spider-Man stories to tell and it's just finding out the right time to tell them." Which sounds like another way to say that we've seen Norman and Harry in four Spider-Man movies already.
Though, when pressed who he'd love to see as a villain, Watts actually, kind of surprisingly, eventually had a specific answer.
"I mean, yeah, I always just try to start with what haven't we seen before? And there's so many Spider-Man villains. I mean, the fact that I got to, in a way, bring Hydro-Man and Molten Man to a movie, really, I get a kick out of that, even if they are fake. But, no, I don't know who's next. I always like to think about it in terms of what's going to be the most difficult thing for Peter. So that's going to be the next trick."
Okay, sure, Watts doesn't know who is next, but if it were completely up to him, who would it be?
"Oh, I would love Kraven. It's just the trick of how do you do Kraven in a movie?," says Watts.
Okay, Kraven! And if you think about where Far From Home leaves off, Kraven would make a lot of sense. Peter's identity is now known, so Kraven would consider this his most challenging hunt. Though, there's still talk of a Kraven solo movie that seems to be in early pre-production, so who knows how that would affect things or if that solo movie even winds up happening.
You can contact Mike Ryan directly on Twitter.