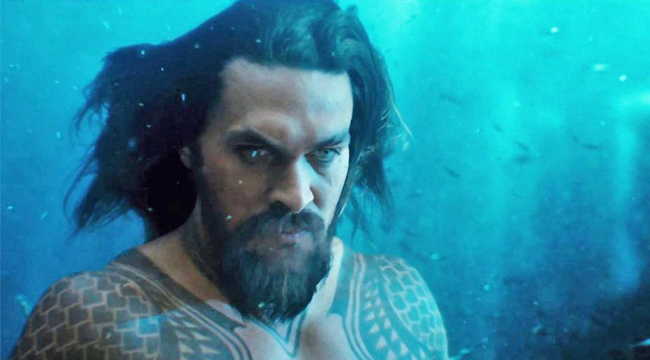 Although Aquaman director James Wan has been teasing a trailer release on social media for weeks, he recently confirmed that the grand debut wouldn't happen until San Diego Comic-Con in July. The film is expected to have a massive presence at the convention, and Warner Bros. has been duly rolling out the publicity machine, including an Entertainment Weekly cover featuring a dripping wet Jason Momoa as the titular character.
Within that issue, Momoa discusses his unyielding quest to make Aquaman more badass than his comics-based counterpart, which is why he lobbied hard (and unsuccessfully) to remove a certain joke from Justice League. Very early on in the process, Momoa admittedly appealed to director Zack Snyder to ax a line about how Aquaman/Arthur Curry can talk to fish:
"I'm like, don't put this line in there, because that's all people are going to talk about … Do you want me to make him cool or not?"
Unfortunately for Momoa, his character is well known for his ability to chat with creatures of the sea. Batfleck's Bruce Wayne's line — "I hear you can talk to fish" — did indeed appear in the film as scripted, and in hindsight, one can easily imagine while watching the clip that Momoa was barely enduring the discussion. And although Momoa easily makes any character that he portrays cooler by default, Aquaman is always going to be easy to poke fun at, even when it simply comes to matters involving underwater dialogue.
Momoa did tell EW that he and James Wan have held a more united vision of what it takes to make Aquaman badass, which means that we won't see anything like the below Justice League clip in the upcoming trailer. That would be a second round of Momoa enduring Bruce Wayne's inquiries: "Do you … talk to fish?" To which Aquaman very stoically replies, "The water does the talking" … before likely crushing a six-pack of beer between his eyebrows.
(Via EW)