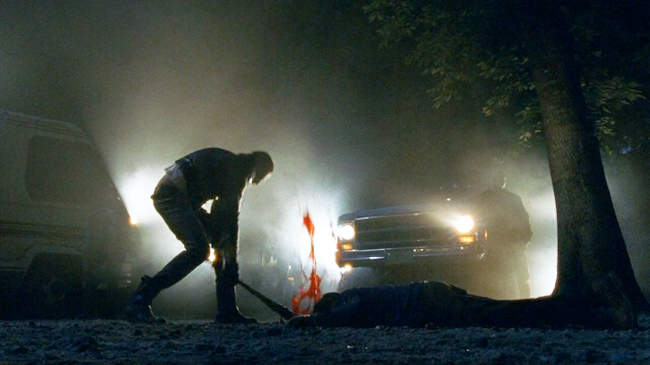 Negan's first appearance on The Walking Dead was in the season six finale, "Last Day on Earth," where he brutally murdered one member of Rick's gang with his beloved barb wire-covered baseball bat, Lucille. Months later, in the season seven premiere, his victim (soon-to-be victims) was revealed: Abraham, then Glenn. A lot has happened on The Walking Dead since — Carl died, Eugene vomited on Rosita, etc. — but nothing quite as shocking (as violent) as watching Glenn die. It was a turning point in the series (even actor Steven Yeun thinks the show might have gone "too far"), but in another timeline, it's not Glenn and Abraham who died; it was Aaron and Eugene. Or Aaron and Maggie.
While appearing at Sacramento's Fandemic Tour, increasingly-talkative Chandler Riggs revealed that when the cast got the script for "The Day Will Come When You Won't Be," there were "three different versions and three different versions that we shot. Versions where Glenn and Abraham died, and then another version where Maggie and Aaron died, and another one where Aaron and Eugene died. It's like, three different versions that we had filmed. Obviously, those versions weren't as intense and as thorough as the real ones – even so, only the editors knew which one was the real one and the actors and crew and whatnot, and not everyone in post-production, like it usually is."
The alternate versions weren't "real," according to Riggs, but they probably felt like it to Ross Marquand, who plays Aaron. He died in both the fakes! With Lauren Cohan leaving the show, though, Aaron and Eugene are the only possible Negan victims who will still be alive by the end of season eight… which probably means they'll die at the beginning of season nine. Circle of life.
(Via Digital Spy)