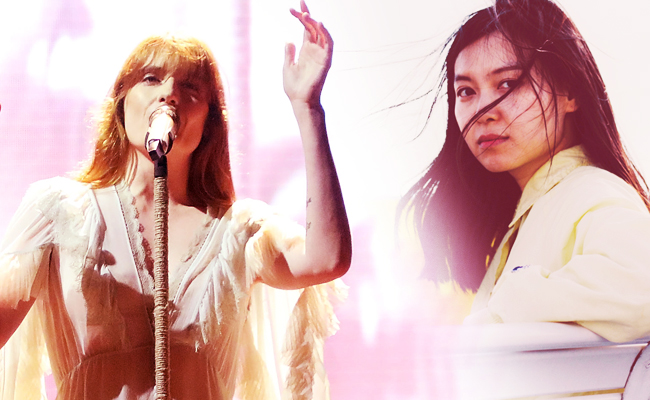 Indie music has grown to include so much. It's not just music that is released on independent labels, but speaks to an aesthetic that deviates from the norm and follows its own weirdo heart. It can come in the form of rock music, pop, or folk. In a sense, it says as much about the people that are drawn to it as it does about the people that make it.
Every week, Uproxx is rounding up the very best of the indie releases from the past seven days. This week we got another spooky synth-goth soundtrack for Stranger Things 3, outtakes from Florence And The Machine's Lungs in celebration of its tenth anniversary, and a promising preview of Long Beard's forthcoming sophomore album.
While we're at it, if you want more music recommendations curated by Steven Hyden delivered directly to your inbox every week, sign up for the Indie Mixtape newsletter.
Kyle Dixon & Michael Stein — Stranger Things 3 (Original Score From The Netflix Series)

The third season of the acclaimed Netflix series returned last week for its third season, bringing with it a brand new score from Kyle Dixon and Michael Stein, who comprise one half of the electronic synthwave band SURVIVE. The success of Stranger Things a few years back launched SURVIVE into the spotlight, landing them spots on festival stages where they refused to play songs from Stranger Things (very frustrating!!). With 41 songs covering only an hour and a half, the third installment of the soundtrack brings all the spooky synth lines we've come to expect from Dixon and Stein that perfectly affect the mood of the scenes under which they play. I haven't been able to watch Stranger Things 3 yet, so PLEASE DON'T SPOIL IT.
Foo Fighters — 00950025
Foo Fighters are teasing something. What that something is, I'm not sure. Out of nowhere last week, the band tweeted that they were "[taking] a look in the Foo Files," and shared a couple of "elusive live tracks" from early in their career, before they were selling out stadiums and arenas around the world. The EP of live tracks, called 00950025 starts with two cuts from the band's eponymous debut album, which turns 25 next year. Hmm, that's interesting… the last track on this EP is a live version of "Next Year." Coincidence? I think not!
American Football — Live From NPR Tiny Desk
American Football's third self-titled album brought more chutzpah than their second. The band's first appearance on the Tiny Desk further illustrated this reality, with the midwestern band recruiting a marimba player to complement the twinkly guitars. Mike Kinsella's voice also sounds quite nice here. The session stays away from the modest "hits" of the bands much-beloved 1999 debut, instead focusing on their latest works, including an especially bright rendition of "Uncomfortably Numb."
Florence And The Machine — "My Best Dress"
It's hard to believe that Florence And The Machine's debut album Lungs is already a decade old. To celebrate the anniversary, Florence Welch unveiled two previously unreleased demos from the sessions, both of which will be included in a deluxe edition of the record, which is set for release on August 16. "My Best Dress" is the standout of the two tracks, showcasing "Welch's idiosyncratically emotive vocals and acoustic guitar instrumentation before the rest of the band works their way in," as Derrick Rossignol writes for Uproxx.
The Bird And The Bee — "Hot For Teacher" (ft. Beck)
File this one under "unexpected." Starting out with a very impressive rolling piano imitating Eddie Van Halen's iconic shred, this track interpolates the Van Halen classic (which, needless to say, does not hold up in 2019) through the lens of a smoky jazz club. Beck voices the teacher. It's fun! This cover is so interesting and overwhelmingly good, you'll find yourself giddy by the time the piano solo rolls around…. that's right, there's a piano solo.
Long Beard — "Sweetheart"
The latest from indie label powerhouse Double Double Whammy, Long Beard's sophomore album Means To Me is previewed by this delicate number. Combining elements of shoegaze and dream pop, frontwoman Leslie Bear's ethereal vocals are on full display here as she "reflects on a past love and her life in relation to theirs," as Carolyn Droke writes for Uproxx. Within its first few seconds, it's clear that "Sweetheart" is an extremely promising taste of what's to come.
SOAK — "Modern Girl"

If you're anything like me, you spent all of Fourth of July weekend sulking about Janet Weiss's departure from Sleater-Kinney. Seemingly in tribute to the band and their recently-departed drummer, SOAK's cover of "Modern Girl" arrived at the perfect time, putting a more folk-inspired twist on the soft-spoken tune. "I think with time this song only becomes more relevant and its tongue in cheek nature is such a beautiful 'f*ck you' to consumption and the limitations media puts on women," Bridie Monds-Watson said in a statement.
Max Black — "Scary"
Flesh And Bone Records is one of the most consistent under-the-radar indie labels out there. Seriously, check them out if you haven't yet. Max Black's "Scary" is a slow burn bedroom pop number in the vein of (Sandy) Alex G and Frankie Cosmos. With a combination of electronic percussion sounds and more realistic programmed drums, "Scary" occupies a unique space in the indie world, one that could (and should) carve its own lane toward the mainstream sometime in the near future, with Max Black leading the way.
Some artists covered here are Warner Music artists. Uproxx is an independent subsidiary of Warner Music Group.