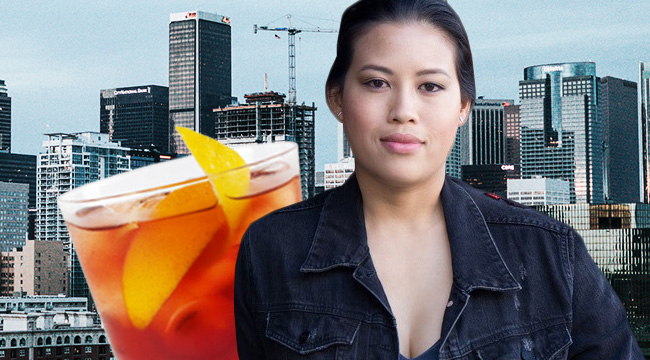 You know how to EAT THIS CITY. With top chefs as tour guides, you've learned how to scout out hot spots for breakfast and brunch, where to go for a delicious date night, and how to feast like a local liege in the cities you love. But where do you wash it all down? Do you know how to find the best brewpub? Uncover who makes the meanest bloody marys and the most sparkling mimosas?
You're about to find out. Welcome to DRINK THIS CITY!
This week, meet us in Los Angeles!
The summer is heating up, and we're heading downtown, hitting all the coolest places to drink. Navigating the scene is no easy feat — there are bars aplenty, catering to every taste and temperament — so we're lucky to have Tiffany Kim, bar manager of Kasih, on hand to lead the way.
Dishing up contemporary Indonesian cuisine in the heart of downtown's arts district, Kasih's cocktails are liquid works of art themselves — each featuring fresh, exciting ingredients and an Indonesian twist. Think old fashioneds utilizing banana-infused bourbon and palm syrup, coffee cocktails laced with spicy syrup, coconut cream, and chocolate bitters, and mezcal with tangerine shrub, lemon juice, and bird's eye chili. Kasih means "love," and sipping one of these cocktails, you know that's exactly what they're made with: a love for the craft, the product, and the patron.
See also: THE UPROXX GUIDE TO LA!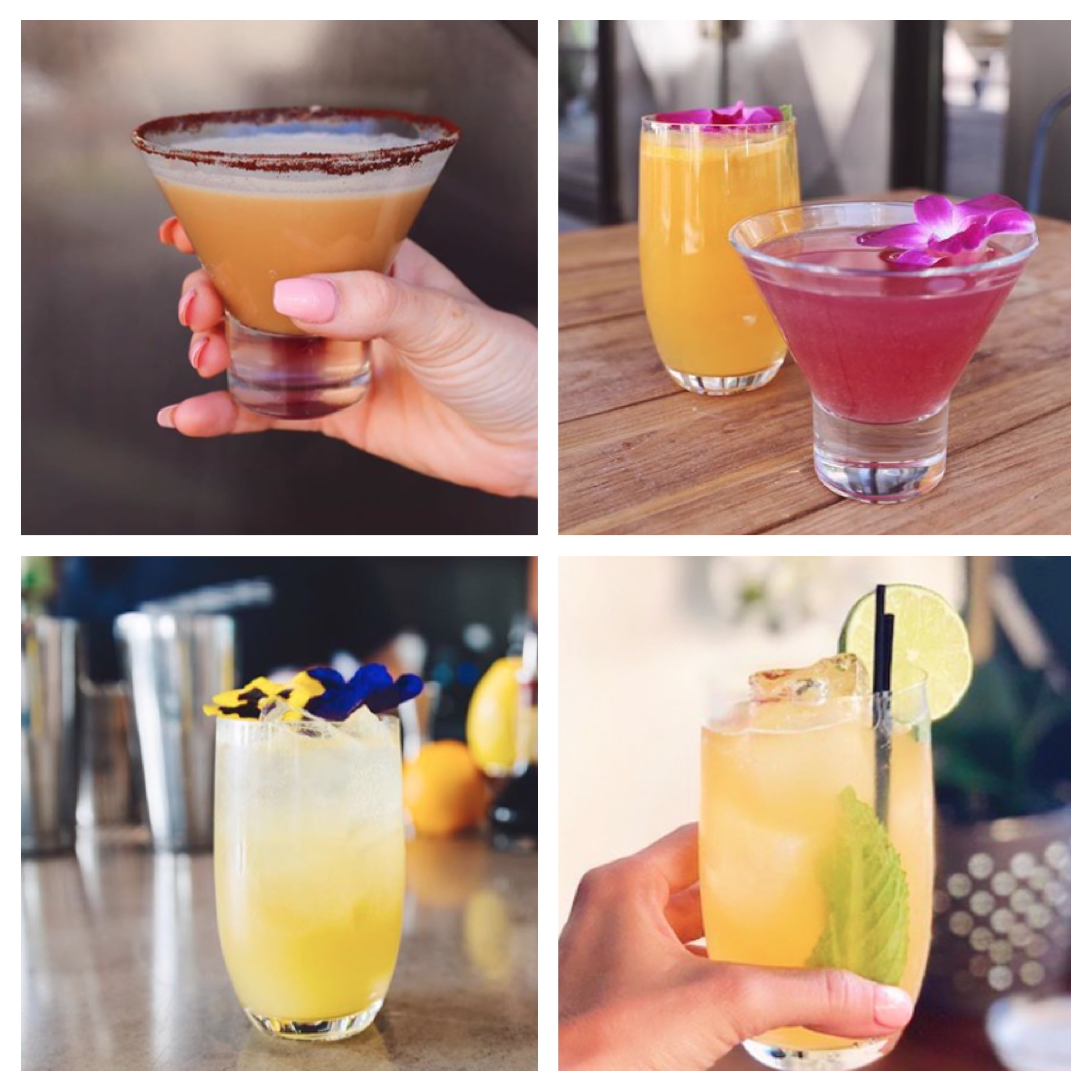 Loving these drinks and ready for more? Let's head out with Tiffany and drink this city!

BRUNCH COCKTAIL OR HAIR OF THE DOG
I'm a sparkling wine/ champagne girl at heart. No brainer to pick somewhere with bottomless mimosas. Meet in Paris is a casual cute French Bistro with great dishes at reasonable prices compared to most French Restaurants.
MARGARITA
I use to pass by this building all the time on the less busy side of Spring St. DTLA. Bar Garcia is tucked inside Tuck hotel. I'm not much of a margarita person but I'm a sucker for activated charcoal and cute small bars. I haven't seen a charcoal margarita before this one. It still your classic margarita with charcoal infused syrup. Black margs to match my soul.
CLASSIC COCKTAIL
https://www.instagram.com/p/Bj_tVlag0qD/?taken-at=1020946715
This place is walking distance from me which is always a plus. Again, another inconspicuous small intimate bar. I do stand up comedy so a bar with open mics, craft cocktails and pupusas next door is everything I could want in one place. The bartender can make you any classic. I usually get a Gin Gimlet or a Negroni.
CRAFT COCKTAIL
It looks like a dive billiards bar that shut down from the outside, hence the name Blue Collar, but once you walk in, it's the opposite. Old school swanky intimate bar. Love that there's no menus. Off the cuff, just talk to the bartenders and they'll create something for you. My first time here I told the bartender I wanted something "not too sweet" and he smiled and showed me his tattoo –it said, "not too sweet."
Needless to say, I instantly fell in love.
PUNCH
The Cazuela mini punch bowl is perfect for 2 or even 1. You don't have to go clubbing with 10 people to get a nice punch bowl or break the bank. It's made with mezcal, a smoky agave spirit, one of my favorite spirits. It taste like a spiked Jicima, also one of my favorite agua frescas.

DIVE BAR
HMS Bounty was my old stomping ground when I first moved to LA. I learned to love this dive bar in Koreatown. It's an interesting crowd. Half old timers and half youngsters. My roommate and I always started with the wiseman special. Beer and any well shot for 5$.
PUB, TAVERN, OR BREWERY
I love the name of this bar. It's right next to LACC community college. Small, but nice selection of craft beers. Love it because it's so peaceful during the day. I feel like I'm in someone's backyard garden and not a giant loud sports bar. (Though, of course, they still have TVs for sports.)
HOTEL BAR
https://www.instagram.com/p/BcnyCvZFzYi/?taken-by=filiferahollywood
I found this place after leaving a meeting once. It's a rooftop bar and lounge on a high-end residential property. It's a hidden gem. Beautiful view of Hollywood Hills, great ambiance. I love gin and tonics and theirs comes in a large goblet!
HOT DRINK
They have a password to get in which you can find on their social media. I worked a block down the street so they didn't make us give a password. Saved us 3 minutes not having to search for it. They have an iced coffee cocktail during brunch but I sometimes get it hot. It's sweet and creamy just like how I use to drink my coffee when I was younger, minus the booze. The coffee drink has Rumchata which I'm a fan of even though the name and bottle seem so cheesy. It's delicious and tastes great in other cocktails too.
THEMED COCKTAIL at IMMERSIVE EXPERIENCE BAR
I used to work here and I loved the Honey Bunny. The Dark Arts is great too, an activated charcoal done right. Black Rabbit Rose is a magic-themed bar with different shows every night. All their house drinks are great, fun and mystical.
SPARKLING COCKTAIL
The Mixwell Blessings cocktail is a great variation of a Paloma. Grapefruit soda with the honey and Pisco pair nicely together and the sea salt rounds it out. It's yummy and refreshing. The Edmon is a beautiful white marble bar close to my apartment so I usually come during late night cocktail hour, one of the better ones I've seen.
Good selection of cocktails and bites on the late-night menu.

APERITIVO
Terroni is a large open Italian restaurant for apertivos. When I saw the Sbagliato on their menu it brought up an instant memory. I remember when a customer ordered a Sbagliato, all I heard was a hybrid word of spaghetti and gelato, lol. Good thing my bar manager knew. I was in awe; my manager said it's a Negroni, sub gin with Prosecco. I love gin, negronis and anything bubbles so why didn't I think of that? It's a good alternative to the better-known Aperol Spritz.
LOW-PROOF COCKTAIL
Love their happy hour: fried brie, Cali-roll, and calamari = happy girl. Plus Tuesdays is ladies day where happy hour continues all night for the ladies. This place feels like a Japanese version of an old classic steakhouse. The cocktails might not be as Low ABV compared to their selection of Shochu and Sake. If you like bubbles like me, try the Sparkling Sake. The Sapphire Yuzu-Drop Martini is a great play on a Lemon Drop Martini.
UNUSUAL COCKTAIL or COCKTAIL WITH SURPRISING INGREDIENTS
Everything about Kali is beautiful, bright and thoughtful. This is the perfect place to try an obscure drink. This cocktail is called the New Pad Thai. Its an adventurous refreshing savory drink. Best carb-free version of pad-thai you can get.

COCKTAIL MADE BY A FRIEND
I love Pablo, we met each other working at Westbound. I just love his calm, cool, collected manner. He's also pretty good at banging out creative cocktails.
Thank you, Tiffany, for taking us on a tour of downtown LA's best bars!
Like what you read? Check out Drink This City: Return To ManhattanDrink This City: San Francisco, Drink This City: New Orleans Drink This City: Miami, Drink This City: Honolulu, Drink This City: Detroit, Drink This City: Chicago, Drink This City: New York, Drink This City: Nashville and more!
Join us next week for more DRINK THIS CITY! Meanwhile, hit us in the comments — where should we travel next?