You know how to EAT THIS CITY. With top chefs as tour guides, you've learned how to scout out hot spots for breakfast and brunch, where to go for a delicious date night, and how to feast like a local liege in the cities you love. But where do you wash it all down? Do you know how to find the best brewpub? Uncover who makes the meanest bloody marys and the most sparkling mimosas?
You're about to find out. Welcome to DRINK THIS CITY!
This week we're back in Manhattan, exploring more of what the New York City's borough has to offer in drinking establishments and cocktail culture. Small wonder we've returned; Manhattan is rich in world famous bars and superlative bartenders, making it a haven for the cocktail aficionado. Don't know where to start? Head's spinning? That's why we've enlisted the help of Weston Lou, Head Bartender of Hakkasan NYC.
Hakkasan NYC encourages its bartenders to get creative with recipe development — combining Asian and local ingredients in unique and surprising ways — and creativity is right in Weston's wheelhouse. He was selected as a Finalist in the Miami regionals of Bombay Sapphire's Most Imaginative Bartender competition in 2016, no small feat. Under his guidance, the menu is split into three distinct categories for drinkers to peruse. Character features Hakkasan's signature drinks, Strength and Grace presents spins on classic cocktails, and Only At West 43rd Street offers a list of concoctions unique to the NYC location. Whether you're looking for an old favorite or eager to taste something new, the menu will have something to please.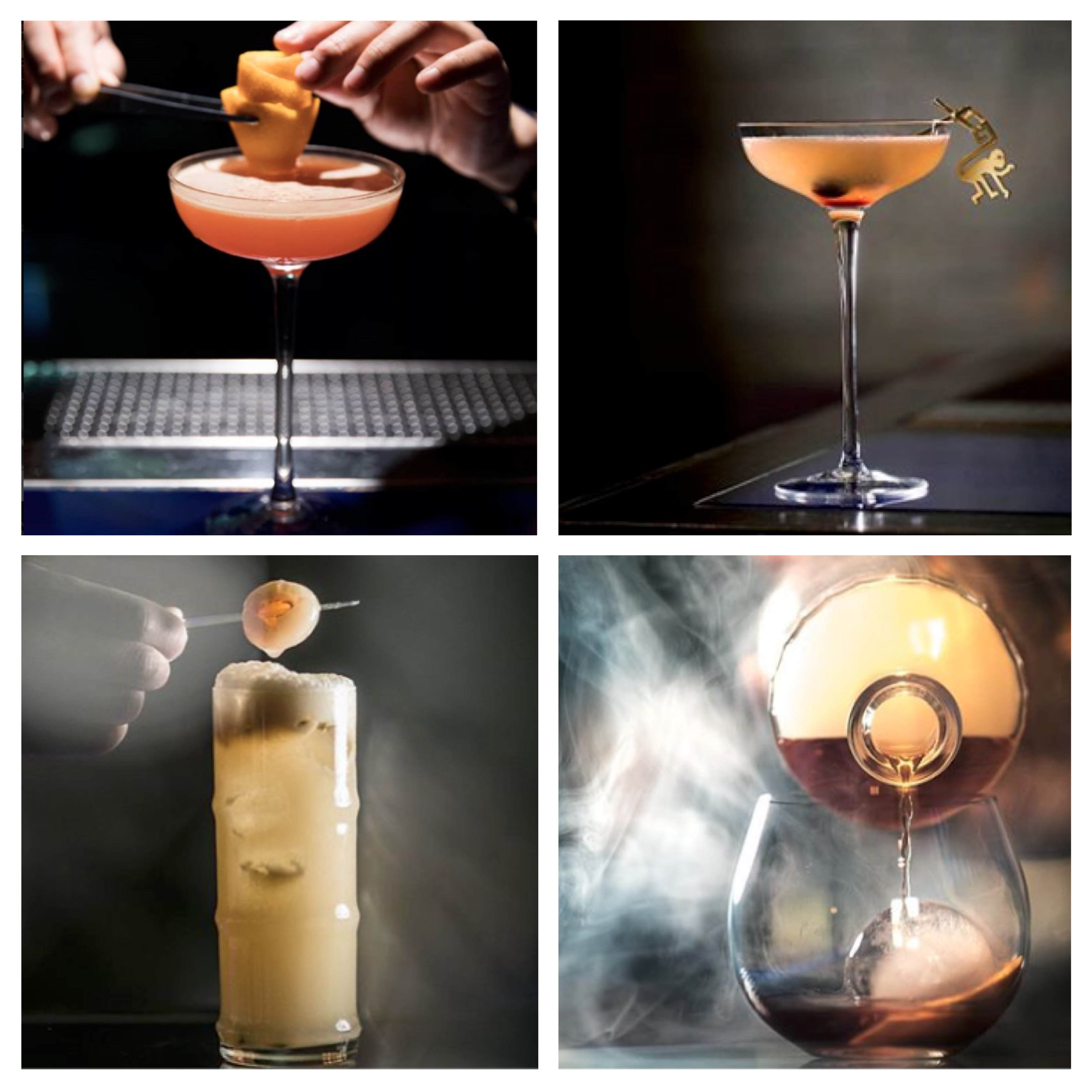 Fortified by food and drink at Hakkasan, expertly guided by Weston, we're ready to take Manhattan. Let's go drink this city!
BRUNCH COCKTAIL OR HAIR OF THE DOG
Jacob's Pickles goes above and beyond this brunch classic with their Bloody B.L.T.- a colossal combination of vodka, bloody mary mix, sterling bacon, and jalapeño pickled egg.

MARGARITA
Empellón Taqueria is a great spot for all things agave, and they do a great classic margarita. In addition, they offer a whole section on their cocktail menu dedicated to variations of the margarita like mezcal margaritas, spicy margaritas, sherry margaritas, and scotch margaritas.
CLASSIC COCKTAIL
Pegu Club in Soho is my go-to spot for a classic cocktail done right. Their house variation of the classic Pegu Club (London Dry Gin, Orange Curacao, Lime juice, orange and angostura bitters) is the perfect drink with a thoughtful flavor balance and beautiful presentation.
CRAFT COCKTAIL
There are a lot of spots in NYC to get a great craft cocktail, but I really enjoy the Nomad Bar at the Nomad Hotel. They always have a great selection of different style cocktails. On a recent visit, I really enjoyed the Sakura Mura, which is made with pisco, genever, cachaça, lemon, agave, green tea, and yogurt for texture.
PUNCH
The Dead Rabbit is one of the most well-known cocktail bars in the city, and their Party Animal punch is excellent. A summery combination of white wine, clementine, green apple, and white tea, ingredients like gentian and lemon balance out the drink with a sweetly sour edge.
DIVE BAR
Rudy's in Hell's Kitchen is my one of my favorite spots to visit after work because of its proximity to Hakkasan and its great value on bottles and drafts. They even offer free hot dogs with drinks, which can't be beat!
PUB, TAVERN, OR BREWERY
The Standard Biergarten's outdoor seating area is great for a relaxed hangout, and the Ayinger Brau Wiesse is light, citrusy and perfect for the summer season.
HOTEL BAR
Bemelmans is known for its old-school charm and elegant ambiance, and the Red Velvet cocktail is a fantastic and sophisticated spin on the Whiskey Sour.
HOT DRINK
The Last Word at Dirty French is made with green chartreuse, maraschino, lime, and gin and topped off with hot green tea for an unexpectedly delicious cocktail with a unique bittersweet tang.
THEMED COCKTAIL at IMMERSIVE EXPERIENCE BAR
I really enjoyed my recent visit to Patent Pending — a speakeasy situated behind a coffee shop in the former Radiowave Building that Nikola Tesla experimented in. The cocktail program incorporates this theme throughout in both its design and cocktail menu. Try the "Currents & Coils" a delicious blend of Venezulean and Guyanese rums, malted milk, coconut, coffee, pineapple and lime.
SPARKLING COCKTAIL
I recommend the Flatiron Lounge's cocktail the "Veruca Salt," made from Cachaca, Cocchi Rosa, Edlerflower, Blueberry Agave, Lemon, and Champagne. It's very light and fresh, and you'll instantly feel those Great Gatsby vibes from the 1920's-inspired décor.
APERITIVO
Nitecap, located in the Lower East Side, has a great aperitif cocktail on draft called Lil' Bamboo. Made from Amontillado sherry, a mix of dry and blanc vermouths and angostura and orange bitters, it is refreshing drink for jump-starting the evening.

LOW-PROOF COCKTAIL
One of my favorite spots for low ABV cocktails is Dante (formerly Café Dante), located in Greenwich Village. I recommended their version of the Garibaldi, which is simply Campari with orange juice. They add a nice touch to the drink by aerating their orange juice, which gives the drink a wonderful foamy texture.
UNUSUAL COCKTAIL or COCKTAIL WITH SURPRISING INGREDIENTS
Located in Chinatown, Apotheke is a speakeasy a former opium den that finds amazingly creative uses of obscure ingredients. One that comes to mind is the Siren's Call, made with gin, cucumber, roasted seaweed, squid ink, ginger, and black lava salt, garnished with candy pearls in an oyster shell.
COCKTAIL MADE BY A FRIEND
One of the first bartenders I met when I came to NYC was Manuela Zuluaga, who currently runs an amazing program at Pattiserie Chanson in the Flatiron District. One cocktail I recommend is the Deluvio, which is served as part of their six course cocktail-dessert paring. It is comprised of gin, honjozo sake, and elderflower liqueur that's heated through a coffee siphon with a blend of green tea leaves, cinnamon, turmeric, and rosemary.
The end result is incredibly smooth drink that elevates the senses.
Thank you, Lou, for taking us on a tour of Manhattan's best bars!
Like what you read? Check out , Drink This City: San Francisco, Drink This City: New Orleans Drink This City: Miami, Drink This City: Honolulu, Drink This City: Detroit, Drink This City: Chicago, Drink This City: New York, Drink This City: Nashville and more!
Join us next week for more DRINK THIS CITY! Meanwhile, hit us in the comments — where should we travel next?