The fast food hack is an institution at this point. Pretty much every fast food joint will let you tinker with their items at will. Sometimes that means making an air, land, and sea monstrosity at McDonald's. Other times, that means simply ordering an In-N-Out cheeseburger "animal style," which was probably the worst-kept hack/secret menu item ever. But what is the best fast food hack out there?
I think I've found it. At the (wildly underrated) Five Guys.
Just to be clear, for this experience, I'm defining a fast food hack as using items on the menu but shuffling them the way I want to to create an off-menu choice. Whereas a "secret menu item" would be something that doesn't appear on the menu at all, even as an ingredient. To order the latter, you have to know that the restaurant carries that item and ask for it. Adding a couple of fried chicken patties to your Big Mac instead of beef patties is a classic McDonald's hack. A "secret menu item" would be more like knowing that In-N-Out has pickled yellow peppers that you can add to anything, even though they don't appear on the menu anywhere.
So what is the Frankenstein'd dish that made me text my editor "I found the best fast food hack of all time"?
It's the Patty Melt double cheeseburger hack at Five Guys — a place renowned for having a completely hackable menu. They claim that you can order burgers, hot dogs, fries, and shakes in over 250,000 unique combinations. Basically, the place is built on the idea of "have it your way," which is old 1990s marketing code for "hack our menu." But why is this so good? Alow me to explain!
Also Read: The Top 5 UPROXX Food Posts From The Last 6 Months
So… What Is The Fast Food Five Guys Patty Melt Hack?
What we're dealing with here is a Five Guys grilled cheese that you hack into a patty melt burger. Five Guys make a gooey grilled cheese by butter-grilling a bun upside down with a slice of American cheese on what would normally be the top and bottom of the crown and heal of the bun. That lets the inside of each side of the bun act as a flat surface that takes on a nice buttery grilled texture while the cheese melts inside.
Like all of Five Guys' orders, the grilled cheese is 100% customizable. That means you can add grilled onions, grilled mushrooms, mayo, peppers, tomato, pickles, and yes burger patties. This turns the gooey grilled cheese pictured above into the patty melt pictured below.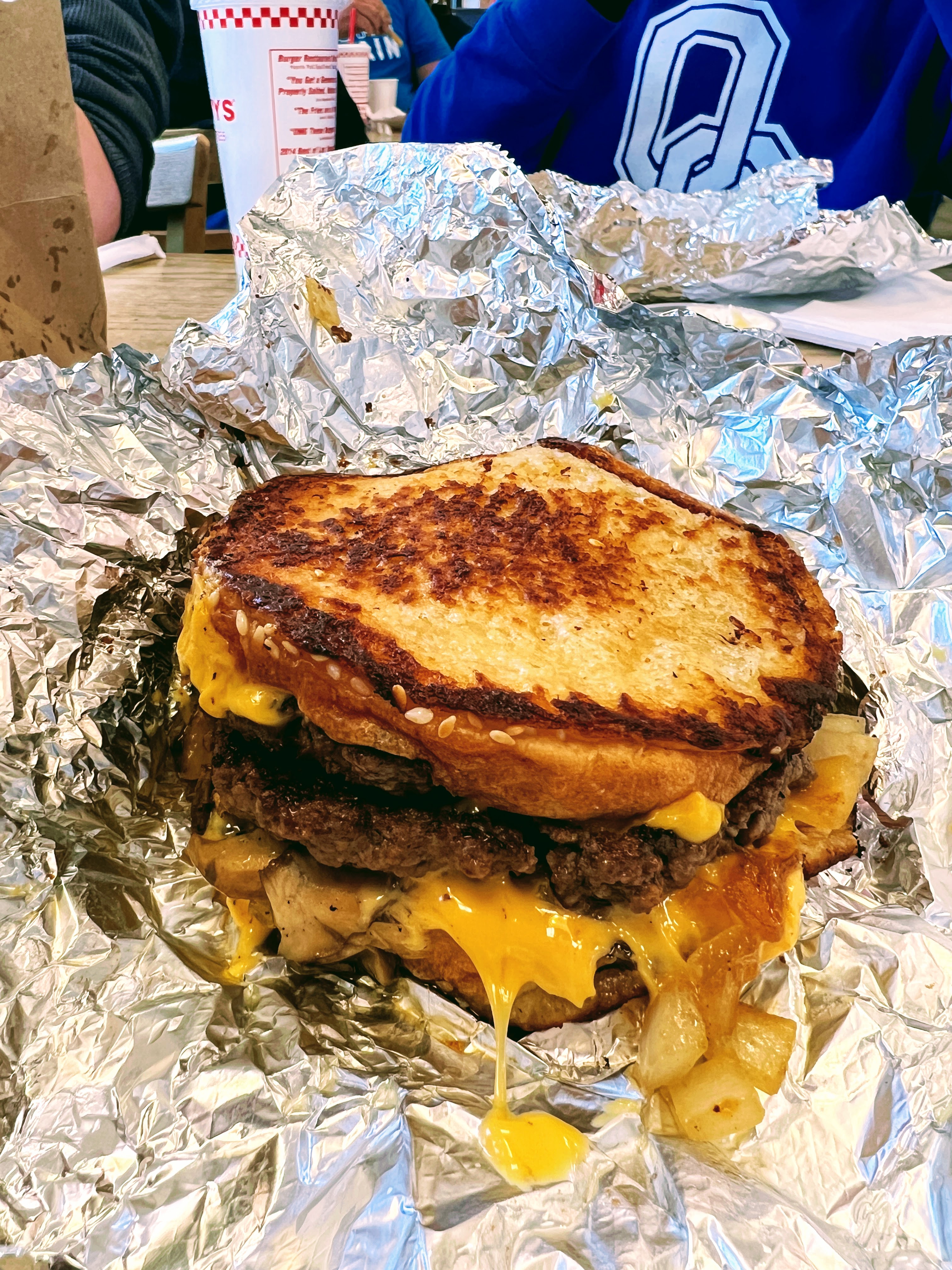 How To Order A Patty Melt At Five Guys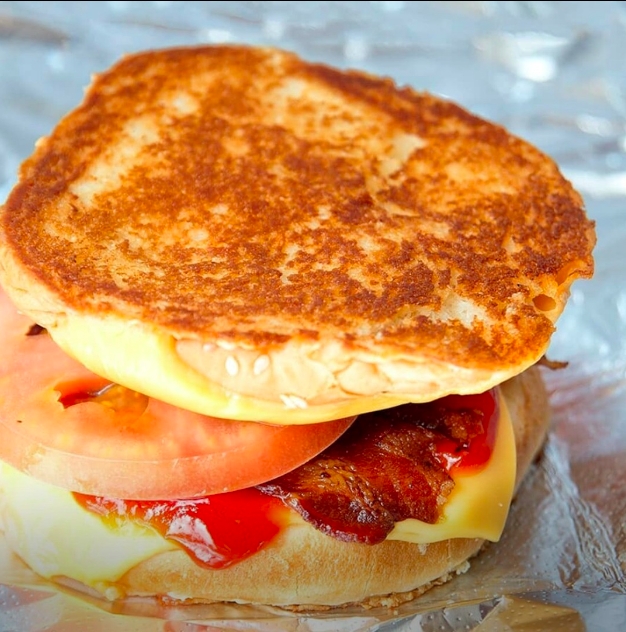 I had a little trepidation ordering this hack at Five Guys on my last visit. I'd heard online that people have been denied this order because it was a pain in the ass. So when I asked if I could add two burger patties to a grilled cheese, I did it timidly. I didn't have to. The server at the till said "of course, one or two patties?" as if they hear this request all the time. It wasn't an issue at all.
The Grilled Cheese was $4.39 plus $4 for the two patties, making this burger close to $9 after tax. I also added some grilled mushrooms and grilled onions (which were free add-ons) to really drive home the classic diner patty melt vibe. A few minutes later, my order was ready. It was that easy.
Is Five Guys Patty Melt Hack Any Good?
Yes. Well, sort of. The first half of this burger was delightful. The seared/grilled buttered bread added a great texture to Five Guys' otherwise soft and chewy buns. There was a real crunch from the crisp edges and the whole bun felt less doughy. It was a massive upgrade to any burger I've tasted in fast food.
That buttery and crispy bun was a wonderful vehicle for the earthy mushrooms, sweet onions, and gooey cheese over two juicy patties. The juice from the grilled veg, melting cheese, and meat created that classic natural burger sauce on the burger without the need for mayo or mustard.
The thing is, this is a lot. The addition of a lot of butter for grilling off the buns adds a lot of weight to this sandwich. It just gets heavy by the back half. I actually didn't finish the whole thing. I left about a quarter of it behind (I was picking at some fries, to be fair). But I do think that you order a patty melt when you want that hefty, butter-laden burger. So that's not a slight — more just an observation.
Would I order it again? Yes. No question. This was delicious and I want to play with it more (I could have used a pickle in there). Moreover, next time I'm going to skip the fries.