How do you fairly blind taste test fast food double cheeseburgers? It's a question I've been asking myself ever since my editor first tasked me with what he considered to be a great idea. He's not entirely wrong, by the way [rarely is, tbh. -ed] — blind taste testing fast food cheeseburgers is an interesting experiment. In theory. But the logistics of how to get it done while still being as comprehensive as our original double cheeseburger ranking from two years ago just don't check out.
So over the past months, I have steadily ignored him on this matter, hoping the assignment would go away. It hasn't.
That original ranking consisted of 15 different double cheeseburgers and took weeks to put together. A blind taste test has to all happen at the same moment, so doing 15 is straight-up impossible. Sure, we could round up all the cheeseburgers in question but they're all going to be cold and if you've ever eaten fast food you'll know that time is the enemy of flavor. Especially when it comes to burgers.
Luckily, an opportunity revealed itself. Along Pacific Coast Highway in Long Beach California there is a Five Guys, In-N-Out, and Shake Shack all within a half-mile radius of one another. So while I can't round up all 15, I can at the very least do our current top three while still being able to enjoy them in optimal conditions.
In our 2021 piece, the double cheeseburgers were ranked as follows:
3. Five Guys
2. Shake Shack
1. In-N-Out
So without further ado, here are our top three favorite double cheeseburgers, blind taste tested and re-ranked.
Also Read: The Top 5 UPROXX Food Posts From The Last 6 Months
PART I — Methodology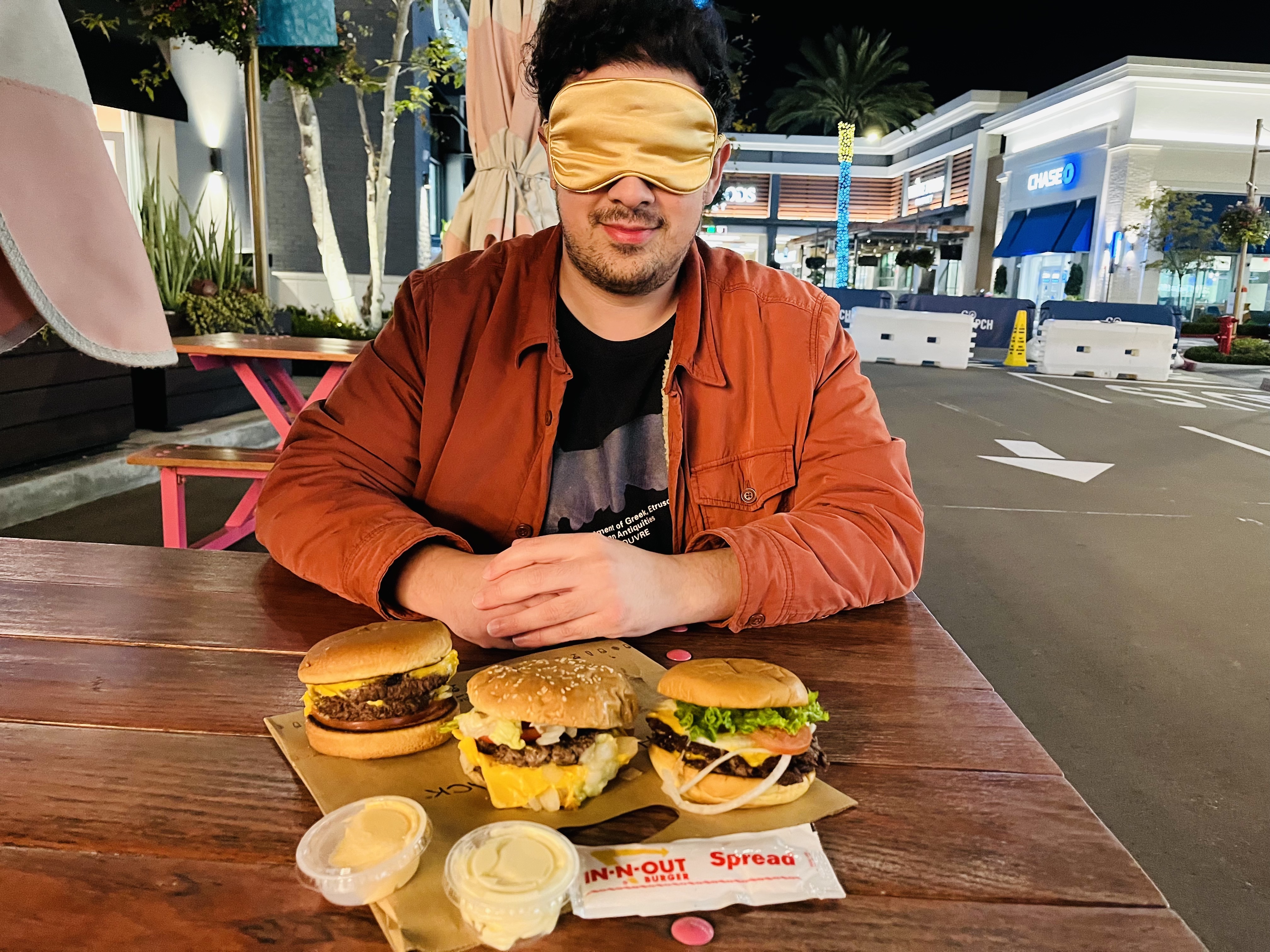 For this blind taste test to be as fair as possible, I needed each burger to have the same build: double meat, double cheese, lettuce, tomato, and onions. All burger sauces were ordered on the side (I'm aware the proper sauces aren't in front of their respective burgers in the above photo, which was remedied during the tasting) so that the burgers wouldn't become soggy in transit. I also needed them to be ordered at the same exact time and arrive to me within minutes of each other, so I asked two friends to meet me in separate cars at a parking structure in Long Beach and tasked each with picking up a burger (I picked up the burger from Shake Shack).
They were confused and had all sorts of questions. But once I offered to buy them each a burger, the questions stopped.
I placed three identical orders at In-N-Out, Shake Shack, and Five Guys at the same exact time and dispatched the team for the pickup. When the burgers arrived I wore a blindfold, knowing I'd be able to recognize which burger was which by sight alone (even without their wrappers), had my friends unwrap the burgers, cut them in half, taste tested all three, took notes, and then photographed the remaining halves once the tasting was done.
Sure, maybe this was a lot of trouble for a fast food blind taste test– but I take my job seriously dammit!
PART II — The Tasting
Taste 1: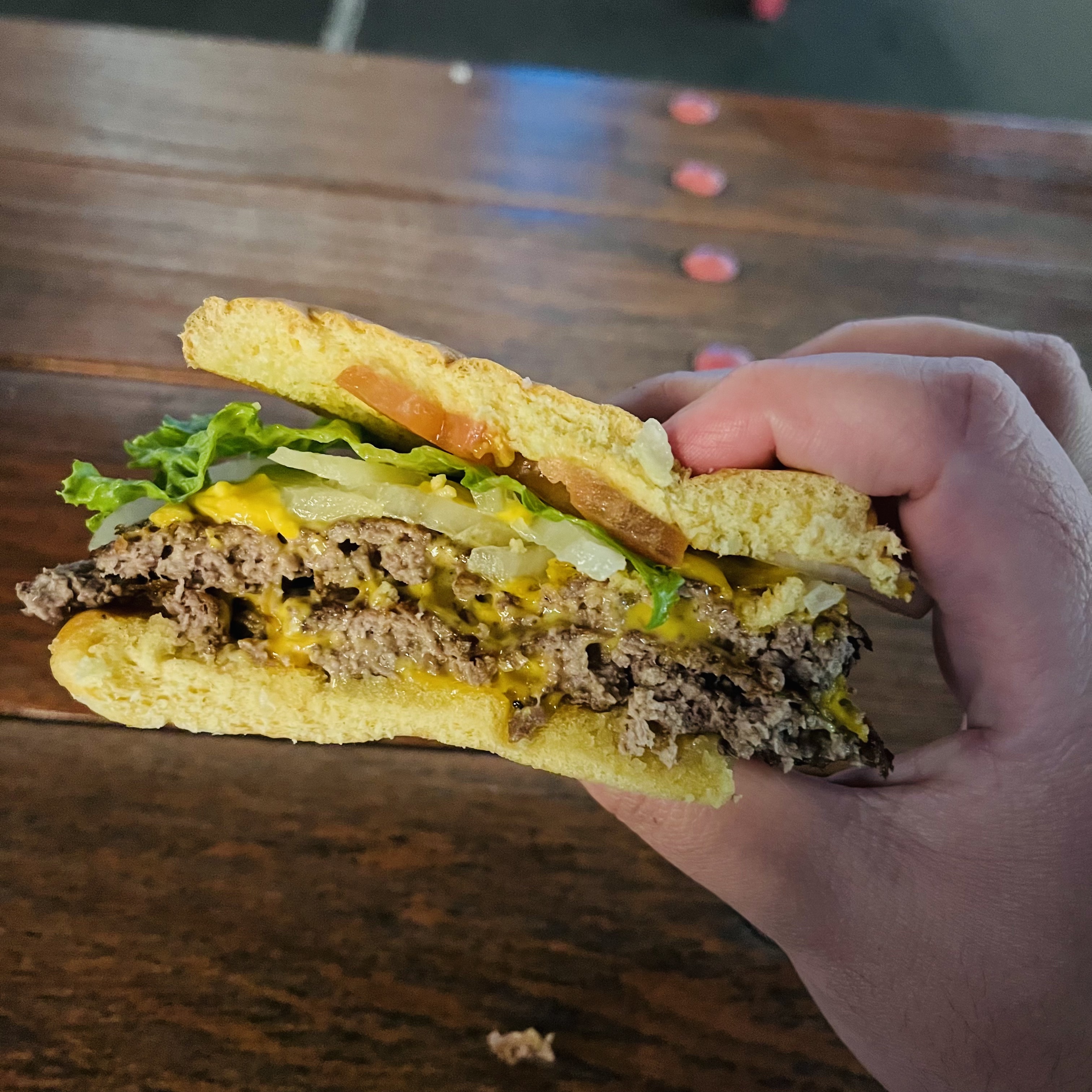 Melt in your mouth good! What a way to start a tasting!
Everything about this burger just works. The beef has this wonderful depth of flavor, it's meaty and savory, with a noticeable crisp and crunch to it and a salty component courtesy of the cheese. The tomatoes offer a burst of flavor that compliments and accentuates the savory qualities of the beef with a nice balance of onion that doesn't overpower. I can't really taste the lettuce all too well but it does add to the mouthfeel.
With a dollop of the sauce, I'm getting a nice sense of tangy complexity. The bun is soft, airy, and subtly sweet.
Taste 2: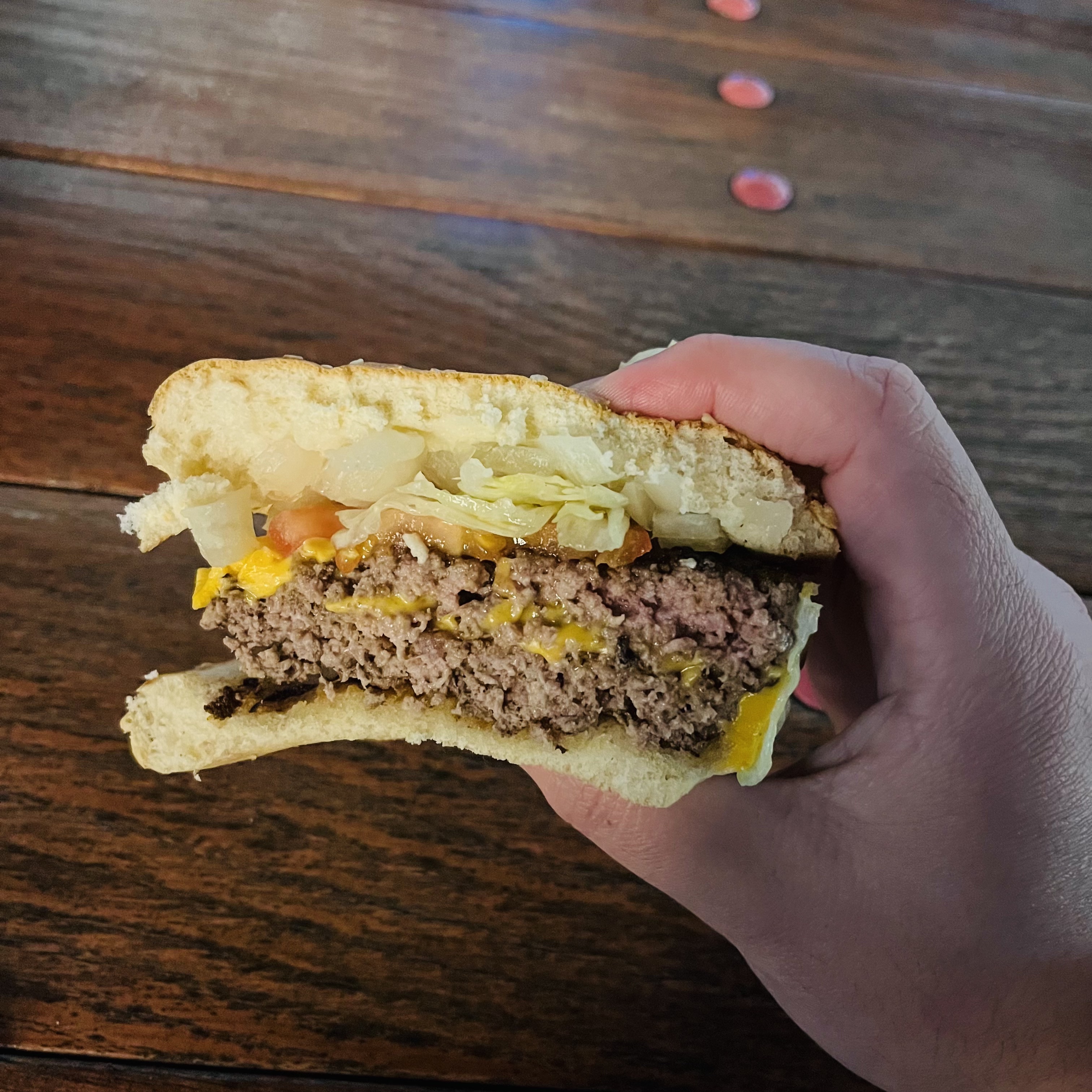 Really dry compared to Taste 1, the onion massively overpowers the tomato and the lettuce has a watery flavor that I find off-putting. The beef is good but isn't quite as complex as Tasting 1 with a much drier texture. I'm getting a lot more meat here though, it's almost laborious to chew through. This one is definitely thicker than Tasting 1, too. Not sure you need a double from this place because the ratio of meat to bread weighs heavily on the meat side.
The bread isn't anything to write home about, it's dense, dry, and flavorless. With a dollop of sauce, I'm getting a more savory bite but it tastes like straight mayo.
Taste 3: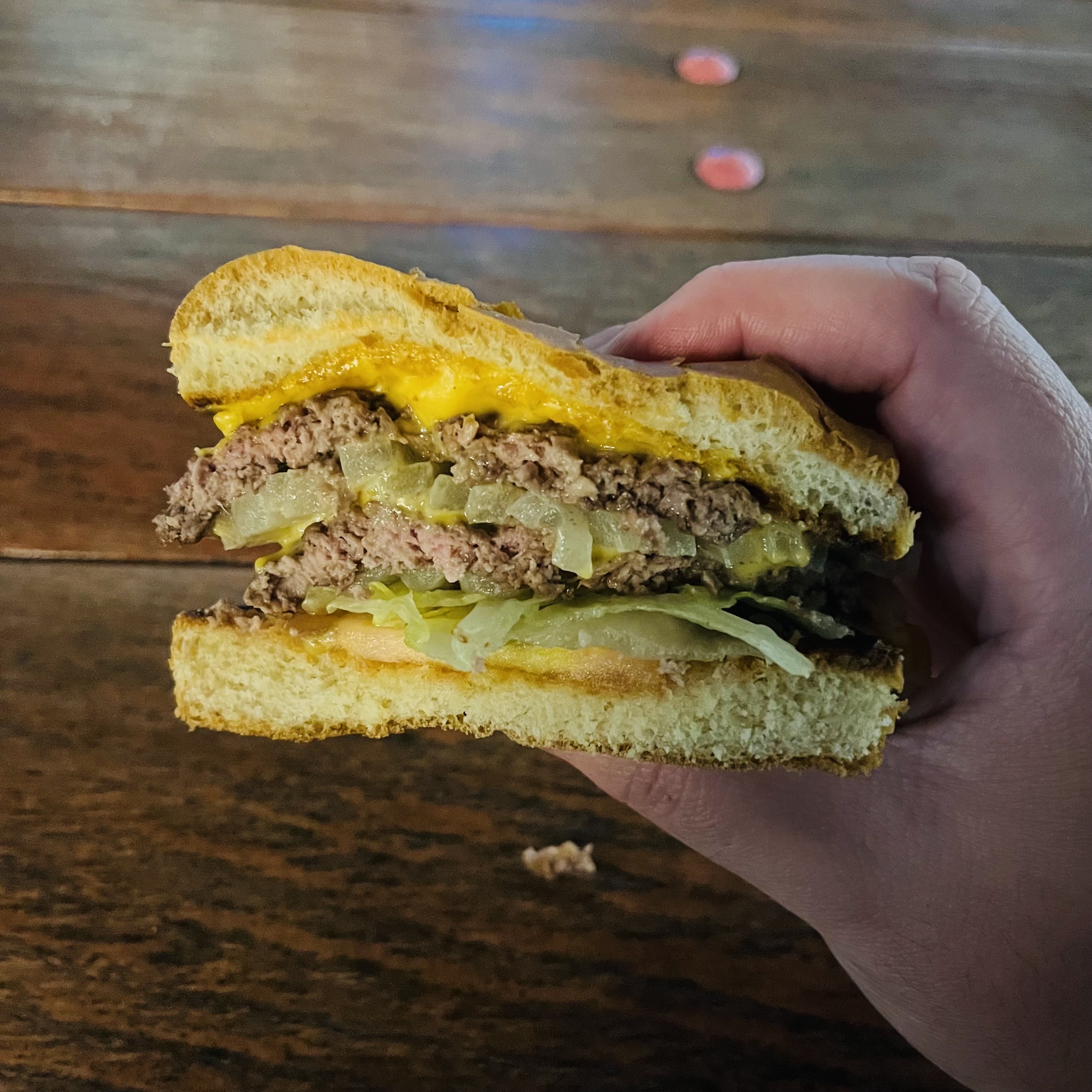 A step up from Taste 2… but not by much. The beef patties are considerably thin here but the ratio of meat to cheese offers a nice balance. It feels gooey on the palate with a pronounced salty flavor. The onions are a bit sharp, but the tomato and lettuce are juicy and refreshing. Of all the burgers, the tomato and lettuce are best represented here. The bun is way over-toasted though. It has a hard, toast-like texture to it.
The sauce makes all the difference, it makes the whole thing much more palatable but still not quite as good as Taste 1. Where Taste 1 had a depth and complexity to its meat, this one just tastes like salty beef.
Part 2: The Ranking
3. Five Guys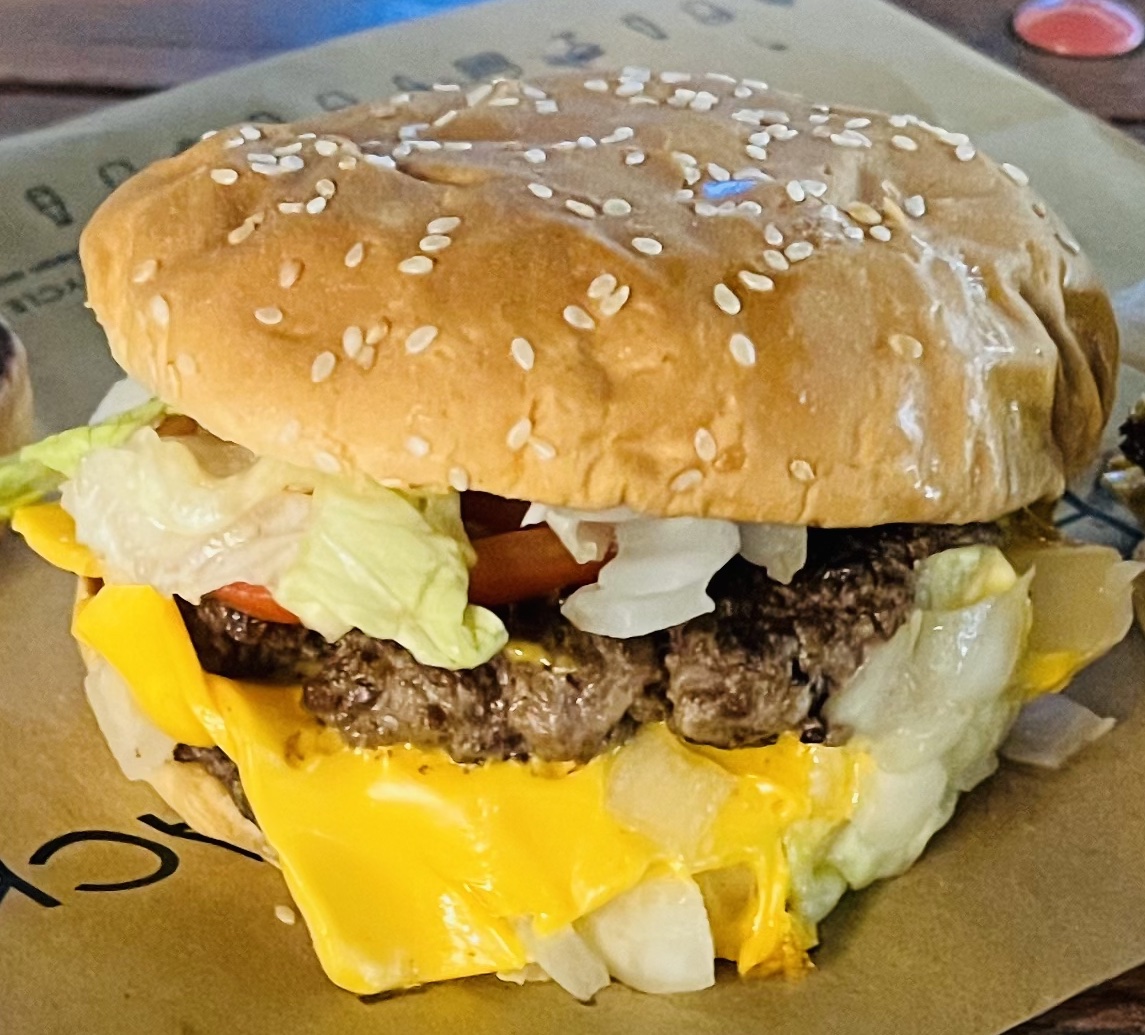 Five Guys retains its bronze medal! The beef was just too dry here to really wow me and the sesame seed bun was easily the least flavorful of the bunch. The mayo also couldn't compare to Five Guys and Shake Shack's house-made burger sauces, but that's the problem with Five Guys, it's not fair to consider the chain a regular burger spot. Five Guys is at its best when you add things like grilled jalapenos, bacon, A1 sauce, and any other creative topping you'd like to the mix. With the strict parameters of this particular build, it never had a chance so it doesn't surprise me it came in third.
If this was a bacon cheeseburger blind taste test, this might've clinched the top spot.
The Bottom Line:
Five Guys is delicious, but when it comes to a classic universal burger build, it just can't compete with In-N-Out or Shake Shack.
Find your nearest Five Guys here.
2. In-N-Out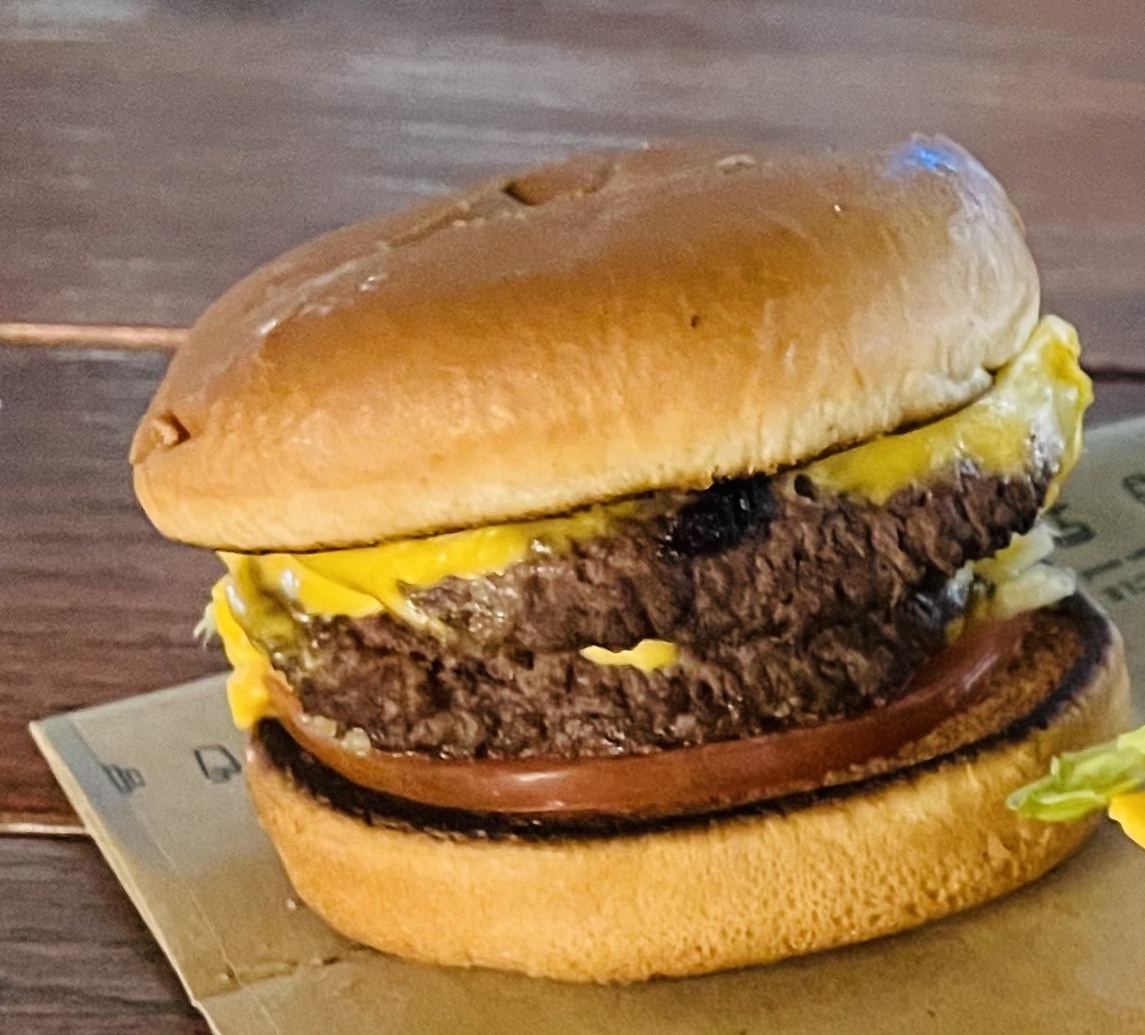 This took me a little bit by surprise. In-N-Out was my top burger on our 2021 ranking and although a lot of people sounded off in the comments that it won because as a Southern Californian, I have some sort of bias towards In-N-Out, I still stood by my choice and still think that, for the price, this is the best fast food double cheeseburger you can buy. But that's the thing, for the price.
I can't deny our number one choice, even if it is almost twice as expensive. In-N-Out is great, and while its greatness doesn't always translate to people who come from other states hearing stories of this burger chain serving the best burgers, only to have their expectations not met, that doesn't mean In-N-Out doesn't make a truly delicious burger. There is a reason it has the reputation it has in the first place.
The Bottom Line:
Consider the crown stolen. In-N-Out makes a great burger, but it doesn't compare to today's number 1.
Find your nearest In-N-Out here.
1. Shake Shack
Without question, Shake Shack makes the best fast food double cheeseburger, period. Done.
You can actually taste that Maillard crust, it adds a whole new sensation to the mouthfeel of this burger and locks in the juices of the beef so that they explode across your palate once you bite into this baby. Everything single component of this burger is expertly sourced, nothing comes across as superfluous, the tomatoes are vibrant and juicy, the sliced onions add complexity without overpowering, the bun is a work of art, the cheese is perfectly melted, salty, and creamy, each bite is perfection.
Right now Gavin Newsom is trying to revoke my California citizenship but I have to call it like I see, er, taste it, and Shake Shack's burger is simply the best.
The Bottom Line:
Our new champ, Shake Shack easily makes the best fast food double cheeseburger in the game.
Find your nearest Shake Shack here.