It's crazy to think that in just five years, the Beyond and Impossible Burgers have gone from mere eco-conscious curiosities to fast food menu staples as the two brands continue to fight for dominance in the American fast-food space. In 2020, Beyond Meat has developed a considerable edge over Impossible Foods as the brand has become to go-to meat 2.0 choice of the majority of chains, but from a flavor standpoint?
We're a little more convinced of Impossible's meat-mimicking power over Beyond's tech. Though we fully recognize that that is totally in the hands of who is preparing the thing. For instance, Umami Burger's Impossible Burger and the Impossible Whopper couldn't taste more different. That's good news because both Beyond Meat and Impossible Foods are now more available at grocery stores than they've ever been, allowing you to put your own culinary stamp on a plant-based burger if fast food isn't your thing.
Regardless, we've got you covered if you're enjoying more meals at home (due to COVID-19, this is all of us) with an updated list of all the markets and online stores, as well as nationwide fast-food joints holding both Beyond Meat and Impossible Foods. Now let's get out there and eat some plants!
A&W's Beyond Burger was once a Canadian exclusive but is now available in the states at select locations nationwide. It's probably not the tastiest Beyond Burger, but hey, now you can swig down some quality root beer while you eat a plant-based burger, and really, what more can you ask for?
Bareburger has a whole mess of Beyond Burgers and is by far the only burger chain on this list that is giving plant-based meat the spotlight it deserves. That standouts are The Original, a quarter-pound burger with American cheese, onions, pickles, and special sauce. The Golden State features gouda, green leaf lettuce, red onions, organic ketchup, and tomatoes. The Duchess has gouda, caramelized onions, wild mushrooms, baby kale, tomatoes, and organic garlic aioli. Then there are five other burgers you can dive into.
Bareburger is the burger joint to hit up for all your well-dressed plant-based needs.
Pizza is probably the easiest food to eat while totally avoiding meat. So, while we certainly didn't need a vegan spicy chorizo topping option at Blaze Pizza, we'll take it!
BurgerFi offers the best of both worlds, allowing you to have Beyond Meat in any of their burgers or a BurgerFi Veggie Patty for those looking for a more earthy taste. BurgerFi also offers Angus and Wagyu beef patties, in case you feel like dipping into the dark side for a bit.
Ahh, the Impossible Whopper. Not only have we tasted this thing, but we've examined how it stacks up against its meat counterpart, the Original Burger King Whopper. Our verdict was that the burgers were essentially interchangeable. So if you're looking to reduce your carbon footprint, this is an easy pick for any Burger King fan.
Carl's Jr. was one of the first big chains to embrace Beyond Meat with their Beyond Famous Star and Beyond BBQ Cheeseburger. Since those early days, Carl's Jr. has also put together a Beyond Sausage Burrito and Beyond Sausage Egg and Cheese, making sure all your plant-based needs are covered through breakfast, lunch, or dinner.
Just when you thought the Cheesecake Factory menu was overdone, they decided to add yet another item to their "A Song of Ice and Fire" sized list of offerings. Are Game of Thrones references officially dated? The Cheesecake Factory Impossible Burger has been sold nationwide since August of 2018. Why they didn't take this opportunity to introduce the Impossible Meatcake we'll never understand. But we're holding our breath in anticipation!
Chronic Taco has a Beyond Beef Crumble that can be ordered in any one of their tacos, burritos, or bowls. They also serve a potato taco which is a delicious and traditional Mexican-food option that edges out the Beyond in my humble opinion. The Beyond Beef Crumble is vegan-friendly, gluten and soy-free, and packs a whopping 55 grams of protein and only 3 grams of fat. Now, you'll just have to convince your friends to eat at a place called Chronic Taco.
Del Taco now serves Beyond Meat tacos at all 580 of their locations across the country. We've tried it. It certainly tastes meat-ish! Order a taco, burrito, or nachos and substitute Beyond Meat for real meat. Pro-tip: Order a Beyond Meat soft taco, fill that baby up with some crinkle-cut fries and you've got yourself a flavor bomb!
Disney World serves "grilled vegetarian burgers" park-wide and at several restaurants operating on the premises. Whether you're grabbing an Impossible burger at the House of Blues or a more generic variation somewhere in the Epcot Center, the world of Disney has got us covered in terms of plant-based burgers. They'll probably be the most expensive plant-based burgers you'll ever buy, which will pair nicely with your expensive churro.
Doghaus saw the war plant-based meat wars and decided, "Nah, we ain't picking sides." As far as we can tell, Doghaus is the only chain to serve both meat 2.0 brands, thanks to their Impossible Burger and Beyond Sausage Dog. It's the best of both worlds in the Doghaus.
Originally a Manhattan exclusive, the Dunkin' Beyond Sausage breakfast sandwich is now available nationwide. It looks almost identical to a regular breakfast sausage sandwich, only the meat is made from plants! How neat. Accompanying the Beyond Sausage patty are egg and aged white cheddar cheese, so, sorry vegans!
If you're a big Fatburger fan, you probably already know that they're selling an Impossible Fatburger. The Impossible Fatburger is currently available at every Fatburger location in America with some locations even carrying vegan Daiya cheese. Bump that Daiya access to all locations Fatburger and you may just win the plant-based burger war!
Since December of last year, the Hard Rock Cafe has been serving the Impossible Burger at all 40 company-owned locations in the United States. What tastes better than an Impossible Burger with double cheese and a giant fried onion ring inside of it? Don't answer that, because the answer is "a beef burger with double cheese and a giant friend onion ring." But the planet is in trouble, so it might not be a bad idea to start thinking of ways you can help.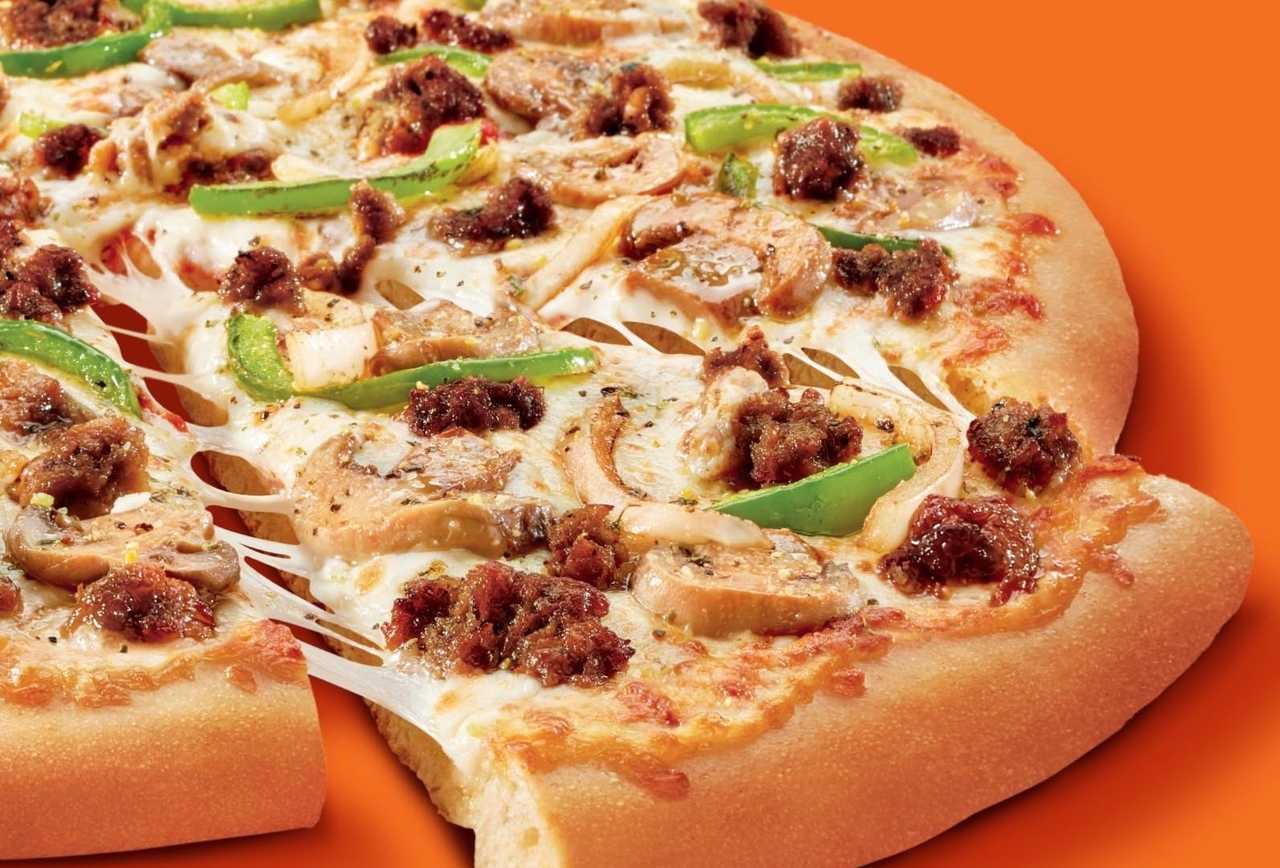 Little Caesars is trying out a Supreme Pizza made in collaboration with Impossible Meats. The Impossible Supreme Pizza consists of caramelized onions, mushrooms, green pepper, and Impossible Sausage, which the meat 2.0 company made especially for Little Caesars.
Blaze Pizza, take note, this is how you go meatless!
This has yet to roll out nationwide, but Little Caesars CEO David Scrivano indicated to Cheddar that a nationwide rollout is likely after the test markets responded well. Currently, this is only available at test markets in Yakima, Washington, Fort Meyers, Florida, and Albuquerque, New Mexico.
Texas and California Mediterranean chain restaurant Luna Grill has a Beyond Burger served with grilled red onions, shredded kale, diced tomatoes, and a mouth-water spicy feta cheese sauce. Delicious!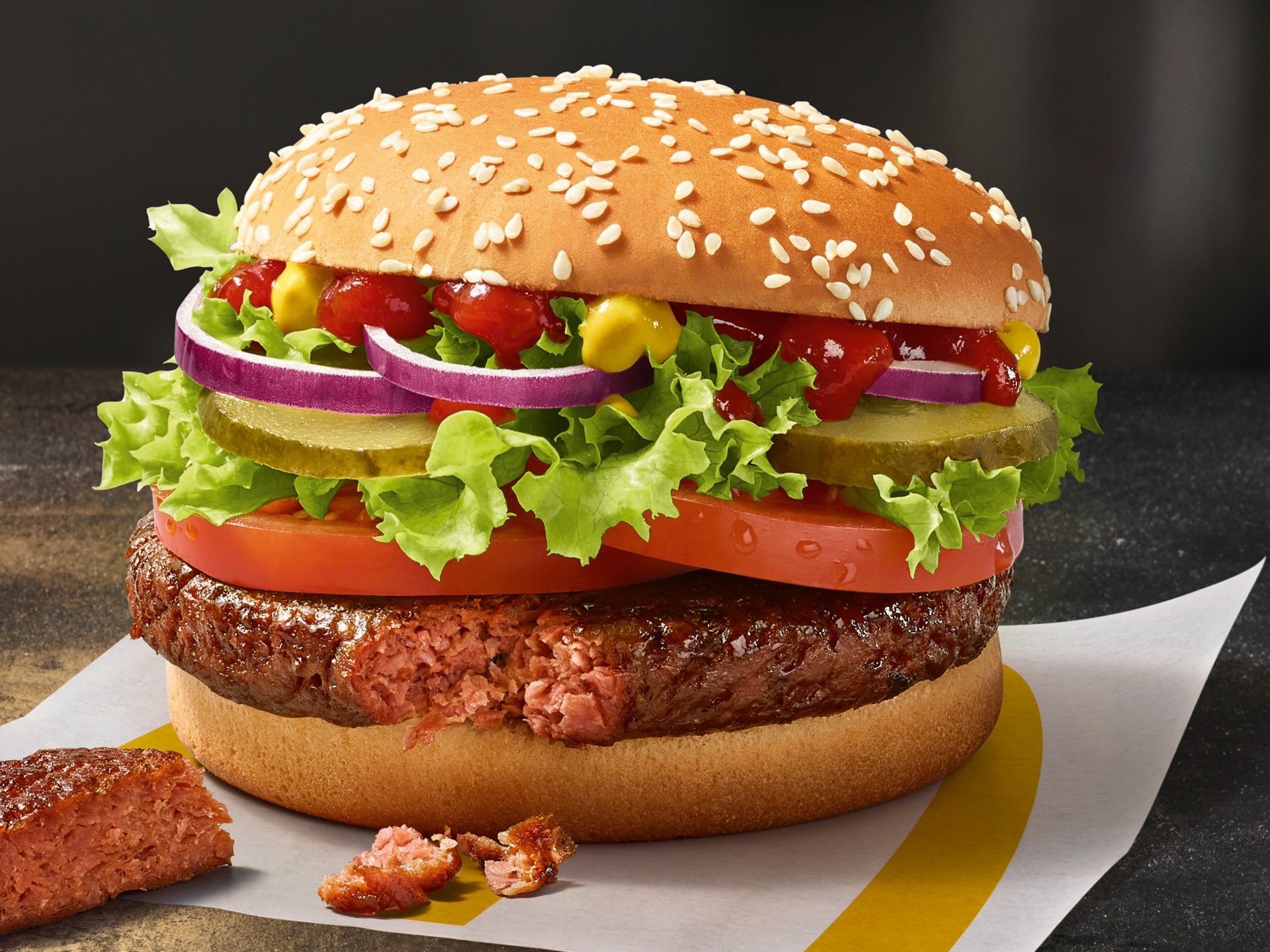 Okay, what gives McDonald's? Americans often gaze at the international menu offerings from McDonald's with envy but this is just taking it too far. The Big Vegan TS is currently only available in the fast-food chain's German market with no plans to expand to the US. While that's pretty disappointing, we doubt it means we'll never get a meat 2.0 Big Mac stateside, considering the Big Vegan TS is manufactured by Nestlé which leaves the door wide open for Impossible or Beyond Meats to come sweeping in to rescue us.
Qdoba now sells Impossible Tacos and Bowls at all 730 of its locations. I'd argue that the meat 2.0 tacos are actually considerably better than the burgers. So if you've been burned by an Impossible or Beyond burger in the past, consider giving the tacos a try.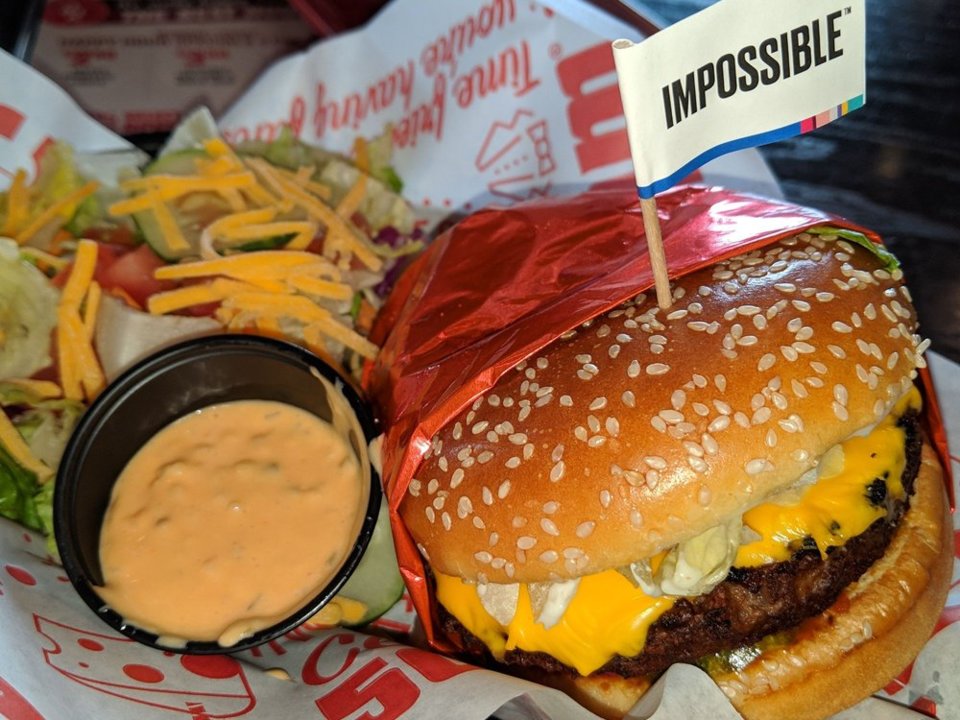 Red Robin first introduced their Impossible Burger on April Fools' Day of this year. Why any company does anything on April Fools' Day is beyond us, but the Red Robin Impossible Burger is no joke. The best part about the chain's approach is that you could swap in the Impossible Burger patty to any of Red Robin's gourmet burgers. That's dope and an approach we'd like to see more chains take up in regards to the meat substitute.
The Shake Shack 'Shroom Burger consists of a portobello mushroom cap with Muenster and cheddar cheese, lettuce, tomato, and Shack Sauce. While it's not quite an Impossible or Beyond meat, it still deserves some mention. The 'Shroom Burger is by no means bad, they're actually pretty tasty but they don't exactly satiate that meat craving like an Impossible or Beyond Burger might. Still, Mushrooms do have a meaty texture with lots of umami, so it's almost there.
Shake Shack also has a Veggie burger that is exclusive through their app but only from limited locations. So we aren't counting it. Get it together Shake Shack!
The Beyond Meatball Marinara Sub has everything you love about the classic Subway sandwich only with a ball of plant-based meat instead of, you know, meat. Packed with 24 grams of protein per six inches, the Beyond Meatball Marinara Sub will leave you just as satisfied as it's hearty meatball counterpart, all while slightly reducing your own carbon footprint. That's a win-win.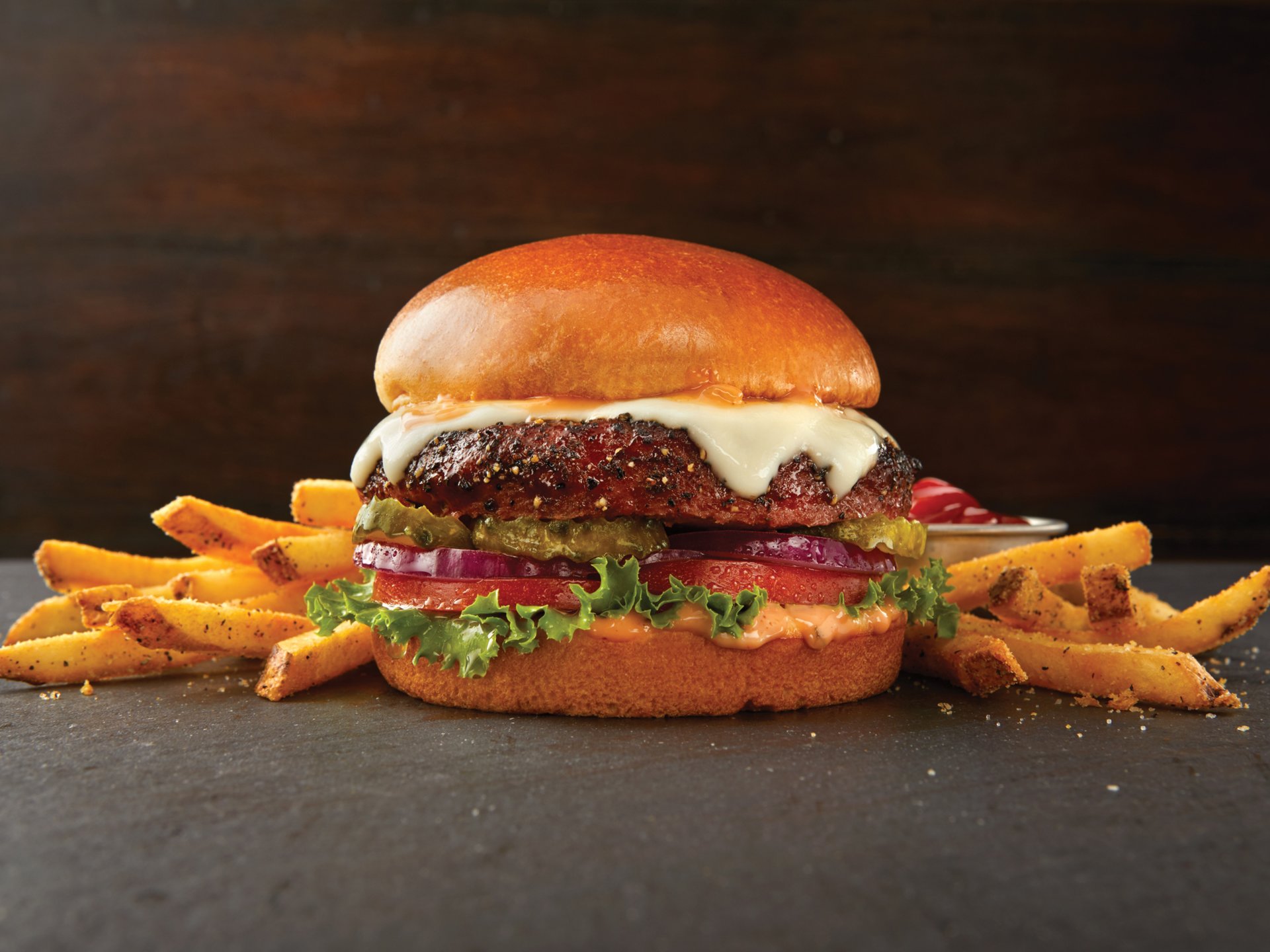 Since January 2018 people have been "thanking God" that TGI Fridays has a Beyond Burger. Bad joke? Just stop your criticism and eat your Beyond burger. At over 469 participating locations nationwide, you could substitute the beef patty in any TGI Fridays burger for Beyond Meat.
Umami Burger was one of the first burger spots to offer up an Impossible Burger and the small chain currently has three different iterations of the burger on their menu. With the Impossible Trufflemaker, you get an all-vegan bun, miso mustard sauce, charred green chili salsa, truffle fondue, truffle aioli, port wine, a truffle glaze, curly lettuce, and tomato. If that doesn't make your mouth water and fill you with ideas of eating way less meat, we don't know what will.
Or perhaps the Impossible Vegan BBQ is more your speed, with an espresso rub, smokey bbq sauce, and thinly sliced jalapeño with the aforementioned miso mustard and charred green chili salsa. With ingredients like that the meat doesn't even matter!
If you're already living a vegan or vegetarian lifestyle, you probably already know all about Veggie Grill. If you're new or interested in becoming vegan or vegetarian, welcome to your new McDonald's. Veggie Grill is a fast-casual vegan restaurant, their entire menu is vegan friendly and they have plenty of plant-based meat products on their menu, from Beyond Cheesesteak Sandwiches to chopped Chickin' salads.
Wahl Burger, the only burger chain partly owned by a member of the Funky Bunch, proudly serves a quarter-pound Impossible Burger with smoked cheddar cheese, lettuce, caramelized onions, Paul's signature Wahl sauce, and some housemade chili-spiced tomatoes. It's such a good vibration, it's such a sweet sensation.
White Castle has been selling an Impossible version of their 2×2 inch slider at participating locations nationwide for about a year now. Since every stoner's favorite East Coast burger chain was such an early adopter of Impossible, it has given the company some time to start experimenting with the slider. This past April, White Castle introduced the BBQ Impossible Slider, and though we haven't had one we imagine it's now even harder for meat 2.0 skeptics to tell the difference.
America's favorite sports bar chain, Yard House, is home to the unimaginatively named "Beyond Burger," featuring pickles, vegan mozzarella, red onions, tomato, arugula, smashed avocado, and a slaw made from mixed field greens tossed in balsamic vinaigrette atop a fresh-baked onion bun. Nice call on the arugula over something like butter lettuce, but we're still feeling salty over the name.
All The Markets Selling Beyond and Impossible Meat
If you love yourself a plant-based burger so much that you're looking to swap out meat for a Beyond or Impossible product permanently, you'll be pleased to know that they have this stuff in markets too! With sausage, chicken, and taco meat plant-based products, swapping out meat for something altogether better for the environment is now easier than ever.
In terms of availability, Beyond is absolutely mopping the floor with Impossible, with availability at 26 grocery stores chains across the country compared to Impossible's presence in just three. This is a large disparity that'll leave Impossible fans vulnerable to being swooped up by Beyond's convenience. Step it up Impossible Foods!
Beyond Meat products can be found at ACME, Albertsons, Food Lion, Giant, Hannaford, Harris Teeter, Central Market, Hy-Vee, Jewel-Osco, Kroger, Pavilions, Ralphs, Safeway, ShopRite, Sprouts Farmers Market, Stater Bros Market, Target, Vons, Walmart, and Whole Foods
Impossible Foods can be found at Fairway Market, Gelson's, and Wegmans.
Beyond Meat and Impossible Foods also have online stores where shoppers can order exclusive products and have them delivered right to their door.