One of the largest, most remote, and rugged National Monuments in the United States is one you may not yet be familiar with: Grand Staircase-Escalante National Monument. A vast protected area located in southern Utah, the monument covers an area of approximately 1.9 million acres of stunningly diverse landscape – including rugged canyons, towering cliffs, waterfalls, natural bridges, and arches.
Despite its remote location, Southern Utah – specifically Garfield County – is an adventurer's paradise, with the world's largest concentration of scenic attractions in one county. With two National Parks (Bryce Canyon and Capitol Reef), three state parks (Kodachrome Basin, Anasazi Museum), and Escalante Petrified Forest, as well as National Recreation Areas and National Monuments (including the vast Grand Staircase-Escalante), this is one of the true outdoor epicenters of the nation.
It's also home to the coolest "glampground" I've ever visited – Yonder Escalante. Here is why you should make it your base camp for your adventure to Bryce Canyon Country.
WHY IT'S AWESOME: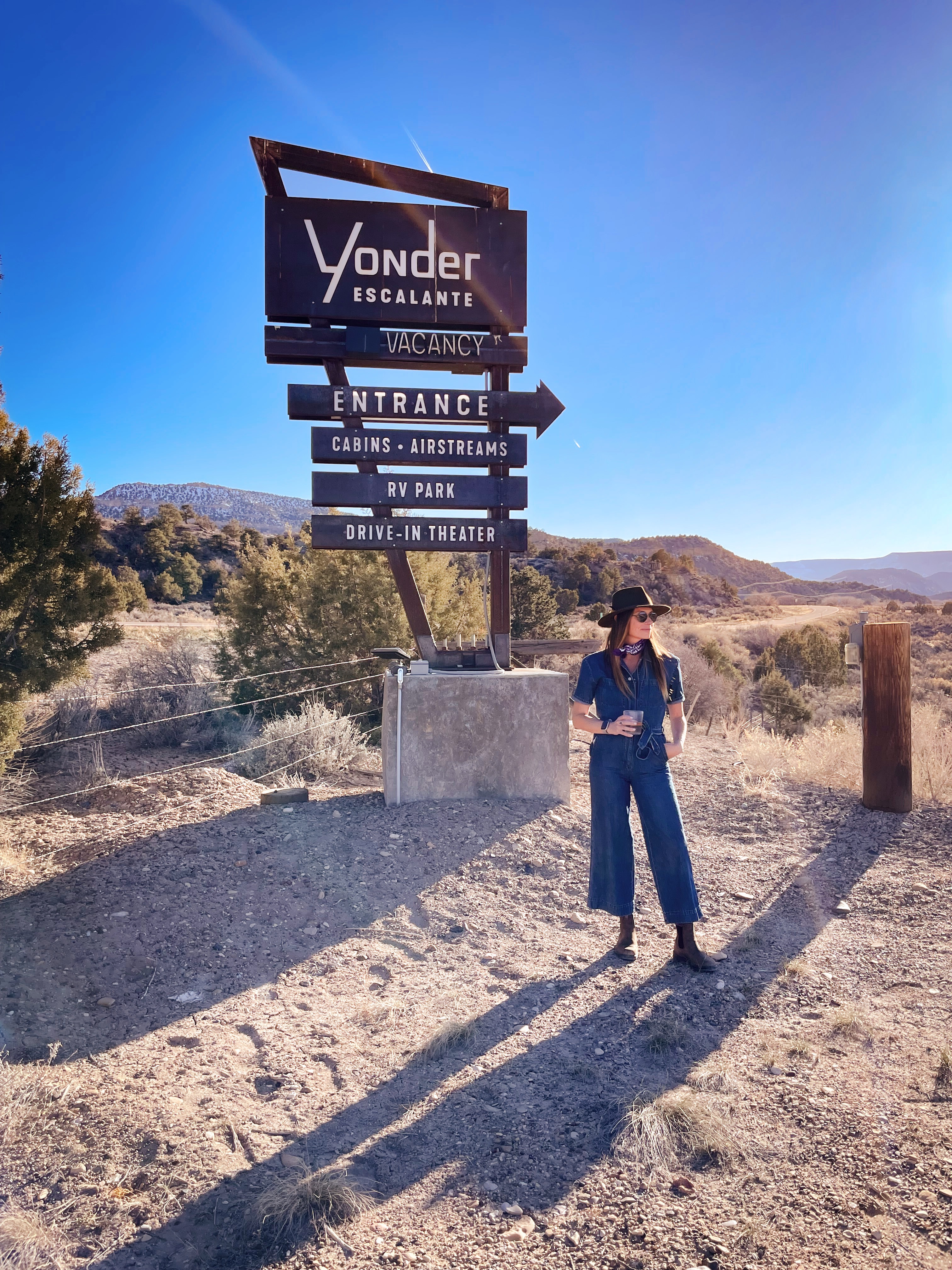 Yonder Escalante is perfectly situated off the gorgeous Scenic Byway 12 surrounded by the vast open spaces and geological formations of Southern Utah. It feels like a secret oasis among a rugged, desolate environment from the moment you drive into the property – with attentive staff, luxurious accommodations, a beautiful pool for a hot summer day, and – the best part, in my opinion – a drive-in movie theater playing classics each night. It's a destination in itself in the middle of so many.
IN-HOUSE FOOD AND DRINK: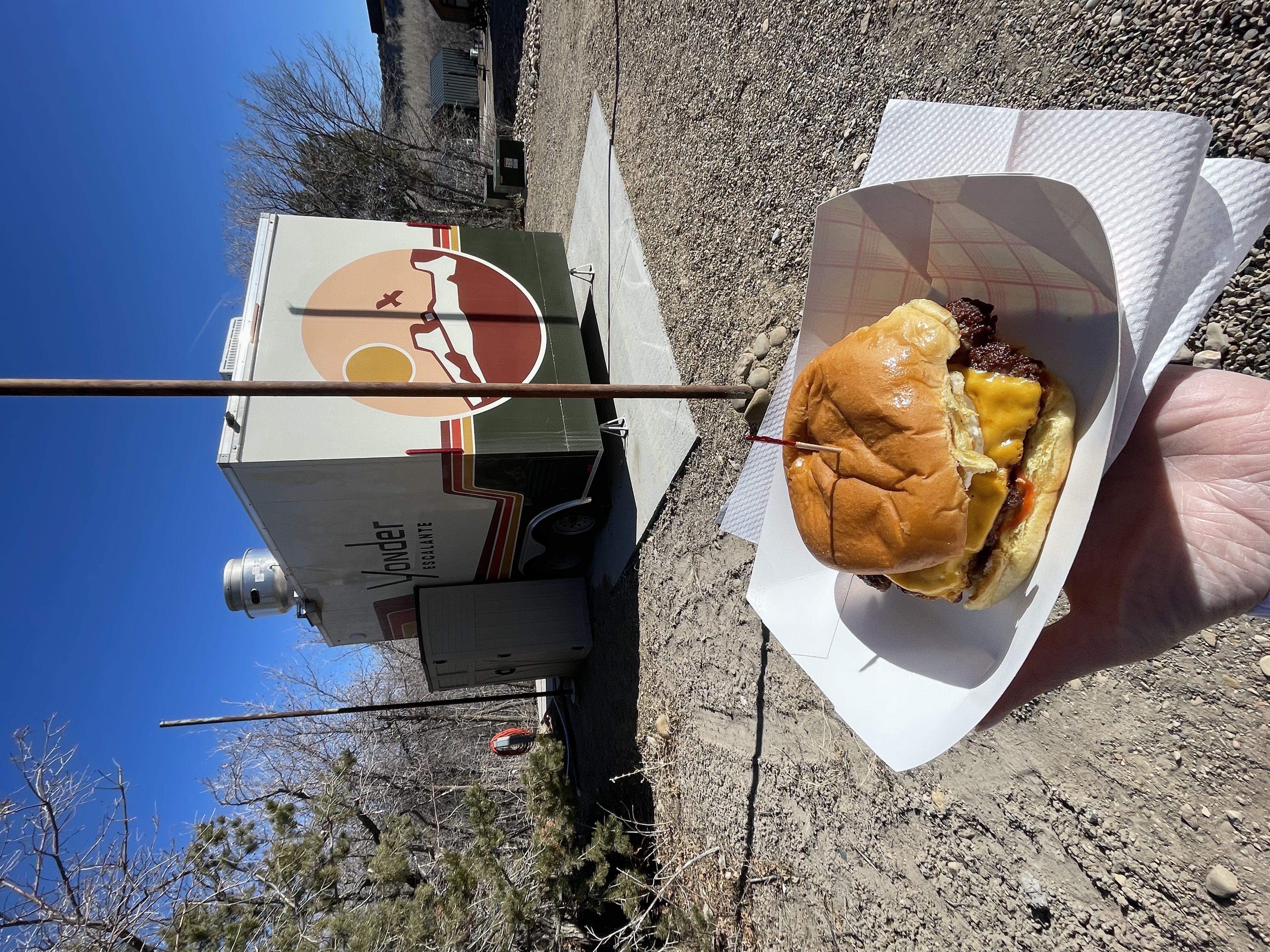 Each Airstream, cabin, RV site, and campsite has a private fire pit for cooking up meals, and if you don't want to prep yourself Yonder has DIY meal kits available in the general store. Each meal kit includes a protein (choose from local NY strip steaks, roasted chicken, or a Beyond bratwurst), a choice of two sides, bread, and dessert. It's a thoughtful addition that keeps the glam in glamping.
For breakfast, there is an on-site food truck serving until 11 am that also opens on weekends for dinner. Pro-tip: try the "Best in the State Breakfast Sandwich" with local Kanab meats sausage patty, fried egg, American cheese, crispy hash brown, and ketchup, on a griddled potato bun. It's delectable and perfect before a day spent hiking or after a night with a few glasses of wine.
When dusk rolls around you can enjoy the concession stand at the Drive-In Theater. Located in its own vintage Airstream the concession stand offers traditional concession fare like hot dogs, nachos, candy, and beer – and free popcorn.
AMENITIES:
Drive-in theater with vintage cars and nightly movies
Private spa-like bathhouses with Dyson hairdryers
Heated greenhouse-inspired open-air showers
Oversized pool and hot tub
Self-service laundry
Indoor/outdoor clubhouse with fire pits, books, board games, and a record player
Complimentary coffee, tea, and light breakfast snacks
Private fire-pits at each unit
Shop with curated provisions and merchandise
ROOM TYPES: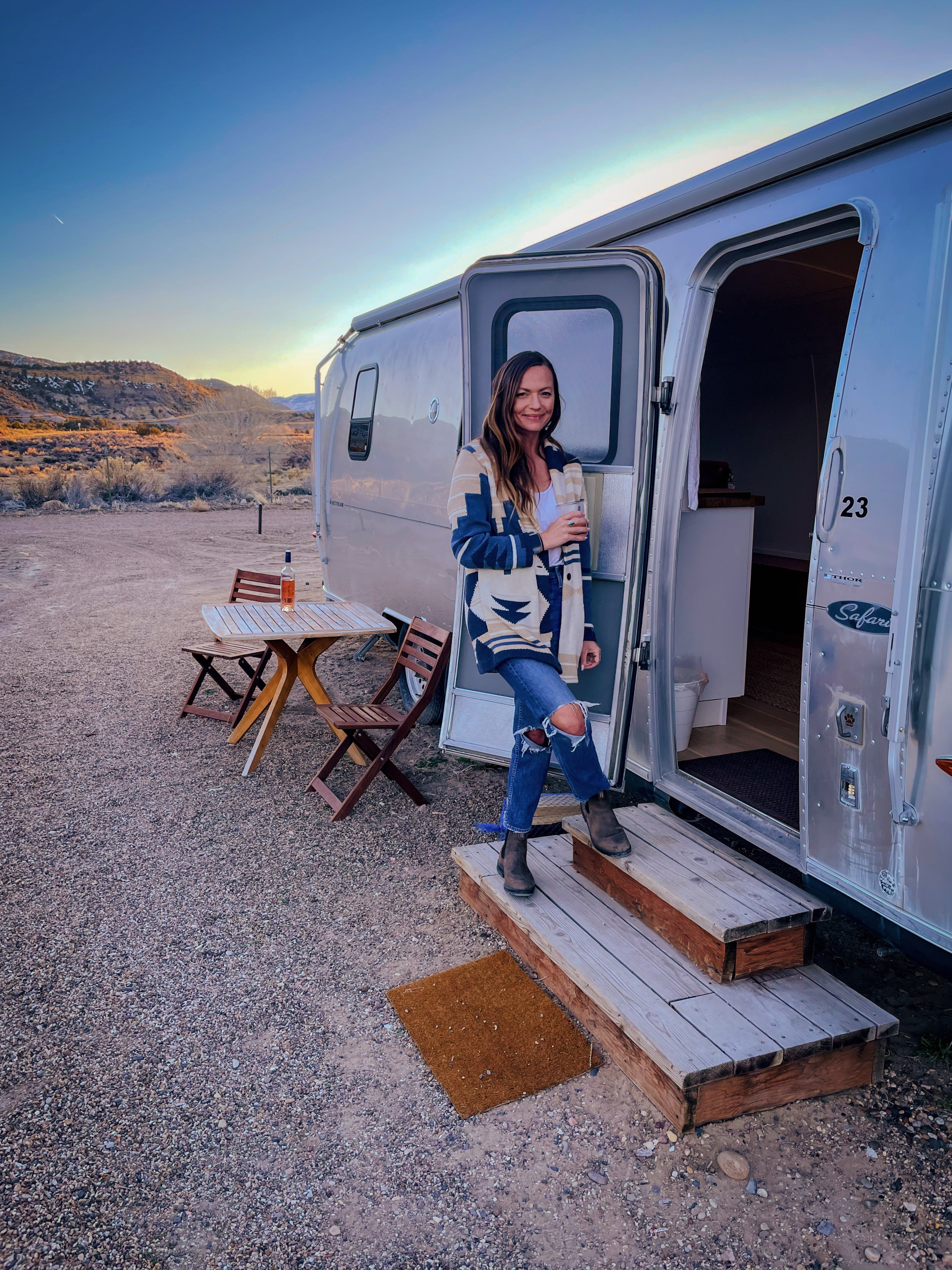 Yonder is unique from many "glampgrounds" in that it has several options for lodgings. From refurbished vintage Airstreams to stylish cabins to RV sites – you have your pick of interesting abodes.
AIRSTREAMS:
There are 10 vintage Airstreams on the property at Yonder – each lovingly restored and furnished with midcentury furniture, a kitchenette, and an HVAC system. The Airstreams also offer a private fire pit and table with chairs outside of each unit to roast marshmallows or grab a glass of wine while watching the sunset.
CABINS:
The cabins at Yonder were custom designed to provide the comforts of a cabin with the beauty of nature through high ceilings and large glass walls looking out onto the property. Cabins are climate controlled and each includes a mini-fridge, microwave, lounger, and private outdoor fire pit.
RV SITES:
Deluxe RV sites include full electrical, water, and sewer hook-ups, a personal fire pit, and an oversized picnic table. Max 35 feet, each site is on a leveled concrete pad and includes access to all of Yonder's amenities.
VANLIFE/CAMPSITES:
Yonder also has sites for campervans or tents (up to 2 per site) on the property. Sites include electrical and water hookups, oversized picnic tables, charcoal grills, and personal fire pits. All sites include access to Yonder amenities.
BEST THINGS TO DO WITHIN A 15-MINUTE WALK:
The coolest thing to do within a 15-minute walk is, of course, the Drive-in theater on the property. Playing cult classics films each night at dusk, there are vintage cars parked for visitors to sit inside to watch (with radios and heaters if needed) as well as plenty of space to bring your chair and enjoy the show. I happily watched Goonies and The Princess Bride during my stay with some popcorn and hard Kombucha from the concession stand. It was as magical as it sounds.
BEST THINGS TO DO WITHIN A ONE-HOUR DRIVE:
GRAND STAIRCASE-ESCALANTE NATIONAL MONUMENT – HOLE-IN-THE-ROCK ROAD – 20 miles to start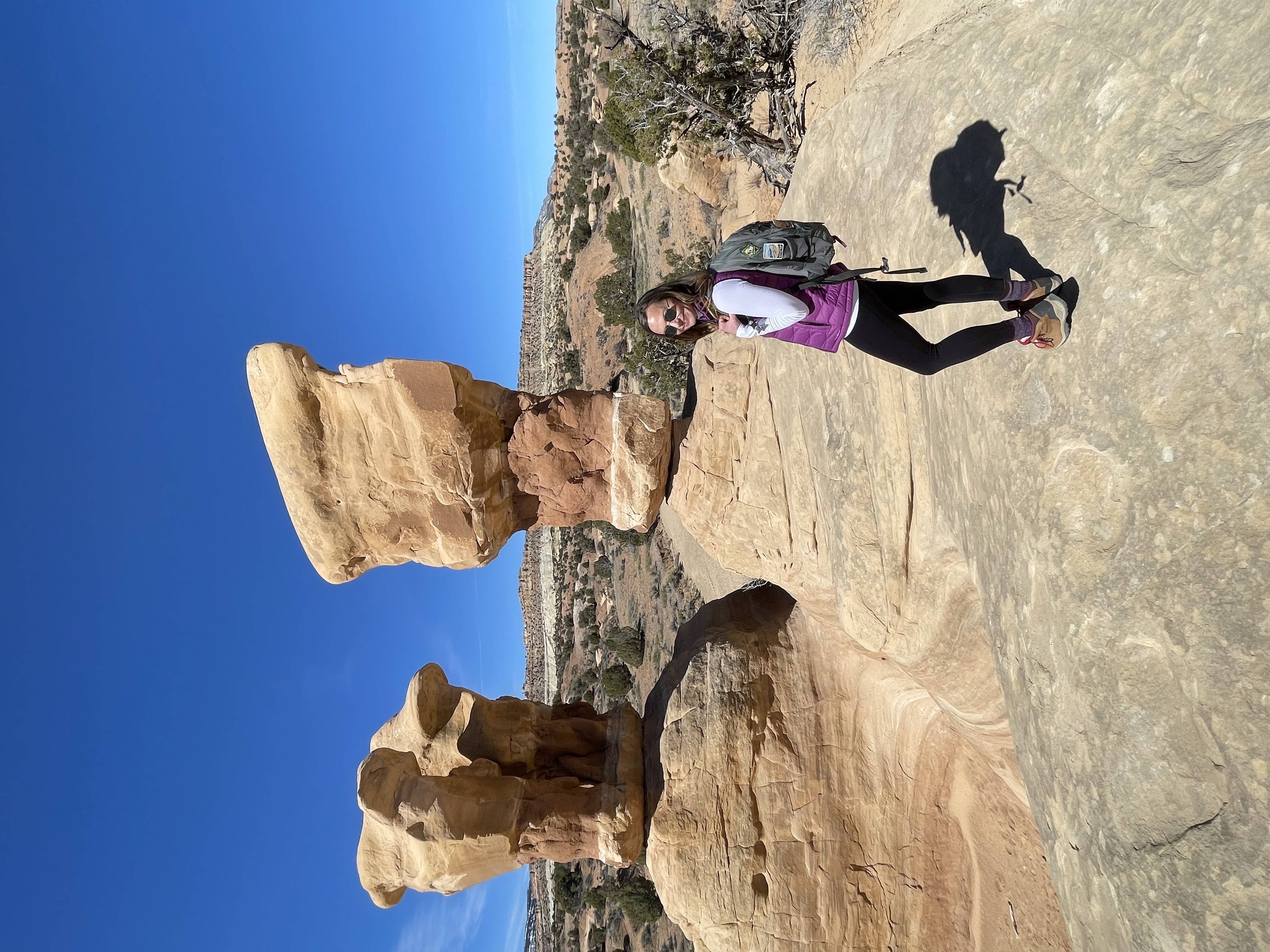 Grand Staircase-Escalante National Monument is huge – but luckily has many spectacular and accessible areas, like Hole-In-The-Rock Road. Located just 20 miles from Yonder, the 55.5 miles of gravel road leads to many of the most popular sites in the monument – one of the most popular being Devil's Garden just 12 miles down the road. Further, you'll stop at Dry Fork of Coyote Gulch trailhead where you can access the non-technical Peek-a-boo and Spooky slot canyons.
BURR TRAIL ROAD – 30 miles to start in Boulder, UT
Burr Trail Road is one of the most scenic drives in a state that is nearly exclusively made up of scenic drives. The 67.4 mil road, originally constructed as a cattle road between Boulder Utah, and Bullfrog Marina in Lake Powell takes explorers through not only Grand Staircase-Escalante National Monument but also portions of Capitol Reef National Park and Glen Canyon National Recreation Area. Be sure to stop at Singing Canyon – a beautiful slot canyon just off the road and be aware of the weather as the road is only paved to the boundary of Capitol Reef National Park and may become impassable during certain conditions.
HELL'S BACKBONE GRILL & FARM – 29 miles

Boulder, Utah is one of the most remote locations in Utah, with a population of just 250. Surprisingly, it is also home to the only restaurant in Utah ever named a James Beard semi-finalist for outstanding restaurant – and they've done it multiple times.
Hell's Backbone Grill & Farm is a farm-to-table restaurant that is unassuming and delicious with seasonal and unique dishes that make the difficulty of getting a reservation well worth it. Pro-tip: drive and hike on Burr Trail Road before dinner as the road begins nearly next door.
BRYCE CANYON NATIONAL PARK – 46 miles

Bryce Canyon National Park is something you have to see to believe. With its striking hoodoos and dramatic vistas – this is a park not to be missed for any outdoor lover. Hike Queens Garden or around on the Rim Trail which hits elevations over 9,000 ft before descending into the canyon to hike the easy and accessible Mossy Cave Trail.
BED GAME: 8/10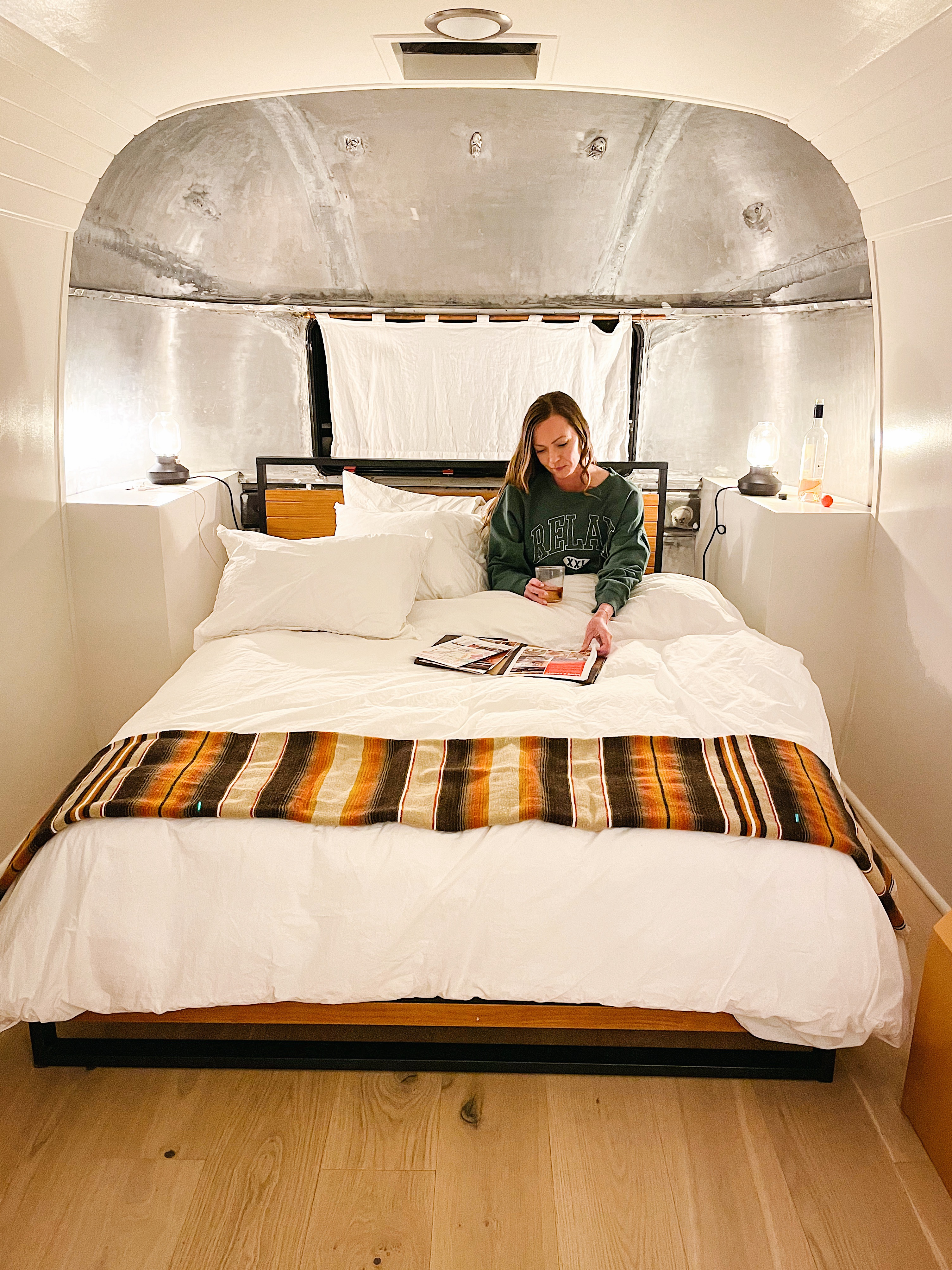 The Bed in my Airstream was almost too comfortable – I slept in both mornings of my stay instead of waking up to watch the sunrise as I had planned. The linens felt very luxe with plenty of pillows (this really matters to me) and a fluffy-down comforter. With windows all around and adjustable reading lights, it was the perfect place to sleep, lounge, and read.
SEXINESS RATING: 7/10
Yonder Escalante is family-friendly and luxuriously rugged, but the style adds some sexiness to the overall feel. The elevated bathhouses and pool/spa area are sleek while the accommodations are light-filled and inviting.
VIEWS/PIC SPOTS: 9/10
Everywhere! Honestly, though, the entire place is an Instagrammers dream – but without being cheesy. The backdrop of Grand Staricase-Escalante coupled with the vintage Airstreams and Drive-In theater juxtaposed with sleek modern cabins and amenities is fresh and fun. There is an aesthetic for anyone that goes far beyond the normal glamping resort.
I especially loved taking photos of the vintage cars permanently parked at the Drive-In Theater. The colors and styles are unexpected and joyful in the middle of the desert.
BEST SEASON TO VISIT: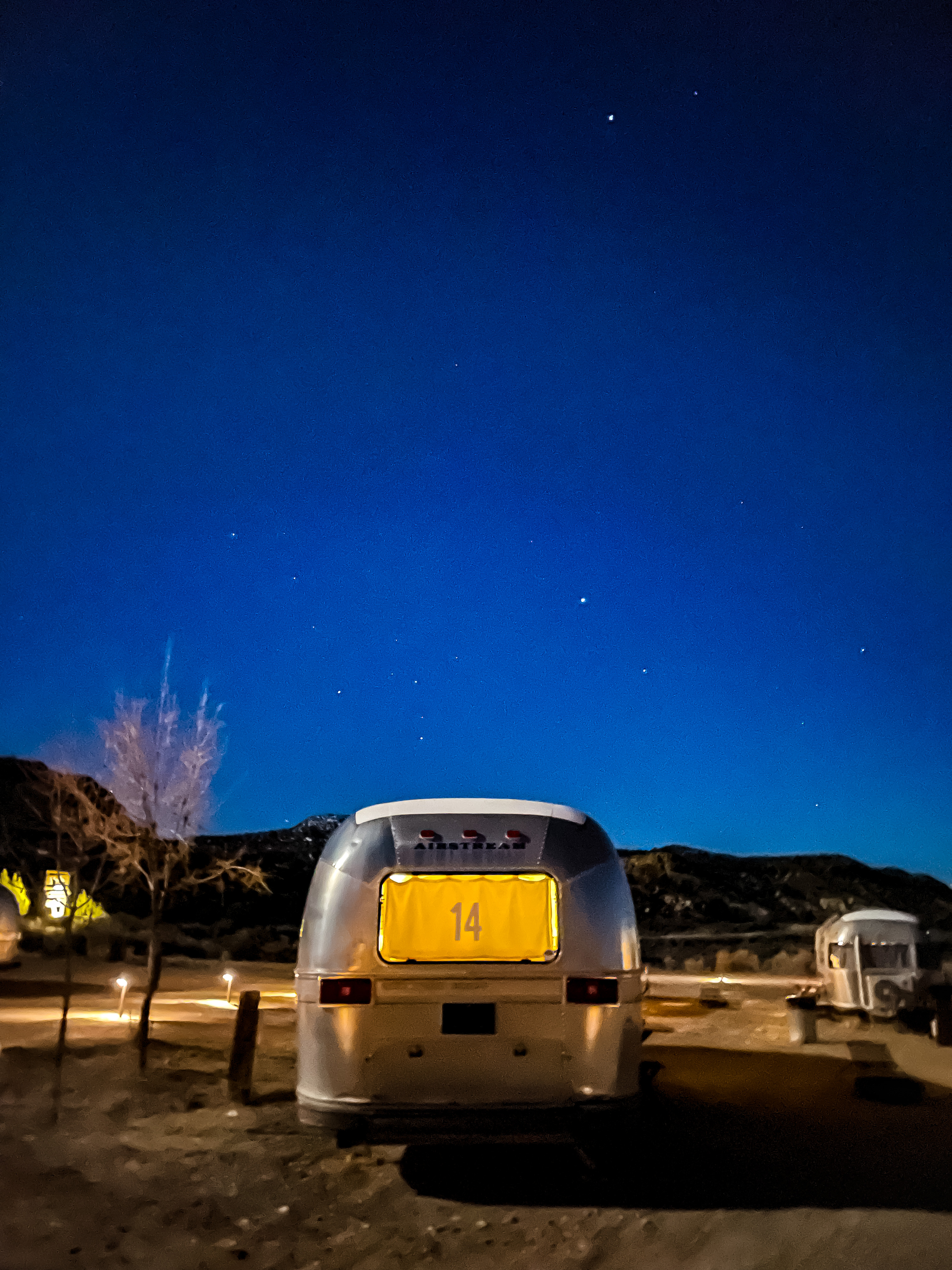 Open seasonally from generally mid-March to November, the glamping resort closes for the winter months. I visited in early April and while the nights were still chilly and the pool hadn't yet opened it was warm during the day and the heater in my Airstream kept me toasty at night.
IF I HAD TO COMPLAIN ABOUT ONE THING: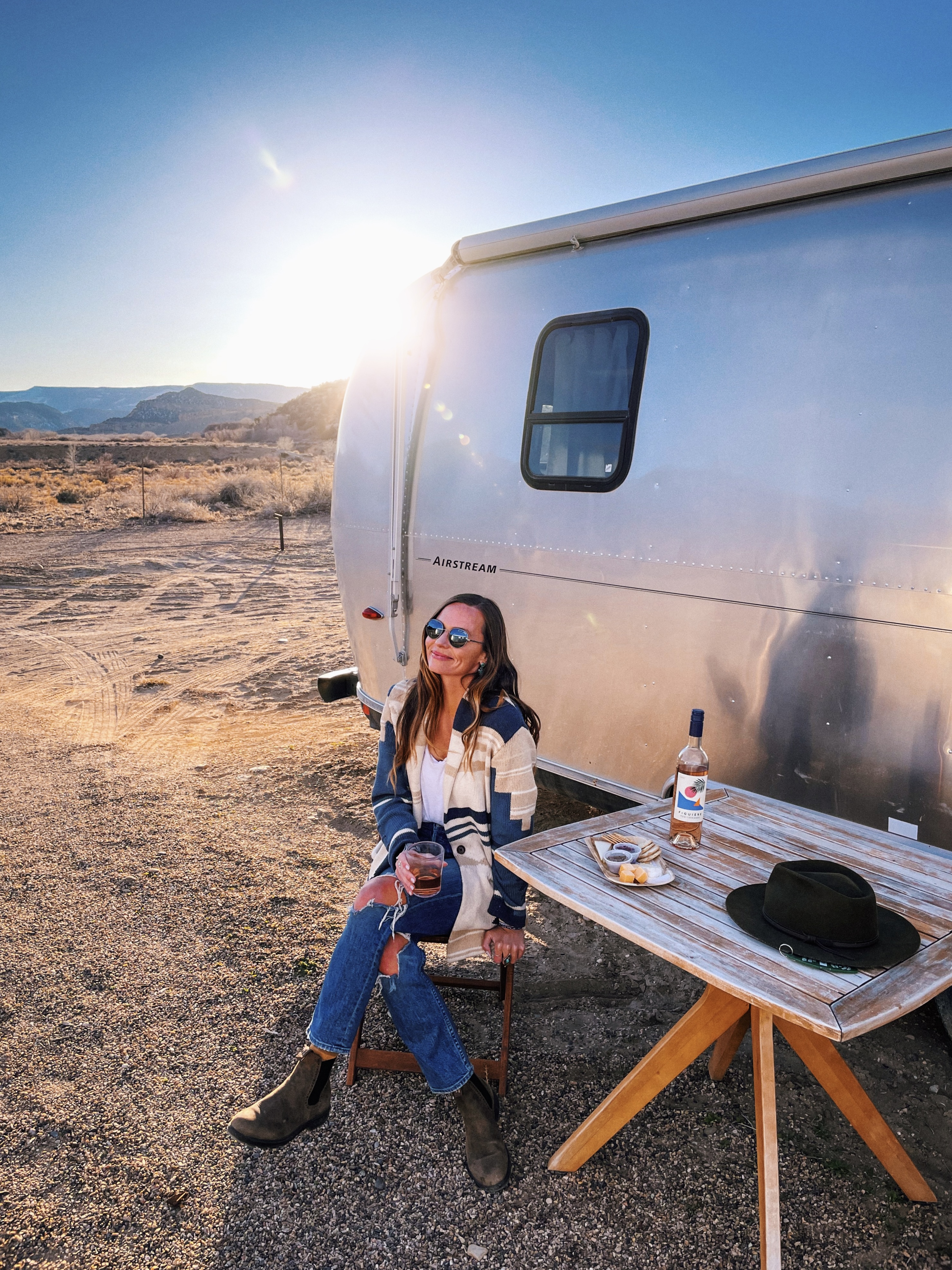 It's hard to find anything to complain about here, honestly… The location, amenities, and staff were all top-notch. But if I was forced, I'd say that the distance between parking and my Airstream site was a bit long as well as the distance between the Airstream and clubhouse/pool area. To mitigate that, Yonder is very accommodating and with a simple text, a staff member will pick you and your luggage up in a golf cart to or from your site.
BOOK HERE: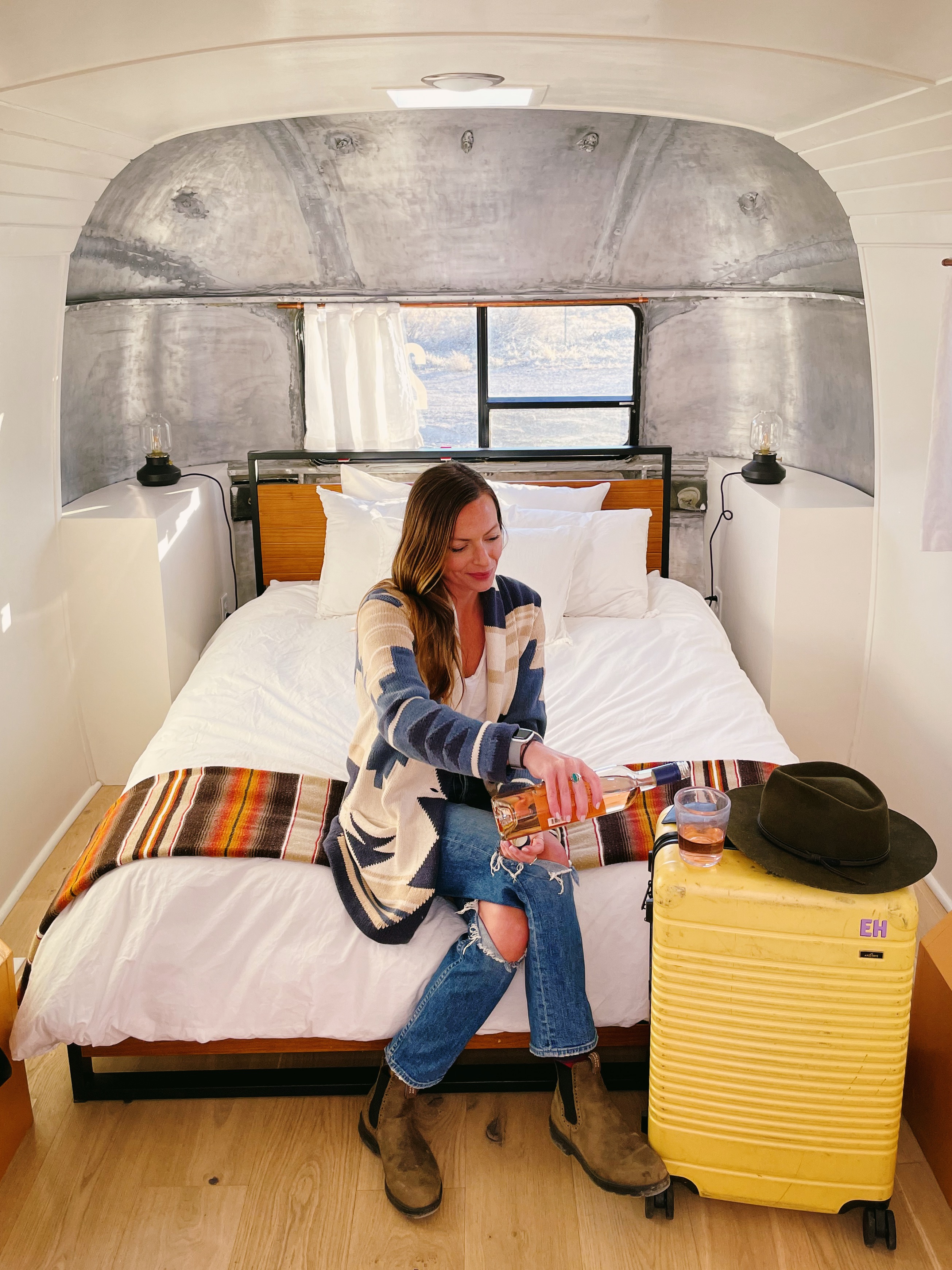 Choose your adventure here. Airstreams start at $249/night, Cabins at $229/night, deluxe RV sites at $119/night, and van life/campsites at $69/night.
INSTAGRAM IMAGES TAKEN AT YONDER ESCALANTE: