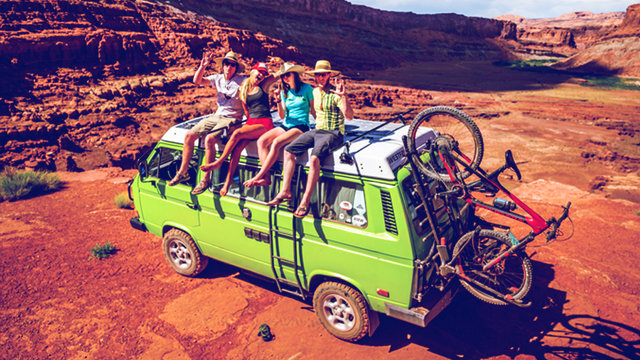 Switching Scenes is brought to you by Boost, a brand that knows the best experiences come when you change things up.
Zion National Park is stunning. Beautiful. Awe-inspiring. But it's also crowded. With more than 4.5 million visitors a year, Zion was the third most touristed National Park in 2017. Yosemite was the 5th most visited (with 4.3 million guests) and boasts nearly 1200 square miles of land to explore. Zion has just 232. If you're measuring per square foot, Zion is packed.
At Uproxx, we don't mind sending you to popular places. They're beloved for a reason, after all. But we also want to help you explore tucked-away locales and lesser-known experiences. Which is why we're spending the next month chasing the destinations that don't get as much love from the masses, trading the most popular vacation spots for adventures that will surprise you.
We're starting in Utah — swapping a trip to Zion National Park with a chance to explore the massive swaths of Bureau of Land Management (BLM) property in the state's southeastern corner. To guide us through the region, we enlisted adventure photographer Josiah Roe. Having made his career telling photographic stories of off-the-beaten-path adventures, Roe is the perfect traveler for the task.
"I've always been a map nerd," he says with a laugh. "I love to go to where the map ends."
One of Roe's all-time favorite spots is the area outside of Bear's Ears National Monument. Since much of this zone is BLM land, you can visit, camp, and hike for free. This is where you'll find two of Roe's favorite vistas on earth, Monument Valley and Valley of the Gods*. We asked him to guide us on a tour of both.
*Note: Both Monument Valley and Valley of the Gods became protected land under Bear's Ears National Monument during the Obama administration, They lost that status in 2017 when the protected land of Bear's Ears National Monument was reduced by 85 percent.
How to Get There:
ROE SAYS: I was driving on my way from Colorado to San Francisco. I hung a right at a sign that said "Valley of the Gods," and as I was rolling in right at sunset, there were thunderstorms barrelling through and yet… the sun was still setting and shining. I just got out of my van and got teary eyed. I was floored at the unbelievable beauty of it. It's still one of the top 10 greatest, most beautiful moments I've ever stumbled across.
In the years since that day, I've come to realize that Valley of the Gods is a really fascinating part of the Colorado Plateau. It sits in this wedge between the San Juan River and the Colorado River. The Colorado River and the canyons there, which feed all the way to the Grand Canyon, form this divide through Central and Southern Utah. It's always tricky to get over and through. There are only a couple of ways over — one would be in ferry — so this whole area of Bears Ears ends up being one of the least explored sections of Southeastern Utah.
It has a very small population but it has this incredibly old and rich history with Indigenous people and first nations there. So there are incredible pueblos and ruins and over 100,000 archeological sites — it's just incredibly rich with history going way, way back.It's also wildly diverse and they have these views over canyons, 3000, 4000 feet deep where it's also wildly empty. There are just such wonderful places to explore if you take the time.
DETAILS: Set your navigation for "Mexican Hat" and you'll end up on the road toward Valley of the Gods. If you're a film fan, this road is where Forrest Gump stopped his famous cross country run.
Where to Sleep: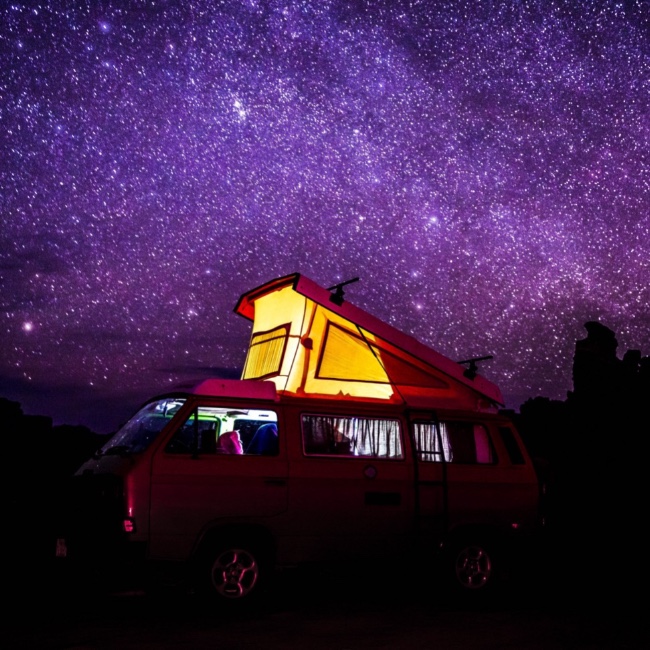 ROE SAYS: These epic, beautiful places aren't inaccessible and something that you have to be some kind of crazy badass to do. You really can just get in your car and with about five minutes of practical know-how, go to some really cool and really beautiful places.
Southeastern Utah is known for being some of the most iconic rock climbing areas in the U.S., but it also has, maybe the second or third best car camping site in the world — this placed called Muley Point. You just have to see it, it's incredible. It's just absolutely fantastic. It's east of the Colorado River, near where National Bridges National Monument is. It's a very large area South of Canyon Lands, south of Moab.
DETAILS: Car camping is free on BLM land unless you see a sign that declares otherwise. Be careful camping on the banks of the Colorado, because the river can rise quickly. If camping isn't your vibe, Valley of the Gods Bed & Breakfast is an incredibly comfy place to stay with an awesome breakfast and charming hosts.
The Iconic Photo You Have to Take:
ROE SAYS: Fallen Roof Ruins at Cedar Mesa. I mean… for an outdoor, adventure and travel photographer, there are these places that you need to go shoot. Just like everyone needs to take a picture of the Golden Gate Bridge if they're in San Francisco, there are iconic pictures that you really want to have in your portfolio, because they are just perfect. This is one of them.
House on Fire in Mule Canyon is another right in this area, it's just unbelievably beautiful.
DETAILS: Fallen Roof Ruins has an absolutely fascinating history. It's a remnant of the Anasazi, an Indigenous people who lived in Southeast Utah as early as 1500 B.C. They built magnificent settlements like Fallen Roof Ruins, but something happened at the end of the 13th century that made them flee and abandon these structures. Their descendants, the various tribes of the Pueblo, live in other sections of the Southeastern United States.
While there are theories as to what happened, there are no concrete answers as to what went on that caused a mass exodus. Meaning that visiting the places they lived in is like walking into an unsolved mystery. Many call the cliff dwellings that you can see in Cedar Mesa an outdoor museum, because of the incredible structures and art on display.
The Most Important Tip:
ROES SAYS: It's hard to know what we could lose if this area is mined for natural gas until you've stood there and watched the sunset over Monument Valley from Muley Point. Once you've done that, the idea of there being gas wells in front of you, and the rest being dug up, is just a heartbreaking thought. Once you've been there and stood there, you're like, "that can't happen."
If we encourage more people to go out there and experience Bear's Ears — Monument Valley, Valley of the Gods, Mexican Hat, Muley Point — I think that's a good thing. Just do it responsibly. If you come home inspired, the Native American Rights Fund is doing some really good stuff in and around the protection in the region."
DETAILS: To support this area's ecology and preservation while you hike, stay, and explore, consider hiring an Indigenous guide. The Navajo Nation has an excellent website to guide you around the area and will help you find a Navajo-guided tour.
MORE PHOTOS OF THE BLM LAND OF SOUTHWESTERN UTAH: