ZION NATIONAL PARK – UTAH
Zion has exploded in popularity throughout the last few years and even with a slight drop in visitation in 2022, was still the third most visited major US National Park out of 63 with 4,692,417 visitors. Its somewhat easy access from Las Vegas or St. George along with the adrenaline-pumping and Instagram-famous Angels' Landing and Narrows hikes keep visitors steadily streaming to the park's otherworldly red rock formations.
While spring will still see crowds in the park, the trade-off of bearable weather is worth it – summer temps can soar and make hiking dangerous.
Average April Temperature ​​High / Low(°F): 66° / 36°
Average May Temperature High / Low(°F): 69° / 42°
WHAT TO DO:
Hike! Zion is a hiking park, as Zion Canyon is not accessible to private vehicles – only park buses stop at the popular trailheads along the road. I recommend getting your feet wet – literally – by hiking a portion of The Narrows first, then Angel's Landing if you dare (and get a permit), or the similar view from Zion Canyon Overlook Trail. You can also bike through the park, then be sure to grab some ice cream and relax on the Zion National Park Lodge lawn.
WHERE TO STAY:
Under Canvas has outposts near many National Park sites, and the Zion location is particularly magical. The safari-style tents provide elevated amenities with the rustic environment you came for.
BRYCE CANYON NATIONAL PARK –UTAH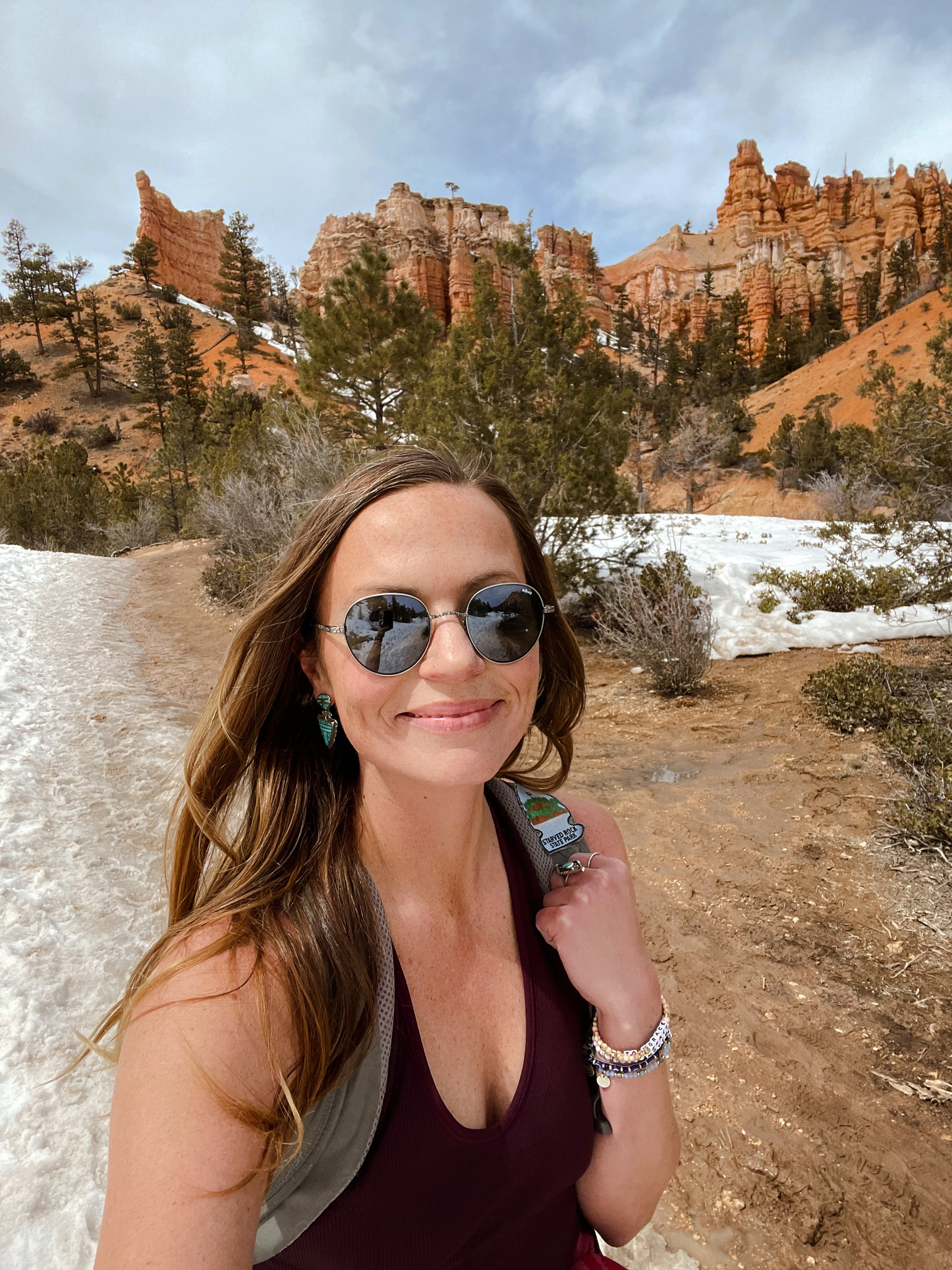 Bryce Canyon sits at the highest overall elevation of any of the "Mighty 5" National Parks in Utah – with elevations reaching 9,100 ft – so unsurprisingly its average spring temperatures are slightly lower, but with the park's proximity to Zion and Capitol Reef, it's still a great time to extend your road trip and knock another National Park off your list. The famous hoodoos that cover the landscape are unlike any other park in Utah or in the entire United States period. A visit truly feels like stepping into another world.
Average April Temperature ​​High / Low(°F): 52° / 24°
Average May Temperature High / Low(°F): 62° / 32°
WHAT TO DO:
Hike if you can! There may still be snow (sometimes several feet) covering trails in April, but as time passes more will be accessible. Mossy Cave Trail is an easy jaunt into the canyon that is accessible for nearly all ability levels, whereas Queens Garden/Navajo Loop Trail is a moderate option that is by far the most popular in the park.
WHERE TO STAY:
Bryce Canyon is in a fairly remote area of Utah, but there are plenty of hotel and motel options. I stayed at the more upscale Stone Canyon Inn on my last trip and loved the location, on-site restaurant, and private luxury bungalow accommodations after a day spent outside.