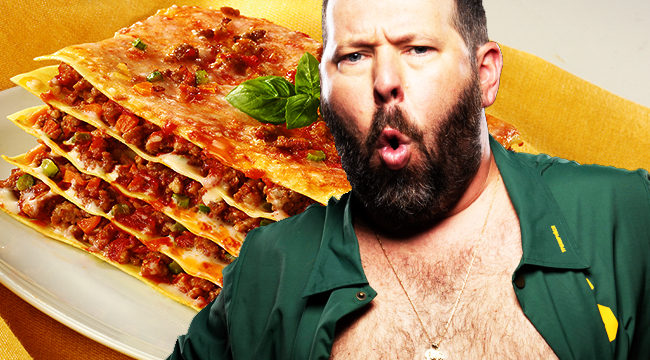 Bert Kreischer is a success in all of the coolest ways and famous for all the best reasons. When he was in college, Rolling Stone wrote a whole damn feature story on how rad of a partier he was. Then he started doing stand up, hosted two shows on the Travel Channel, made it huge with quite possibly the most iconic oral story of the past 40 years, and on and on like that.
His arc is literally "guy who likes to party and have fun" evolves into "guy who gets rich as shit for partying and having fun." If you're not jealous, you might have your priorities wrong.
After hosting a half dozen shows across a range of networks, Kreischer is very much on his own grind right now. He's in the middle of a sold out theater tour, he's got a podcast that drops episodes weekly, and his standup special Secret Time is streaming on Netflix.
Amidst all of this, Bert also makes time to cook for his famous friends on his YouTube show Something's Burning. The show is one part food porn and one part comedians ripping on each other — which made him a damn good candidate to roast me, Vince, and Zach as we attempted to serve up some world class Italian comfort food. Read the recipes and the burns, then come at us with your best. We all brought it in the kitchen this month, so you'd better bring it in the comments.
— Steve Bramucci, Editorial Director, Uproxx Life
BLT Showdown — 1) Vince 2) Zach 3) Steve
Mac & Cheese Showdown — 1) Vince 2) (tie) Zach, Steve
Taco Showdown — 1) Steve 2) Zach 3) Vince
Winter Stew Showdown — 1) Zach 2) Steve 3) Vince
Date Night Showdown — 1) Zach 2) Vince 3) Steve
Pasta Showdown — 1) Steve 2) Zach 3) Vince
Hot Beef Showdown — 1) Zach 2) Vince 3) Steve
Shellfish Showdown — 1) Vince 2) Zach 3) Steve
BBQ Showdown — 1) Steve 2) Zach 3) Vince
Pumpkin Spice Showdown — 1) (tie) Vince, Zach 2) Steve
Thanksgiving Side Dish Showdown — 1) Vince 2) Steve 3) Zach
Christmas Dessert Showdown — 1) Steve 2) Vince 3) Zach
Chili Cook-off Showdown — 1) Zach 2) Steve 3) Vince
Nacho Showdown — 1) Vince 2) Steve 3) Zach
Burger Showdown — 1) Zach 2) Vince 3) Steve
Breakfast Burrito Showdown — 1) Vince 2) Zach 3) Steve
Fried Noodle Showdown — 1) Steve 2) Zach 3) Vince
Fried Chicken Sandwich Showdown — 1) Vince 2) Steve 3) Zach
Christmas Dessert Showdown Rematch: 1) Zach 2) Steve 3) Vince
CURRENT SCORE:
We're giving three points to the winner and one to second place for each round. As it stands, the score is:
ZACH: 29
VINCE: 28
STEVE: 23
ZACH'S 50-LAYER LASAGNA
"Sometimes you gotta just say 'What The Fuck!' and make your move."
That line from Risky Business was ringing in my head as I made a mad dash to finish rolling 30-odd sheets of pasta in about an hour's time for a 50-layer lasagna.
Look, I'm not gonna lie. This recipe is ridiculous to make at home. It's crazy labor intensive. Rolling the pasta alone is a marathon. But, holy shit is the final product worth the effort.
I woke up today still full from eating a one-inch slice of this motherfucker. I might skip lunch all together today. The savory besciamella sauce mixed with the sharp bolognese delivered in a veritable carb-bomb of fresh pasta, basil, and crispy melted cheese is comfort food turned up to eleven in every way.
I loved it. I dreamt about it. I will make it again… in a year maybe.
Part I
You need to let bolognese simmer away for hours, so start here. I'm making a double order of what I'd usually make. That means I start by recreating the Italian flag with the three key ingredients — a soffritto of celery, white onion, and carrot. Yes, I formed it into the Italian flag because at this point in the process I still had enough hubris and energy to do silly shit like that.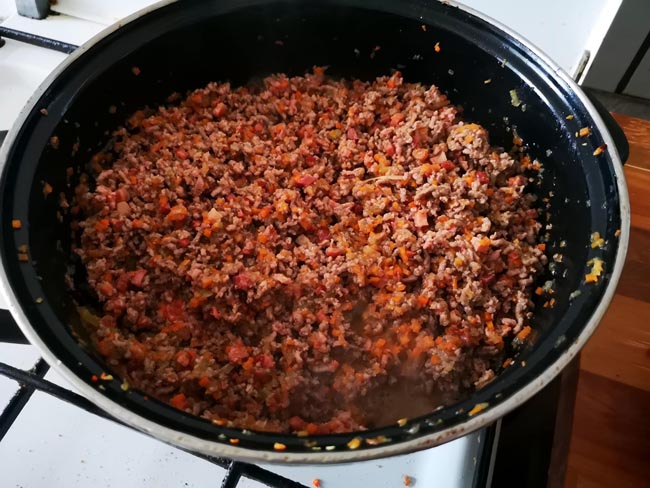 My bolognese recipe is a straightforward homage to the official recipe of the city of Bologna.
Sauté eight ounces of diced pancetta in a heavy-bottomed pan with a little olive oil until just browned.
Add in two each of finely diced white onion, carrot, and celery, salt and stir until it starts to turn translucent.
Add about a cup of beef broth and cook through (until the liquid is gone) to help break the soffritto down.
Add 2.5 pounds of room temp grass-fed ground beef (90/10), salt and pepper generously.
Use a wooden spoon to work the beef until it's completely broken up (see above photo).
Once the beef is browned, add about half-a-bottle of decent Italian red wine and simmer off entirely (until liquid is gone).
Squeeze in a whole tube of thick tomato paste and stir into the meat.
Add two cups of beef broth, a can of tomato sauce, and one cup of milk, stir.
Simmer for at least two hours on the lowest possible heat, stir on occasion.
Done.
Part II
Um, I cracked four eggs and every single one of them had a double yolk. That's … weird. Should I buy a lottery ticket?
Anyway, my second step was to make a double order of pasta. So I got four cups of Type 00 wheat flour on my countertop and made it into a white volcano. I started cracking eggs into the little flour bowl. My plan was to use four eggs with two extra yolks but since every yolk was a double, I used four eggs with eight yolks. Go figure.
I used a fork to gently start scrambling the eggs in the middle and slowly started working the flour in until a dough formed. As soon as I had a workable dough, I started kneading. And, goddamn if kneading a bigger dough ball isn't exponentially harder. I added another egg to the leftover dry bits and flour to integrate all the flour.
I ended up kneading for a good ten minutes until the dough has a nice softness and smoothness without getting sticky. Next, I wrapped it up in cellophane and popped it in the fridge to rest for about an hour.
So, yeah, this is why my right shoulder aches to day. I rolled out a shit ton of pasta.
First, I set up my station. I put clean kitchen towels over my whole table and bolted my pasta roller to the end. I cut the pasta ball into eight balls/sections and dusted my work surface with Semolina flour to work the dough.
I rolled out the first ball in the semolina with a rolling pin so that I could start feeding it into the crank machine. And then I worked it until I had five-inch wide sections flattened all the way down to the lowest/thinnest setting on the machine.
Basically, you should be able to see your hand through the dough sheet. So, you have to work gingerly to assure you don't tear these sheets as you run two foot long sections through the old crank pasta maker. Once I hit five-inches wide, I cut the dough into eight-inch long sheets to fit Vince's mom's… I mean, my baking pan.
Repeat until you've finished it all. I stacked the pasta sheets on kitchen towels to help them dry a bit and not stick. I saw old ladies in Bologna doing that in a tiny corner pasta shop. If it's good enough for them, it's good enough for me.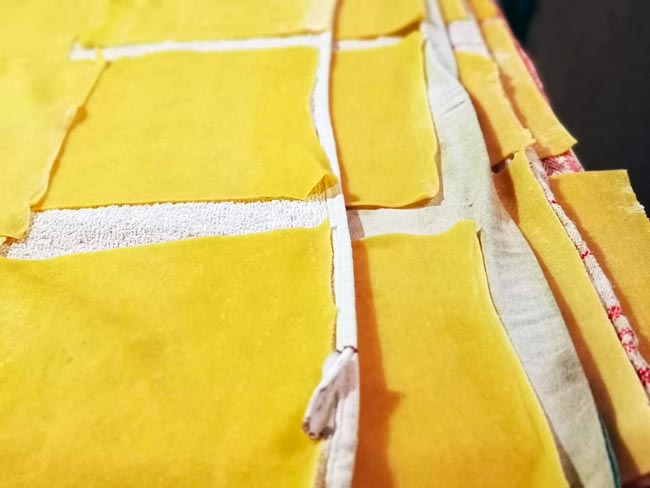 Part III
Next, I get my besciamella made. This is a béchamel, plain and simple. I melt a stick of butter into a pot on medium-high heat. I then whisk in three heaping tablespoons of Type 00 flour.
As soon as a roux is formed and starts to brown slightly, I add in a pint of whole fat milk. I slowly pour it in for two reasons. One, I don't want the cold milk to shock the roux. Two, I need to fully integrate the milk and the roux slowly so it stays silky smooth.
Once you have a nice silky sauce that easily coats a spoon, add in a good pinch of salt and several cranks from the pepper and nutmeg mills. Stir, done.
Lastly, I grate some 24-month old parmesan. I grate that fucker right down to the rind, all eight-ounces of it.
Part IV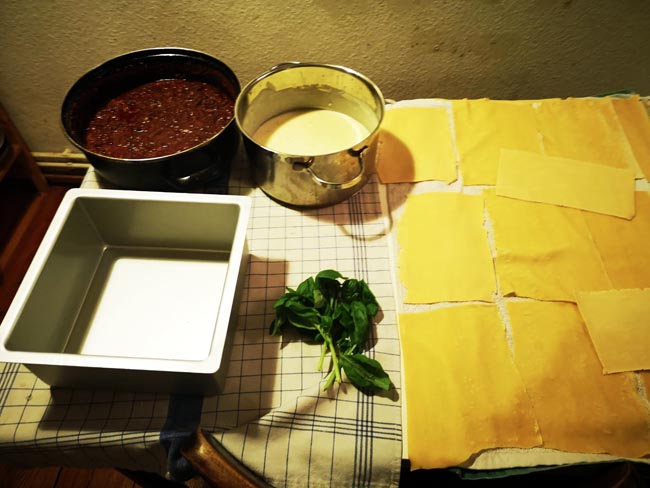 So, this part is laborious, to say the least. I set up an assembly station on my kitchen table. I have my bolognese, besciamella, pasta, basil, and cheese all at hand. But, first, I preheat my oven to 350F.
I'm using an eight by eight by four (deep) baking pan. I cover the inside in olive oil and start to build. The bottom layer is pasta sheet, cheese, besciamella, bolognese. Then each layer continuing is pasta sheet, besciamella, bolognese.
Quick note, you do not need to pre-boil your pasta sheets. They will cook in the sauces as the lasagna bakes. If you pre-boil these fresh sheets, they'll turn to mush in the pan.
By the time I get halfway up the pan, I do a middle layer of fresh basil leaves and parmesan as a little nod to Carmela's famous lasagna in the Sopranos. Then I carry on with pasta, besciamella, bolognese layers.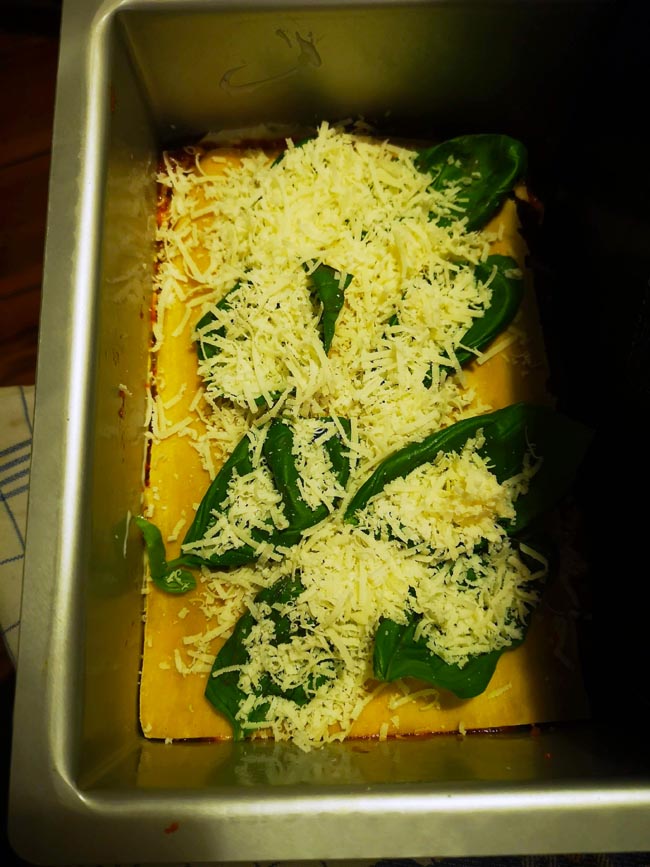 About halfway through, I stand up an eight-inch baking pan to secure the lasagna so that it bakes more evenly and doesn't drift in the pan. You want it to be secure and solid.
By the time I get to the top, I've used 25 sheets of pasta with 25 layers of filling. The last layer is pasta, bolognese, besciamella, and a good layer of parmesan.
I pop the whole thing in the oven and set a timer for 45 minutes. I'm not gonna lie, this is the most nervous I've been about a recipe working out in a long, long time. So, I pour myself the remaining half a bottle of that wine.
Part V
When the timer goes off, I trepidatiously open the oven. And, wow, this is amazing. The top crust is browned perfectly and the sauces are bubbling up around the edges. It smells phenomenal. Like, mouth-watering, spine-tingling, I-think-I-need-to-sit-down good.
I set the pan on a cooling rack and let it sit for ten solid minutes. Once it's cooled a bit, I use a large flat spatula (the kind you see short order cooks using in a diner) to separate the lasagna from the sides of the baking pan. I gingerly remove the bracing baking pan and use a smaller spatula to free the lasagna from the bottom of the pan.
I take a large plate and lie it on top of the baking pan and, in one move, reverse it so that the lasagna slides out onto the plate. I then take my cutting board and do that same action again so that the cheesy top is topside.
And, come on! Look at that brick of happiness! Again, I can't understate how amazing this thing smells. It's like walking into an old Italian kitchen after a century of cooking has taken place and you get to sit down next to an old nonna while she asks "why you don't go to church anymore?" and all you can think about is when you get to eat that lasagna so you'll say anything to get to that moment.
I use a large knife to cut off the first section. I'm serving one-inch slices of this bad motherfucker because I'm not insane. I plate that on it's side and generously sprinkle that freshly grated parm all over it with a nice basil leaf to finish.
It's ready.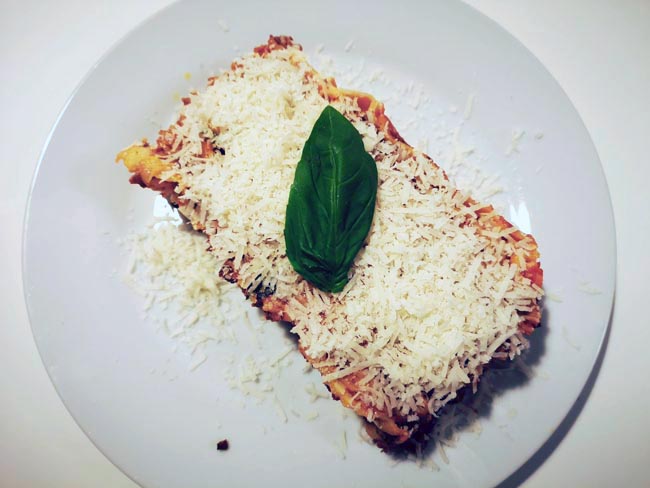 Part VI (EAT)
This is the best lasagna I've ever had. Sorry, all those places in Italy I've eaten lasagna. Sorry New York, Toronto, Rhode Island, Philly, and my mom. This beats them all by a country-fucking-mile.
Almost amazingly, it's light with each bite. That heft doesn't really start to hit until you're at the end. Trust me, it is a filling meal. But cutting one-inch slices means that you're not getting a crazy amount of pasta and sauce. It's more the richness of the bolognese and besciamella that add the heft to it.
In the end, it was hard not to go back for seconds. And on a dish that's gluttony personified, I think it's a pretty damn good sign that it leaves you wanting more. Like, I'm still thinking about it right now. I'm going to be thinking about this lasagna every time I go to Italy. I'm going to be 90 years old, with a negroni in my hand, telling people about this lasagna.
I mean, look at it! If that's not comfort food, I don't know what is, folks.
Steve on Zach's Dish:
I mean… I don't want to go full Buzzfeed on this (clearly delicious looking and sounding) dish, but two Gifs came immediately to mind.
First, you have this classic:
And then you have this highly underrated gem, slightly altered for effect.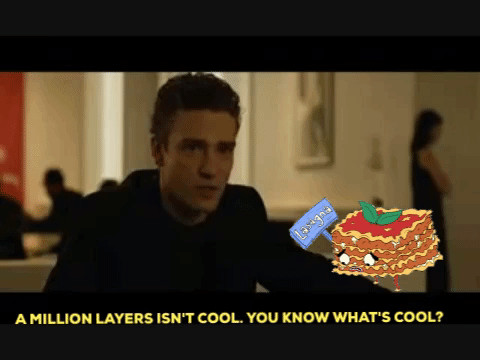 A BILLION LAYERS!
And that, in short, is my roast. This is the most dramatic case of someone blatantly ignoring the law of diminishing returns that I have ever witnessed. And that's saying something, coming from me. My brand is basically "the Rube Goldberg of food" as Vince puts it.
Obviously — and it almost goes without saying — your recipe looks absolutely on point (except, and this may be a question I ask as your editor, rather than a competitor, but did you add a jar of premade pasta sauce? And then try to pawn that off as traditional?). I love that you added fresh basil and would've happily seen a few more basil layers. In fact, if you'd done this with a basil layer after every five or so pasta sheets, I would have hopped right back on board. 50 layers in service of an herb is absolutely my jam.
As per usual, your sauce and pasta-making technique are always hard to argue with. If I was hungover or had a cold, I would mow the shit outta this. The problem is, I'd be feeling better by the time it was finally ready.
Not to pile, like… 50 LAYERS onto my burn, but ratios man. Ratios. Think of it this way, if someone chopped this all up on the plate, they'd essentially have stracci (translates to "rags" — torn pasta sheets), with Bolognese. And if they did that, wouldn't they end up feeling like the dish was under-sauced?
Counterpoint: I have looked at your final photo five times and it's literally making my mouth water. Maybe 40 layers wouldn't have had that effect. Maybe it really did need fifty.
Vince on Zach's Dish:
Zach, first off, kudos for finally working "trepidatiously" into a food roast. Nice attempt at cooking up a 50-syllable word to go with your dish. Secondly, I feel like you're trying to steal Steve's "work harder not smarter" crown (it's an incredibly ornate crown and he looks like an absolute idiot in it). Every single component of this looks on point — a whole tube of paste?? Bold, but daddy lycopene. Still, I question whether it was worth the effort.
It looks good as hell and I would smash, but don't extra layers just increase the noodle-to-sauce ratio? I mean those are double-yolked layers of fresh pasta, so they'll probably be nice and rich, so I'll call more noodle taste a lateral move. Here's the bigger issue: what's the best part of lasagna, the thing that makes lasagna lasagna? The crispy cheese on the top, right? Otherwise, it's just pasta with meat sauce (not a bad thing, but still). And the unintended consequence of all those layers is drastically reducing the crispy cheese layer-to-everything-else ratio. The tell was when you had to lay it on its side. Then the crispy cheese is all the way at one end and you don't get it in every bite. Granted, you don't necessarily get crispy cheese in every bite of regular lasagna either, but that's the promise of regular lasagna. I want to be fooled. I need to believe in the possibility of crispy cheese in every lasagna bite. You can taste that illusion. Don't kill the lasagna dream, Zach!
Anyway, most of your innovations seem kind of like lateral moves at best, taste-wise, added to create a cooler photo. Is this comfort food or Instagram food? Don't influencer me, bro!
Bert On Zach's Dish:
This is clickbait. It's like "Epic Meal Time Lasagna!" I didn't know, everything about it is just misleading enough to get me to click on it. You're like "50 layers of pasta!" and then I was like "Wait, it's 25 layers of pasta, bechamel, then the sauce, oh, shut the fuck up."
This all sounds erotic to me because when I watch food, part of it clicks in with my reptilian brain and my dick gets hard. The fucking sheets of pasta got me so excited. You wrote, "You should be able to see your hand on the other side," and I was like "Are we making lingerie? Oh, fuck. I can't wait. Ooohh, 'gently place it down.' It seems so fragile."
It's like I'm reading pornography when you go "layer it" and "you don't want to cook the pasta, it'll get way too mushy." I'm like okay, we don't want it mushy. We want it hard. We want it firm. And then you go "I'm gonna place this dish on the one side so it doesn't fall apart." I had to re-read that twice. Like, hold on, there's another guy in the room? Wait, what are you talking about? There's two guys, one girl? What the hell is this?
Lasagna is lasagna. But what's it like the next day? Like, how hard is this to re-heat? This fucking lasagna has got 50 fucking layers. My microwave's only gonna get the outside warm and fucking it'll be ice cold in the center. But, yeah, I wanted that lasagna so bad. I wanted that lasagna on a snowy day in Indianapolis when you're like, "Fuck, we can't get outside. Oh, shit, we have 100 layers of lasagna in the refrigerator!"
Here's what I would do with the lasagna. I would take Epic Meal Time and be like, all right, so one layer's this, one layer's this. I'd change every layer but then it would probably taste like dick, so…
STEVE'S PROSCIUTTO AGNOLOTTI EN BRODO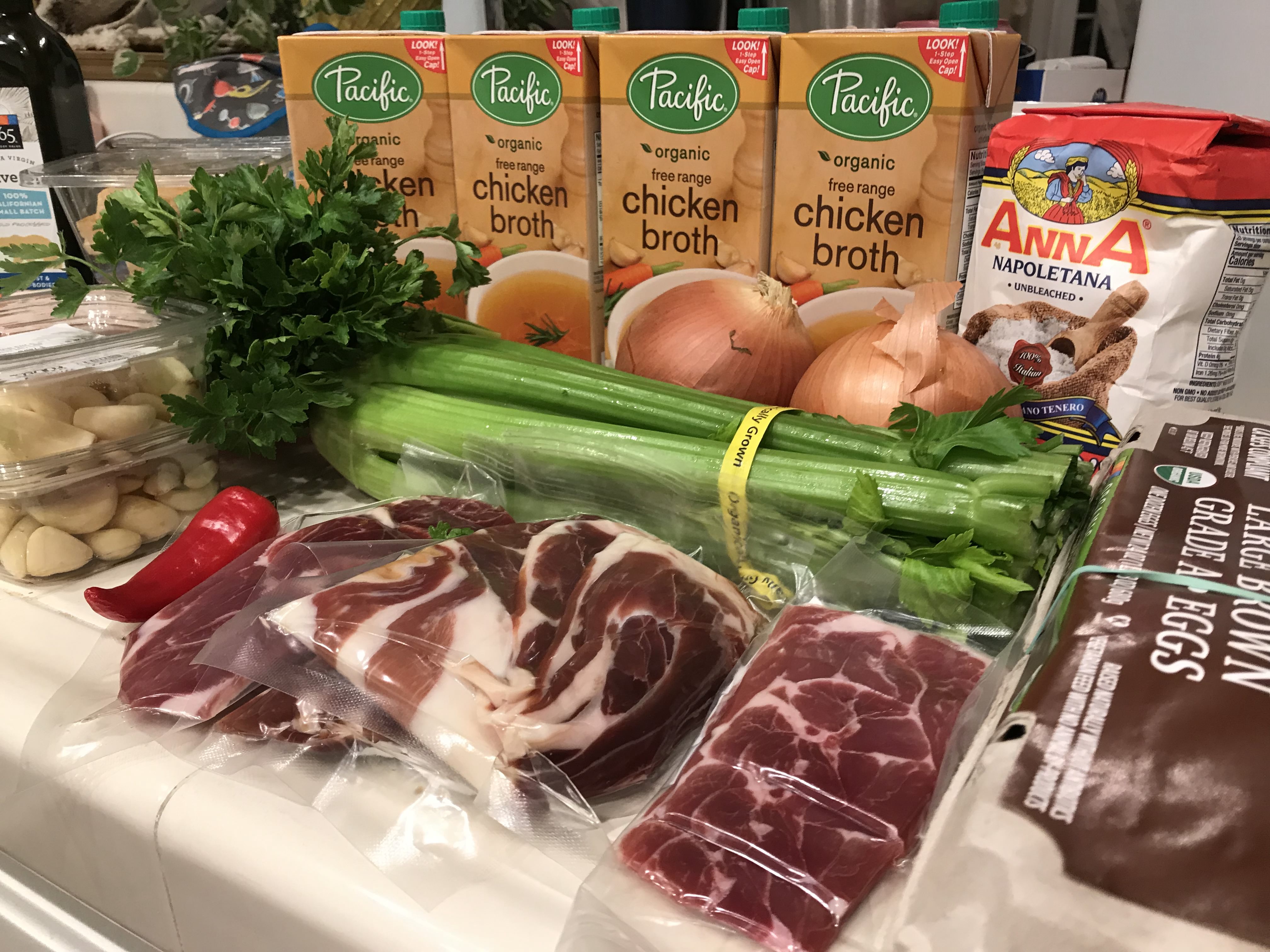 Last summer, in Italy…
That's right friends! Steve spent August in Italy and if he doesn't tell every human alive about it every single time Italy, Italian food or the topic of eating in general comes up, did it even really happen?
Anyway… WHEN I WAS IN ITALY THIS SUMMER, I studied the dish Tortellini en Brodo — which is a common Christmas-season pasta course in Emilia Romagna. I took classes to learn how to make it and gorged myself on different varieties for 15 out of 18 consecutive meals (I don't eat breakfast, for those working out logistics). I also studied the parmesan production process, dove deep on prosciutto curing, and hung around in an attic tasting 50-year old balsamic vinegar. It was a hell of a trip.
Along the way, I picked up a few things and tried to express them in this dish. All month, I told the boys I was going to make Tortellini en Brodo BECAUSE I LEARNED IT IN ITALY but the day I was set to cook, I remembered that I made tortellini once and didn't want to get dinged for lack of originality. I decided to go with agnolotti instead (it's also much easier to fold/ shape, which was desirable).
Brodo (Part 1)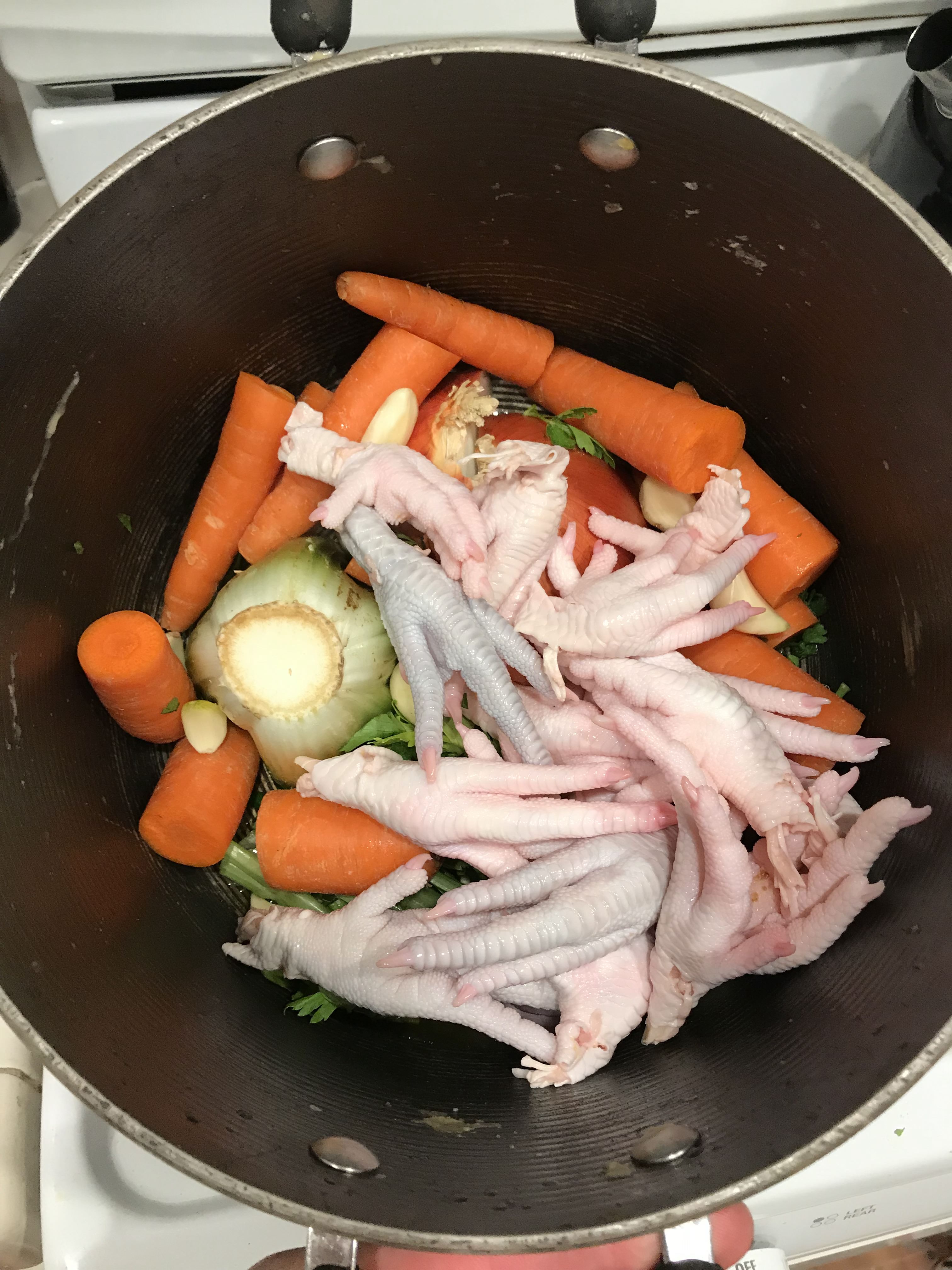 The first step was the broth. I used feet and necks but took this photo before adding the necks because I know that feet gross you all out and Vince and Zach need something to help close the gap on this one. If you're wondering "why feet" in general, that's where the gelatin is most concentrated. I wanted a broth so deep and rich that you almost had to chew it.
Here's what else you see (and in some cases don't see) in the broth:
Olive oil (I toss everything with the heat on high for a few minutes to release flavors).
Parsley stems.
Celery.
Carrots.
Onions.
Garlic.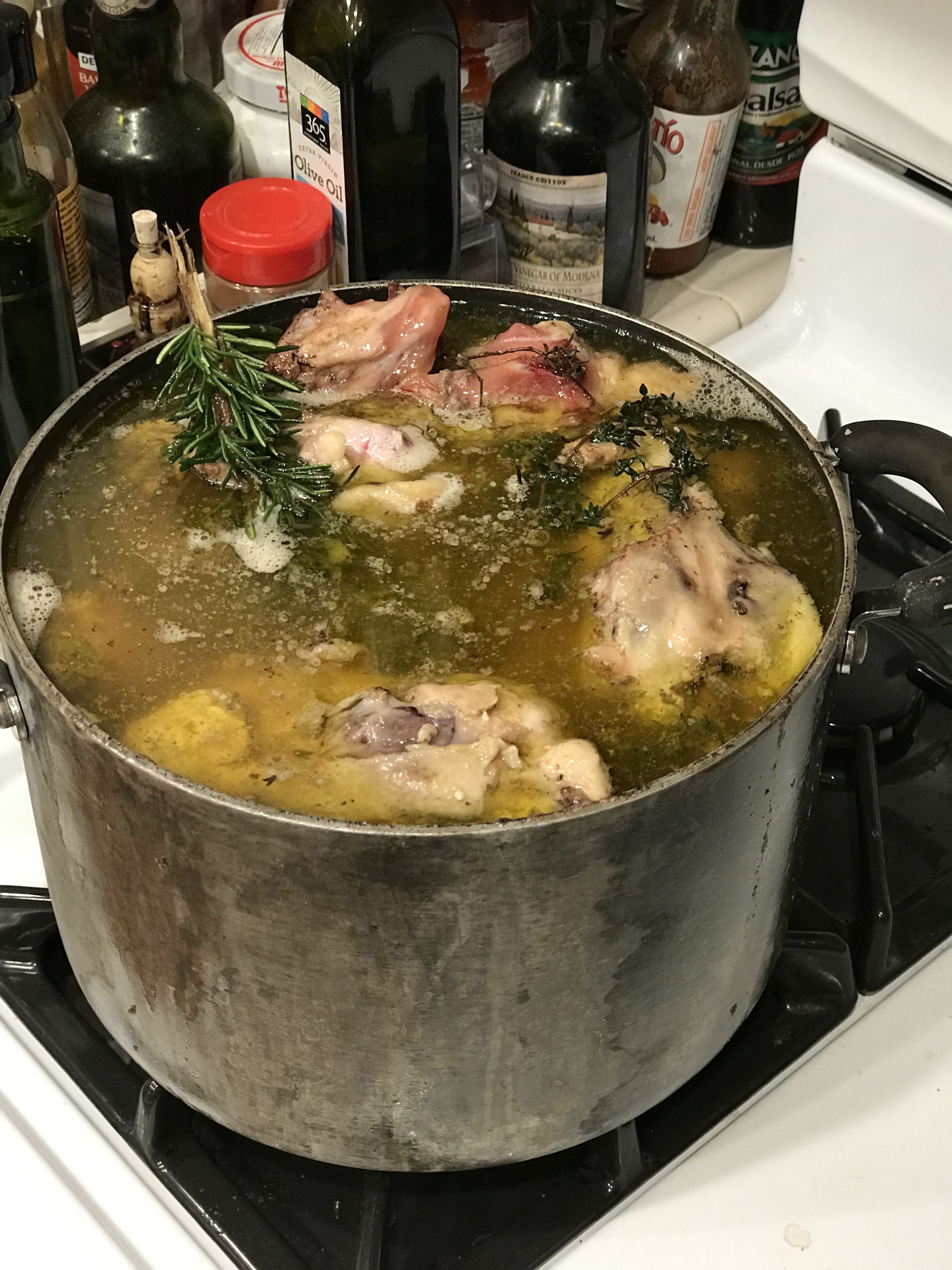 There it is after a few hours. I let this broth bubble on low overnight. I was also hella vigilant about skimming scum off the top, because I was trying to make something really refined.
You can see the necks and spines now. Let me tell you, crunching them up with a wooden spoon to release marrow is one of the most satisfying things you'll ever do.
After the broth was ready (add pepper but NO SALT, this dish is in constant danger of being too salty), I strained it through a loose sieve, then a mesh strainer, and finally a milk nut bag. As I said, I wanted something that felt a little more delicate and refined and the amount of extra work to strain broth is measured in single digit minutes.
The Filling
Next to the filling. I wanted prosciutto to be the centerpiece — that's what traditional tortellini en brodo is stuffed with — but agnolotti are too big for that. It would deliver too much prosciutto at once, which hardly seems possible, but is. I decided to add shreds of four different mushrooms (shitake, hen of the woods, crimini, portobello), spinach, and a little parsley.
You can see my ratios below. Those are insanely thicccccck slices of prosciutto that they sell at the butcher as "ends and corners" for a discount. You can see them in the ingredient pic and should definitely ask about them because they are about 50% cheaper and it's the exact same product.
Here's the bit where Zach threatens to take my Italian card or some bullshit (can he do that? On what authority? Does he even know that I SPENT THE SUMMER IN ITALY STUDYING TORTELLINI!): Rather than add the blended mix raw, as is traditional, I braised it in white wine for a few minutes. I did this because the dish is unctuous to the extreme and I needed some wine to cut that and also because I don't like raw mushrooms and the few minutes that agnolotti cook wouldn't have left them done enough, in my opinion.
Here's our mix after being blended, tossed in a hot pan with Game of Thrones wine, refrigerated to get it back to room temp, and mixed with a hearty handful of Parmigiano-Reggiano to bind it together.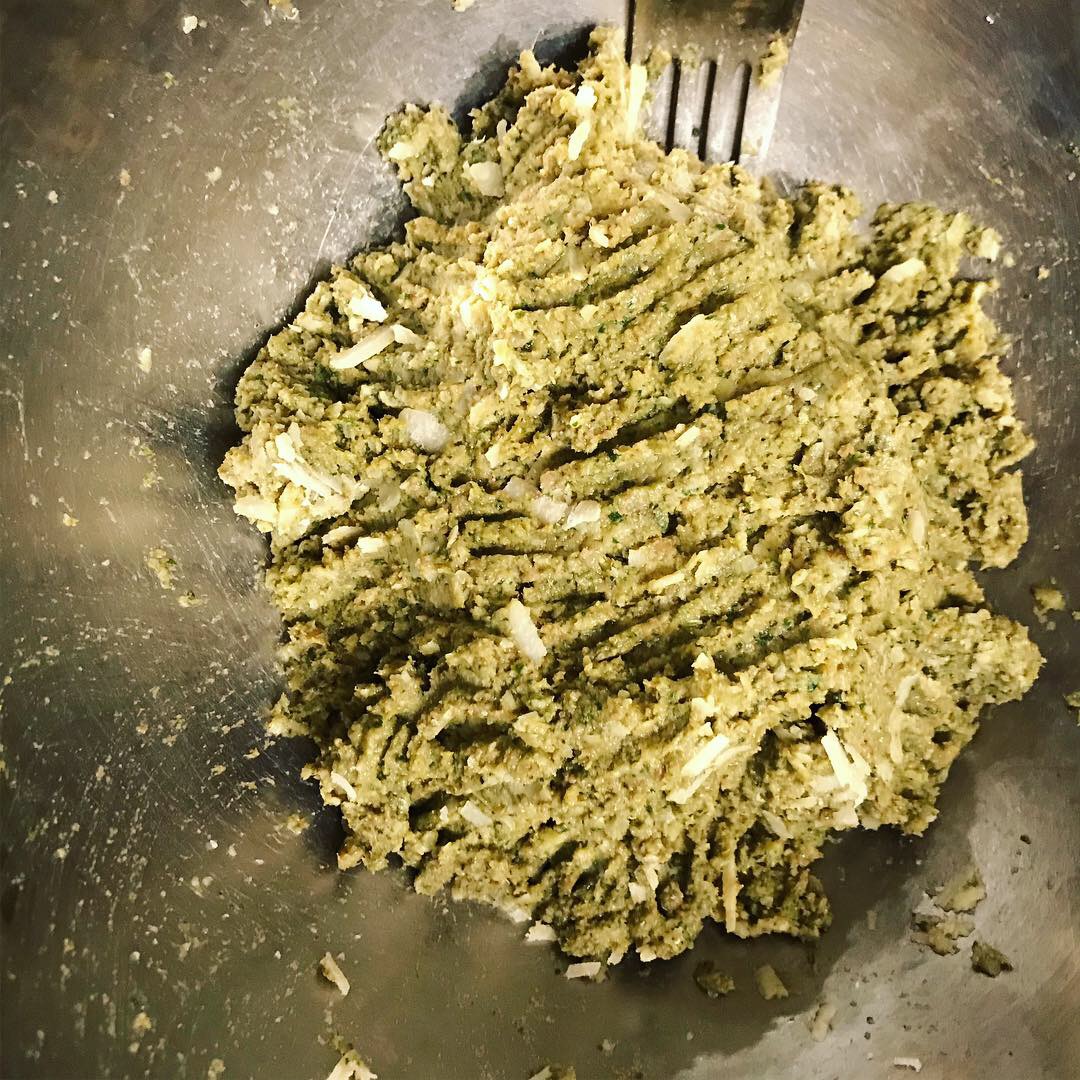 The Agnolotti
To the pasta! We're running long, so I'll spare those pics, but note that this is an all egg and flour pasta (five parts 00 and one part semolina). There's no water or oil added. After working it and resting it, I rolled out sheets.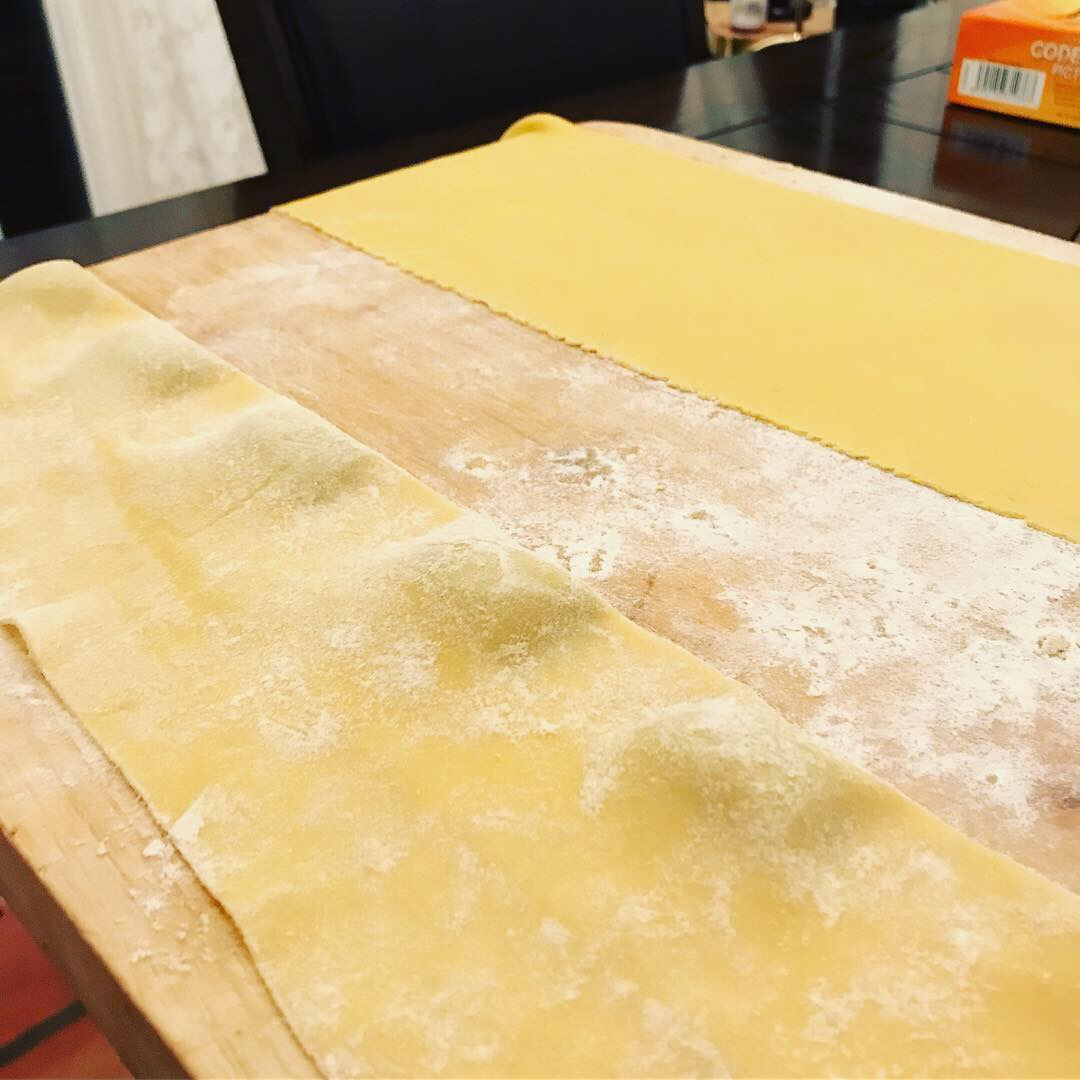 Agnolotti is a simple fold over pasta. You can see that step here, with the stuffing inside. I cut them up and let them Netflix and chill a little.
Brodo (Part 2)
At this point, I went back to the broth. I got it boiling again and added the parmesan rinds you see in the ingredients pic. A few minutes later, I also added fresh carrots, celery, parsley stems, and onions. I didn't want the veggies cooked way down and you don't see veggies added back to a brodo in Modena or Bologna, but I like this idea and I'm sticking with it.
I removed the cheese rinds right before I boiled my pasta in the broth, because it would stick to them. At this point, the broth was thick and had a nice little cheese funk, much like Vince's mom.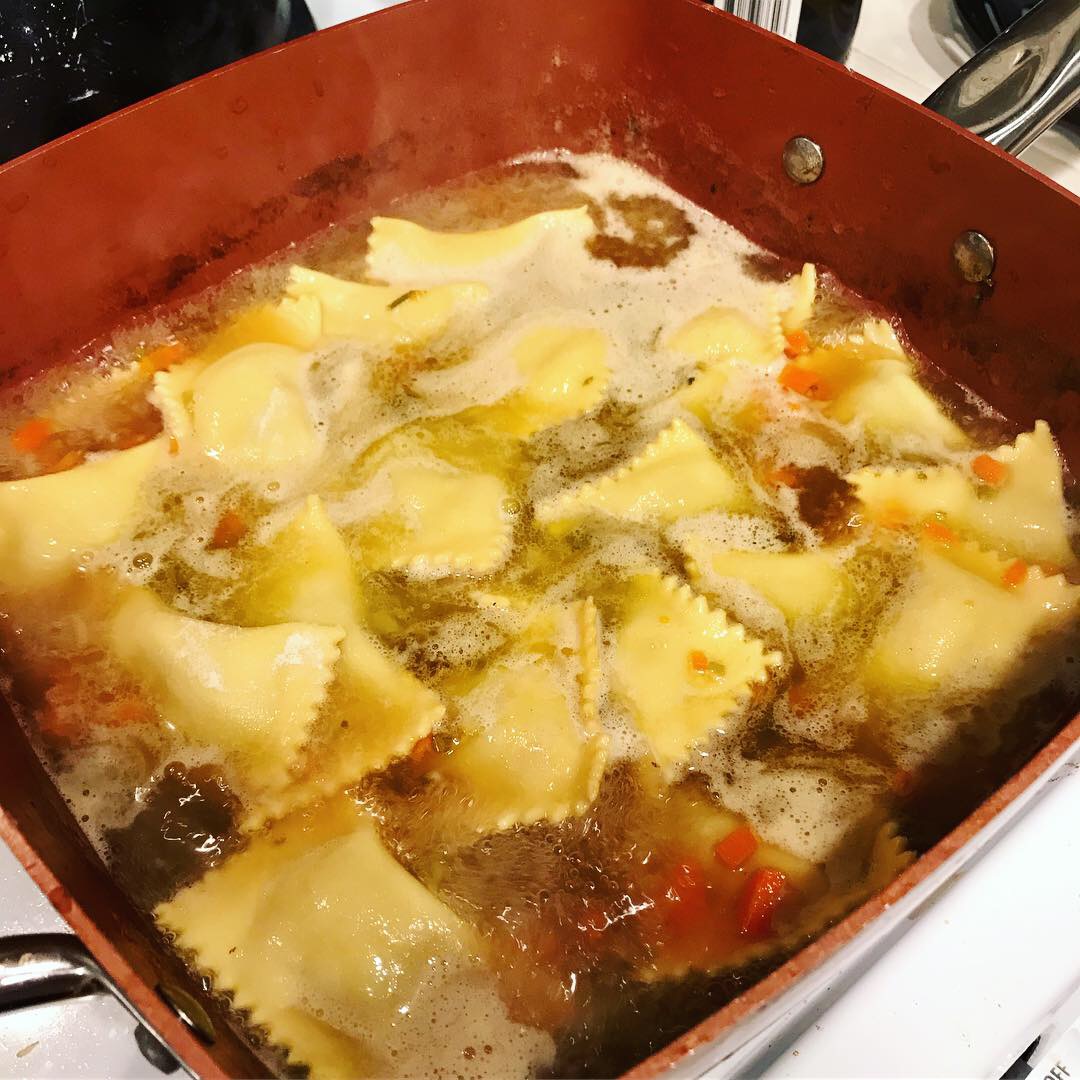 Once the agnolotti were almost done, I fished them out and tossed them in a pan with browned butter, white wine, and fresh oregano, just to add a layer (this proved huge, flavor-wise).
Then I recombined everything for plating. Pepper, a few bits of parsley, a cloud of parm and you're out the door. Notice I never added salt to the whole recipe. Even a pinch would have left the dish too salty. It's there in the organic stock that I added to my bones and veg, in the cheese, and in the prosciutto.
I'm going to say something honest and straight up. I promise not to say it often. This is the best meal I've ever cooked. Period. I'm sure Bert, Zach, and Vince will find plenty to roast me on, but for me it was dead solid perfect.
Zach on Steve's Dish:
Ho boy, I'm having a hard time finding fault here without getting super bitchy about little things that, in the end, kinda don't matter. Did you use too many herbs? Maybe. Too many mushrooms? Probably. Chicken feet, again? Of course.
My nitpicks really are little adjusts I'd make to the recipe without taking anything away from what you did. This is more about taking your recipe and looking for a little refinement. It feels like you should really make a consommé of your broth. It needs that crystal clear nature to really shine as a brodo. This is not to say your broth wasn't delicious. But getting that clarity to the broth would take this whole dish up a whole level. Throw in a couple of beat egg whites and let that slow simmer until all the impurities are gone.
My other issue is with the thickness of your pasta dough. It feels a little thick (something, something Vince's mom). My rule with any stuffed pasta is to make the dough as thin as possible to the point you can see your hand on the other side. Overall, there feels like a slight imbalance between the heft of the stuffed pasta and thickness of the brodo. In the end, this is an issue of how delicate and lush the pasta/broth becomes. Maybe a little dialing in here would add that extra rush of wow.
That's all I got.
Vince on Steve's Dish:
Your honor, let the record show that there is clearly a giant sprig of rosemary sticking out of the stock pot that Steve didn't mention in his ingredients, as well as what looks like fresh oregano. How many other unnecessary herbs did you sneak in here without telling us, Steve? He's like an addict now, he tells us he went minimal and traditional because he knows that's we want to hear but he's still out snorting fresh dill and dried pine needles behind the barn when no one's looking and selling the family car for marjoram. Admit you have a problem, Steve! And you added more oregano in the sauteeing step? How much oregano is really in this dish?!
Also, you claim to have "braised the filling in white wine." Did you mean blanched? Isn't a braise long and slow? Because your spinach (which is clearly baby spinach — sustained!) looks completely raw. You said the traditional Italian version is raw, but you also said that the traditional Italian version is made with all prosciutto. Which, obviously a cured meat product wouldn't need additional cooking. Once you add four types of mushrooms and spinach, yeah, you need to cook that shit together (there's the Steve we know and ridicule), because otherwise, it's a raw veg pocket. Instead, it looks like you just blanched them. THESE AGNOLOTTI ARE FILLED WITH LIES!
Your pasta dough looks beautiful, though I agree with Zach, probably a little thiccc. That looks like it would be overly dense. Otherwise, great dish, solid concept, and I especially loved the parmesan rind step. And my grandma was supposedly from Emilia Romagna, she used to make me tortellini in brodo when I was sick. So, you know, thanks for the invite, dick.
Bert on Steve's Dish:
There's one line in here that I connected with more than anything. First of all, there's so much beauty to Steve's dish. But I couldn't believe any of it because he had a line in that I've heard alcoholics say over and over and over again. At the very end, he goes, "And by the way, did I mention I didn't use any salt?" And I was like, "I've said that to my wife … Like, 'By the way, you know I didn't drink last night?'" So, all of a sudden, everything's out the fucking window. I don't believe any of it. I'm like, this is recovery talk. All you think is I don't want to touch any other of his dishes because I bet they are salty as fuck. He just probably got salt in everything and forgot it and was like, "Wait, I forgot salt and it's not that bad! Holy shit! Parmesan rinds do the trick!"
This dish seemed like a fuckin' dish that was gonna make your house smell like dog pussy. It's gonna reek of chicken feet and the fucking stock. Also, when Steve's like, "Smashing those bones with a wooden spoon is the most rewarding thing I've ever done." I thought, "Oh, cool. Dial it back a tad bit, serial killer."
I like him showing off that he has a Vitamix. The pasta, yeah… I love that everyone complained about how thick his pasta was. All I wanted to do is just chime in too, "Yeah, man. Pasta's way too thick." Like, don't know what that means, but yeah. Way too thick pasta. I would definitely make that thinner.
I got lost in this meal because I was like, "Wait, what did we make the stock for? Are we boiling our raviolis in the stock or did we just make stock because we're dating a Vietnamese chick?" I couldn't figure out what the stock was for. And then the white wine shows up with butter and I'm like, "Wait, what the fuck? What do we…? Hang on."
And then he plates it and I'm like "Carrots, where the fuck are the carrots?" I tell you what though, the second plating Steve showed, it was like a before and after pic. It's like that first picture you see of like your wife when it's January 1st and she's like "Okay, I'm doing the 21 Day Fix" and you're like "Okay." She's like, "I want to get a picture of me in a bikini" and you're like "Well, you haven't worn a bikini in like 10 years. I don't know if you want to do a bikini." Then you take another bikini picture after she does the 21 Day Fix and that's Steve last picture where the parmesan's on it and the sprigs of parsley, you're like "Oh, shit. You're looking good." She's like, "Yeah, yeah, yeah, yeah, yeah. I should tell you I'm dating someone else. Bye."

VINCE'S "MEAT AND POTATOES" — PORCHETTA WITH SALSA VERDE AND GNOCCHI WITH MUSHROOM SAUCE
"Italian comfort food" would seem to be right in my wheelhouse, considering "Italian comfort food" is pretty much my default setting when it comes to cooking (and before they yell at me, yes, I should probably make the distinction Italian-American food here, since I've only learned it from family and I don't Summer in the old country like these #FancyBoyz). Trouble is, I've already played all the hits in this competition – ravioli, cacciatore, red sauce gravy, etc. So for one I didn't want to repeat myself, and for two, half the fun of this competition is teaching yourself something new. Excuse my momentary earnestness here, but I absolutely recommend it. Try a friendly food battle with your friends! I've had to teach myself so many new things over the course of this competition just to try to compete with these pricks.
In the interests of not wanting to repeat myself, I heard "comfort food" and thought "meat and potatoes." And what's the Italian meat and potatoes if not porchetta and gnocchi? Have you ever smelled pork roasting with rosemary and garlic? That's about as comforting as it gets, short of heroin (feel free to combine them).
The Meat
For my porchetta I used a trimmed pork belly rolled into a meat log, baked until crispy and then sliced. I basically adapted this recipe, by Michael Pirolo, with a few tweaks, and it essentially has four components: The Brine, The Rub, The Bake, and The Sauce.
The Brine
Ingredients:
4-5 sprigs of rosemary
10 bay leaves
1-2 heads of garlic (smashed)
1/4 cup juniper berries
1.5 tablespoons black peppercorns
1.5 tablespoons fennel pollin
1 teaspoon crushed red pepper
3/4th cup kosher salt
1/8th cup sugar
1 tablespoon honey
I simmered all the ingredients together for about 10 minutes to make sure the brine was fully infused. Added the salt, sugar, and honey at the end. I didn't want to brine it to the point that it would cure, so I took it out after about 15 hours. Charley supervised.
The Rub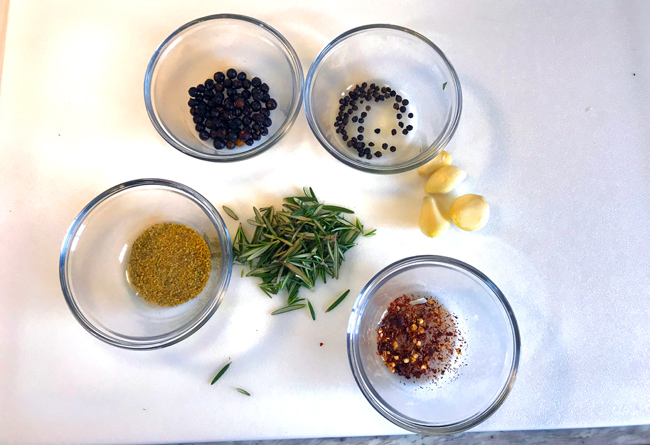 Pretty similar ingredients as the brine
2 tablespoons juniper berries
Tablespoon black peppercorns
Tablespoon fennel pollin
3 sprigs of rosemary
4 garlic cloves
pinch crushed red pepper
pinch of MSG
First I toasted my juniper berries and peppercorns in a pan and then ground them in a spice grinder. Then I smashed and chopped my garlic, minced my rosemary, and mixed everything together. I added some lemon zest because I had a lemon lying around.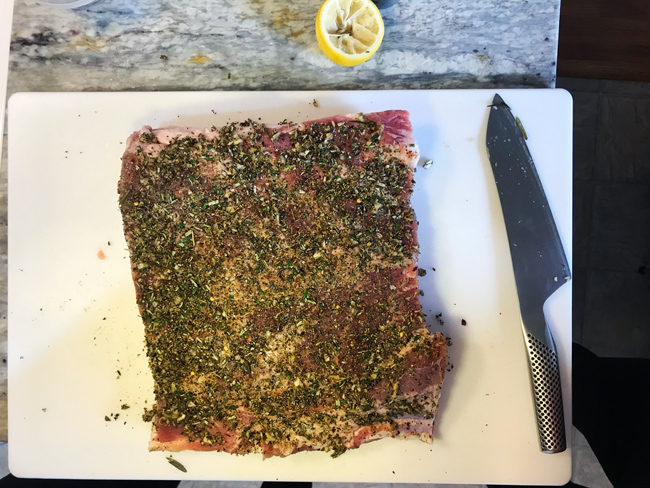 Unroll the meat
Score the fatty side
Rub the lean side
Re-roll, re-tie
Let sit, uncovered until fat dries out and meat reaches room temperature.
The Cook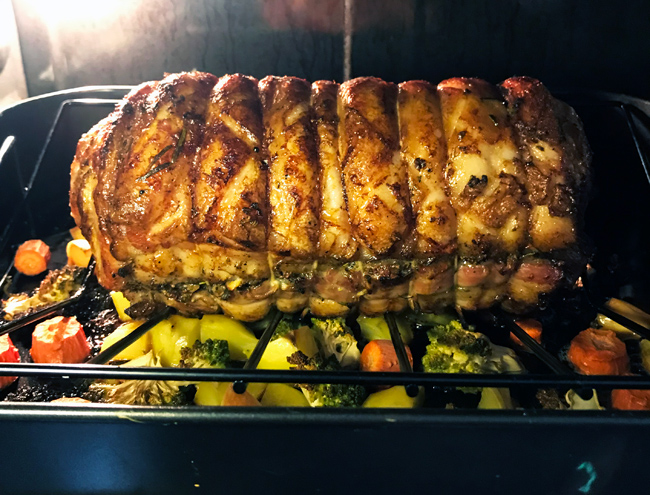 The great thing about pork belly is that it's really fatty so you don't have to worry much about overcooking it. For the most part, it just gets crispier and crispier on the outside and more and more tender in the meat. I aimed for three hours, but I invited people over and just left it in the oven until they showed up and took it out to rest and start the gnocchi. I ended up cooking it about four hours. The first hour at 400 and 325 after that.
I would turn it periodically to make sure it browned evenly on all sides. I also pierced it all over the outer fat layer with a fork after to make sure the fat underneath could escape and render as much as possible and get super crispy on the outside. I brushed and basted periodically. I cut up some carrots, potatoes, and romanesco cauliflower to put underneath — mostly just to have some tasty fat-dripping vegetables to snack on, but I'm sure they also added some nice flavor, especially in the basting juice.
It got reeeeally crunchy on the outside. Mmm.
The Sauce
I watched Jonathan Waxman make this Italian salsa verde at the Aspen Food & Wine festival this year and he was super chill about it. Like "just throw whatever herbs you got hanging around in there" so that's basically what I did.
Chives
Fresh oregano
Sage
Italian Parsley
Garlic cloves
Capers
Juice of half a lemon
Vinegar (I used white wine and sherry, about a tablespoon each)
Olive oil until smooth (at least half a cup)
Salt and pepper to taste (prob a teaspoon of salt)
Pinch of MSG
I just blended them all up in the blender until it was nice and smooth.
The Gnocchi
One rule of thumb making gnocchi, the more flour you use, the denser they are. And the wetter your ingredients are, the more flour you have to use to bind it all. So when I'm making gnocchi I try not to add any more water than absolutely necessary. Which is why I use russet potatoes (gnocchis and french fries are the only time I ever use russet potatoes) and bake them instead of boiling. Just wrap 'em in foil and bake directly on the oven rack for about 90 minutes at 350 degrees.
Four big russet potatoes
Four egg yolks
1 cup 00 flour (partly for flouring the work space)
1/3 cup grated parmesan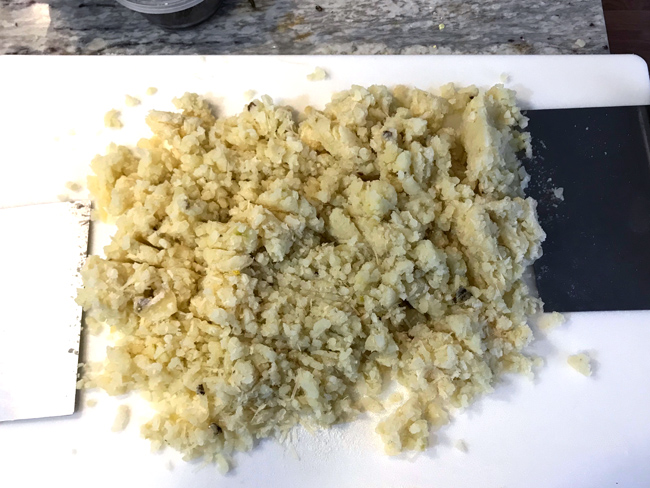 Wait until the potatoes cool, peel them, put them through a potato ricer, and sprinkle with the parmesan. I also add salt and white pepper at this stage. Then I drizzle on the egg yolks, and enough of the flour so that it comes together to make a dough. Season it just short of taste, because the salted water you cook it in will add a little more salt (yes your cooking water should be salty).
It's very important not to over-knead it or overwork the dough, for the same reason you don't use a food processor to make mashed potatoes. They get gummy when overworked. A lot of people use ricotta instead of potato so they don't have to worry about overworking the dough, but first off that's called a gnudi (they had a "gnocchi battle" on Beat Bobby Flay recently and they both used ricotta which pissed me off to no end), and anyway my grandma always used potatoes and I like the taste better anyway, so suck it, Flay. Just don't be a bitch, okay? It's not that hard to not overwork the dough.
Make a big loaf with your dough, then cut off about a two-inch thick slice of it, and roll it against the board like you're making a snake. When it's about the diameter of a thumb or Steve's dick, cut it into little two-inch bites (the length of Steve's dick). They should look like the little pillows I like to make for my dolls so that they can sleep good.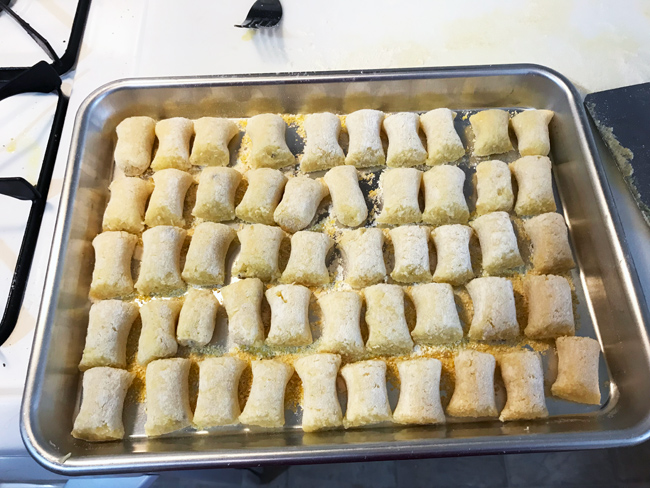 Yes, you could then roll them on a fork or a gnoccheti to add those little ridges, but if you ask me it's not worth the time. Oh, and put a little cornmeal at the bottom of your sheet tray so they don't stick. I've spent hours making and shaping perfect gnocchi before only to have to throw them out when they got stuck to the tray. That's a bad day, dog.
The Cook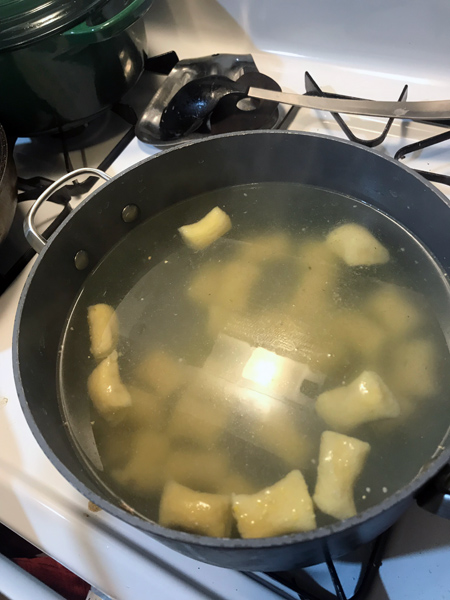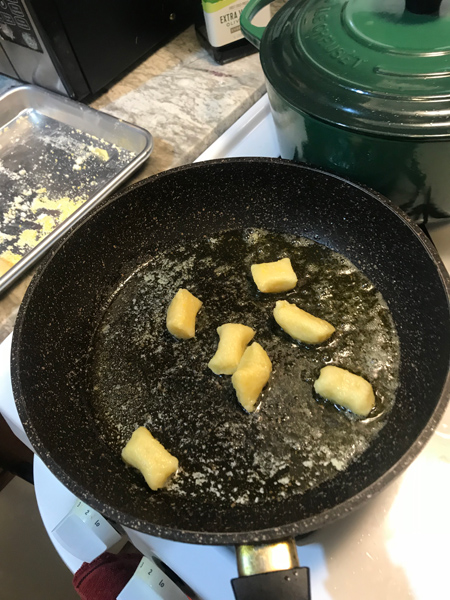 Keep a pot of boiling water (salted — not quite sea water salty, you want it a little less salty than regular pasta water, since pasta dough is usually unsalted) on one burner and a pan on medium low with some melted butter on another. The gnocchis will float to the surface when they're done, at which point you can skim them off with a mesh strainer and add them to your butter pan. Sautee your gnocchi in the butter to add a little texture, and then scoop a little of the cooking water into the butter pan. Cook that a little to make a little butter/gnocchi water reduction sauce. Then add your sauce to that and fold it all together.
Which brings us to…
The Gnocchi Sauce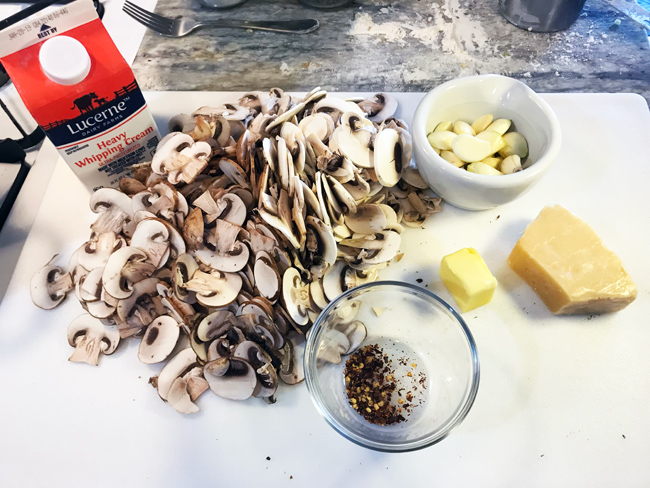 You don't think I'd serve un-sauced gnocchi, do you? (…they're actually pretty good with just the butter reduction, but no). Anyway, it's a very simple sauce.
Butter/Olive oil
1-2 heads of garlic (smashed and chopped)
1 8-ounce pack of white mushrooms, mandolin sliced thin
1 8-ounce pack of crimini mushrooms, mandolin sliced thin
Pinch of black and crushed red pepper
Heavy cream (maybe one cup's worth) and parmesan (call it a palm full)
Salt and MSG to taste
So you get your olive oil and butter going. Melt the butter, and add in your pepper flakes and pepper. Cook until fragrant. Turn the burner down a little and add your garlic. Low and slow for 10-15 until your garlic starts to get golden. Then add in your mushrooms, and mix it all up. Season. It will seem dry at first until the mushrooms release their water. Once they do it will already be pretty saucy, and to that, you just stir in some cream. Let the cream reduce a little. I keep that sauce just warm, and fold it into the gnocchi butter reduction when it's all ready.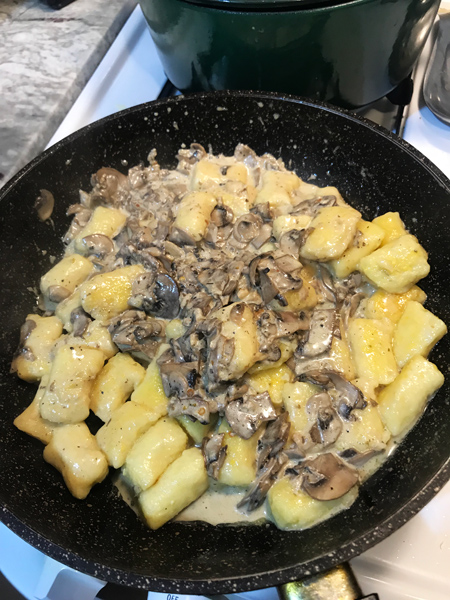 It's Done!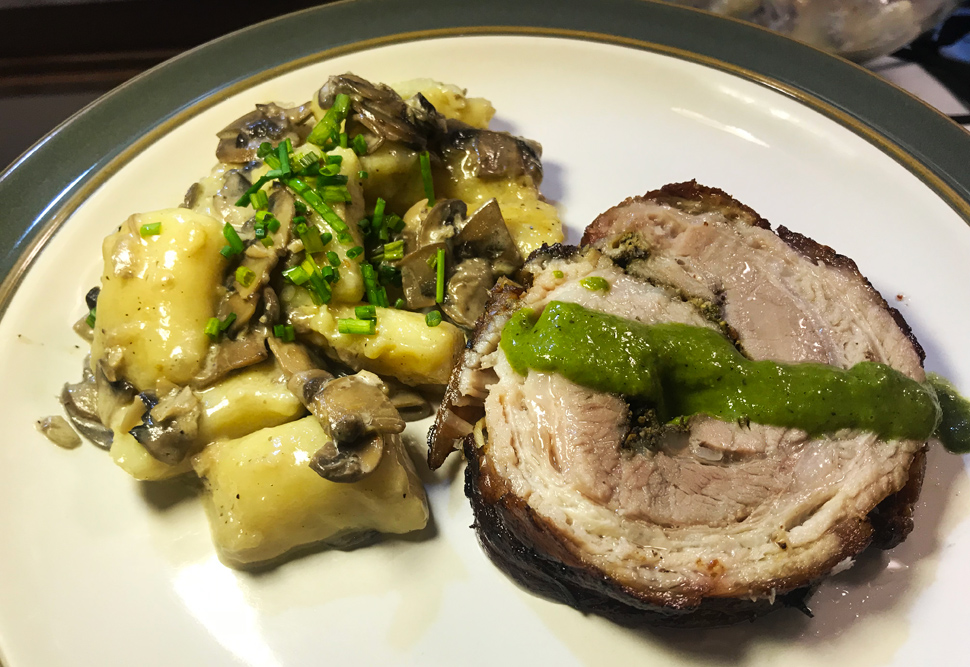 Look, I won't pretend I'm the most artful plater among us, and if I had it to do over again I probably would've put some more salsa verde around the edge there, or maybe made a moat of gnocchi, but I had hungry people in my house and people won't wait long when you can smell a roasting pork belly from three blocks away. And there was a reason I couldn't do it over again — we ate it all. Yep, that entire log of pork and all of the gnocchi. I had zero leftovers, which should tell you something about how good it was.
The pork is like cracklins on the outside and tender marinated pork on the inside. The tangy herbacious green sauce cuts the richness, and all goes great with soft, pillowy gnocchi with earthy, rich mushrooms. Oh, and I garnished with some chives. Is that enough fucking herbs for you this time, Steve?

Steve on Vince's Dish:
First off, the fact that I live an hour down the road and didn't score this invite confirms every microfiction your fans have ever written about us. I'm going to respond like a reasonable adult — by hiding your articles on the site and adding weird errors and confessions into them. Should be fun for all.
Well, Vince, here's my take: Just like your ex-lovers say, you did a great job handling your meat but didn't know what to do with the smooth, silky parts. In this case, I'm talking about that dreaded mushroom sauce — which really has no place in this dish and certainly doesn't add to it. Also, you cut mushrooms like a hospital cafeteria line cook. You might have bought those shits pre-sliced even. Who wants those slabs on their plate? Break them up, mix and match mushroom styles, blend a few with broth to make the sauce more thoroughly mushroomy. Really anything would do.
Honestly, if you had left well enough alone, it would have been hard to beat your meat. It looks so juicy and rich, I think I speak for us all when I say: I would have loved to gobble it up. But then you did the gnocchi, which probably could have been merged, but I'm not sure how, and then the mushroom sauce fucked up your equation.
That green sauce looks fun, though. It seems like the perfect counterbalance for rich pork belly. And I am hugely in favor of all the herbs. Just needed some thought behind the gnocchi. You'll get to think about it a lot soon, because it's one of the many random words I'll add to your articles as an act of revenge.
Zach on Vince's Dish:
My biggest complaint is the dirty dishwater look of the meat. I'm not doubting it was good, mind you. But, man, if you had just added some pink salt (Prague salt or whatever people want to call it), that meat would have had a beautiful color to it and a little more depth of flavor. Instead, it looks just like the grey meat you'd get in a Russian cafeteria in 1952. Part of the beauty of Italian cooking is, well, beauty.
Salsa verde, eh? Looks a lot like an Italian chimichurri to me. Get out of here with your Fresno green sauce names! This is pedantic, I know. But goddamn it! The name just throws me off. Is this supposed to be a Southwest Italian fusion sort of thing? I know it's not because it's clear in the ingredients that your chimichurri has nothing to do with salsa verde. Looks tasty though.
Lastly, the mushroom sauce feels like going for a two-point conversion on the last play of the Super Bowl when you're already up by 17. Then fumbling and the other team running it back for a touchdown — like, you haven't lost the game, you just look silly. My two cents, use the fat from your roasting pan to toss (maybe even brown) those gnocchi and tie this whole plate together! Not saying the mushroom sauce doesn't look creamy and delicious (like your mom last night). It just feels like a missed chance to bring everything into a single thought based around your meat log.
Bert on Vince's Dish:
Now, to the meal that got me the hardest, and, dude, this speaks to my bro-mouth-breathing, window-licking self, but it was Vince's "meat and potatoes." I love how he corrects you guys. He's like, "I'm sorry. When I think comfort food, I'm thinking meat and potatoes." And you and Steve are like, "Easy, we get it. We get it." When we say we're going out dancing, we're not really going out dancing. We're just going to a club where girls are at.
That fucking dish is something I will make. Porchetta, Oh, my God! I was like, "Uh, looks legit." I was going through this thing going, "yeah, yeah, I'm not brining anything. I'm just gonna fuckin' cover it with salt." I look at Vince's brine and I was like fuuuuck, we're not just gonna cook it. I wanted to make this for Something's Burning but there's no payoff. I'm gonna just be like, "oh, yeah guys, four hours ago I showed up here and started making a porchetta. It's in the oven. Hey, real quick, let's make gnocchi."
It was a beautiful dish, though. I love him taking pictures of all the brine. The fucking dog is in the picture and he was like "Charlie supervised". I'm like, "Who the fuck is Charlie?" The whole time I'm like, "how come you're not mentioning Charlie again?" Was Charlie cocaine? Was he cooking while he was on cocaine? And then I cut back and I see two white eyes and I go, "Oh, it's your Goddamn dog." Be clear with your words, motherfucker!
Dude, I love that it's almost like he double talks. "One rule of thumb of baking is the more flour you use, the denser they are. And the lighter your ingredients are, the more flour you have to use to bind it together." I'm like, just say what you mean to say. I mean, Vince is the most double talking motherfucker. "One rule is the more flour you use the tighter they are. But if you use less flour, then you're gonna need more flour." Fuckin' what? I had no idea what he's trying to tell me.
I do want to make this and I gotta give him props for talking about someone's dick. The diameter of Steve's dick — that was fucking hilarious and made me laugh out loud, followed by "they should look like pillows if you want it just like Steve's dick." That was a great one.
Yeah, that was a fuckin' really interesting dish though. I can make that for my kids. I had no idea they had an Italian salsa verde.