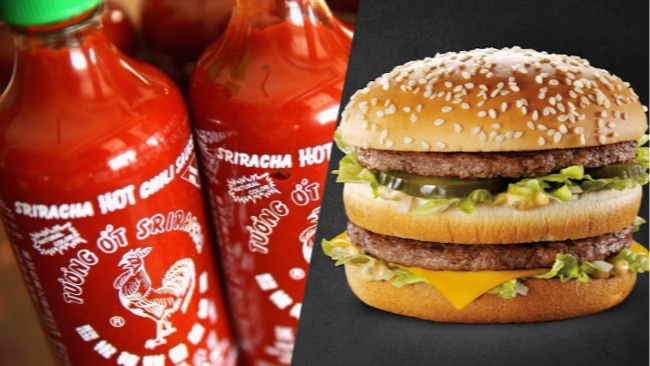 The age of the Sriracha enhanced Big Mac is at hand! Well, it could be, but the pressure appears to be on San Diego to embrace this new fast food offering first.
DiscoverSD reports that McDonald's is giving some new sauces an audition at participating locations in San Diego County. The star attraction is a Sriracha and Big Mac special sauce. "The new flavor of sauce is made with white cheddar, kale, spinach, crispy onions, tomato and a secret blend of Sriracha and traditional Big Mac sauce," notes the California outlet. It's not the only sauce being trotted out in this Golden Arches experiment. Pico Guacamole and Maple Bacon Dijon are also being offered as the fast food chain looks to present their signature crafted menu options as a way to make their menu more versatile.
Could this sauce boost be rolling out nationwide? Possibly. McDonald's has been awfully bullish on trying out new options (see: garlic fries, fresh beef patties, "cleaner" McNuggets) and has seen sales bounce back in a big way thanks to a bit of experimentation. If San Diego County goes buckwild for these new sauces, it stands to reason that they might creep their way into other parts of the country. If not, we just have to sneak in our own Sriracha.
(via DiscoverSD)