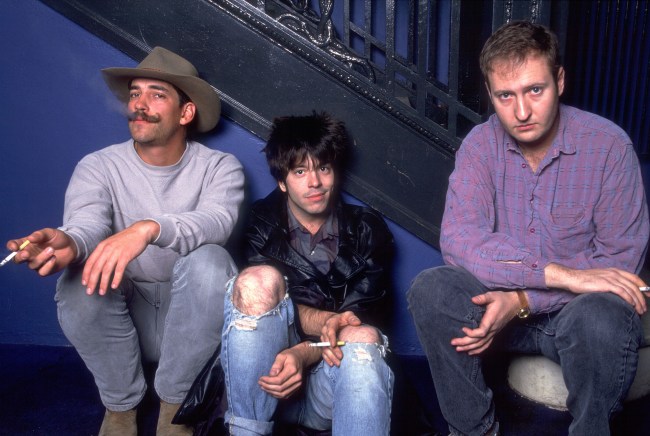 Let's say The Beatles were to announce they're reuniting tomorrow, and going on tour next year. Would you see them? Of course you would, they're the goddamn Beatles. Except not really. They're Paul McCartney and Ringo Starr, and two guys or girls filling in for John Lennon and George Harrison.
It's not the same.
There are very few retired bands where a) all the original members are still alive, and b) you'd actually want to see them live. Oasis could get the gang back together, but do you really want to hear Noel dispassionately slur his way through "Don't Look Back in Anger?" Meanwhile, as anyone who's recently seen him live knows, Bob Mould is still as full of punk-rock piss and vinegar as he was 30 years ago, when Hüsker Dü released New Day Rising. Unfortunately, Mould, Grant Hart, and Greg Norton called it quits a few years later, and have barely spoken to each other since.
The Dü has always been my dream reunion, to the point where I'd even be willing to visit the Hoth-like tundra known as Minnesota in the winter to see the hardcore legends, so I'm cautiously optimistic by this bit of news.
"Just 30 years in the making," bassist Greg Norton quipped of the Official Hüsker Dü Merchandise page, which debuted over the weekend. It's the first real bit of new Hüsker Dü business the three band members have agreed to since Warner Bros. issued the post-breakup album The Living End. And it sounds like it won't be the last. (Via Star Tribune)
Yeah, it's just a dumb website, a way for the boys to make a few bucks selling shirts. But between that dumb website, an impending official Facebook page, and "Pink Turns to Blue" being licensed for an episode of AMC's Halt and Catch Fire last season, it means Hüsker Dü is talking, which seemed like an impossibility a few years ago. As for an honest-to-god reunion, Norton said, "There are more moving parts than we'd like to deal with," referring to legal issues with record label SST, "but we'll see what happens."
Still further along than The Smiths.
(Via Star Tribune)