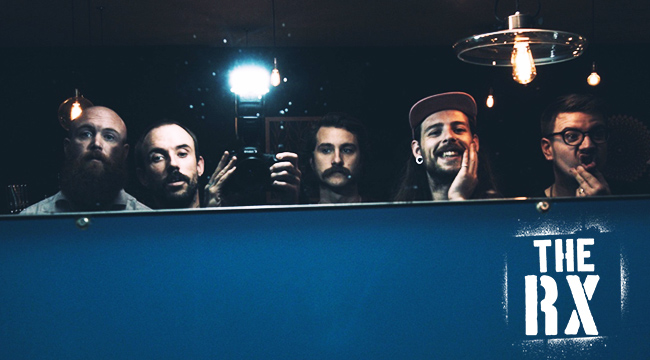 The RX is Uproxx Music's stamp of approval for the best albums, songs, and music stories throughout the year. Inclusion in this category is the highest distinction we can bestow, and signals the most important music being released throughout the year. The RX is the music you need, right now.
Over the weekend, Nike unveiled their 30th-anniversary ad campaign for Just Do It with Colin Kaepernick at the center. It's a powerful image of his unmistakable face staring straight at the viewer, with the caption refusing to mince words: "Believe in something. Even if it means sacrificing everything."
Interestingly, early reports are that Nike's stock took a big hit as extreme conservatives around the country started burning their shoes and cutting the swoosh off of their socks. But as our own Steve Bramucci points out, the move was not made by Nike without careful market research, centering around the idea that being on the right side of history — or endearing themselves to athletes — is a better longterm strategy than trying to appease everyone. But even so, the sacrifice and risk on Nike's part is real and observable, just not to the extent of their latest corporate avatar.
In the music world, it can't be undersold what a privilege artists, critics, and just about everyone involved has to speak their mind. While there are examples of artists who have been unjustly blackballed for their political opinions (like the Dixie Chicks, for instance), for the most part it is viewed as an attribute to be outspoken, to stand up against injustice, and to make your beliefs a central part of the platform you are given. Over the last couple years, it's generally more surprising when an artist doesn't get political (see: Taylor Swift) than if they do, with ideas like "virtue signaling" coming into play when someone's wokeness feels too performative or calculated.
This is the world that Bristol post-punk sensations Idles are existing in just as their career takes off. The band's beliefs and stances are central to their character, a line in the sand that they are willing to use to separate an "us" versus a "them." You could say it's all right there in the title of their new album, Joy As An Act Of Resistance, but if you want to take a step further, it is really all there in their personal statement that precedes the record. Just the idea of a brief preceding an album is about as self-serious as it gets, but it also puts the band in line with a tradition, with artists like Liturgy and Savages as recent examples of artists who felt the need to put their own work into context.
But Idles' statement is interesting in that it covers the flip side of their message and politics. The politics are there, of course, specifically in a line that seems in step with the Nike ad: "It is that bravery to freely express yourself that so terrifies the tyrants." But mostly the emphasis is on the "joy" in the album title, with words like "smile" and "ecstasy" leaping off the page as terms you do not generally associate with activism.
And listening to the album without this context, a little more passively than it is perhaps intended, puts the focus on the rambunctiousness of it all. The songs reek of a spilled car beer that's been left in the sun all day, like the furniture of smoker who never leaves the house. Titles like "Never Fight A Man With A Perm" are matched by references to wrestler Ted Dibiase and daredevil Evil Kenevil, punctuated with enough communal "yeah yeah yeahs" that raised fists and continual stage divers aren't just implied, they're required. This is music imbued with a sometimes sly, sometimes blunt sense of humor, with explicit moments of fun that don't lose sight of the fact that the songs can tackle serious subjects while still being a pleasure to both listen to and perform.
Sonically, Idles isn't breaking new ground or really even reimagining old ground. But it's worth noting how this brand of post-punk can continually resurface with freshness. Maybe it is the earnestness in the delivery that sells it so perfectly, the band perform so convincingly, like they're the first group to ever pick up guitars. By opener "Colossus," a different recent post-punk sensation, Savages, is evoked. A couple songs later, they're a looser Protomartyr. The fact that some of the best post-punk outfits in recent memory immediately surface as analogs prove just how dialed in Idles are. In a genre where it's very easy to fade into the wallpaper, Idles make everything old sound new again.
Of course, it is Idles' convictions that give the band's ferocious barks a greater significance. One of the album's biggest lager tossing anthems is "Danny Nedelko," a song that deserves its own dedicated circle pit. But it proudly doubles as a pro-immigration pile driver, preaching "unity" as frontperson Joe Talbot lists off his brothers, sisters, and friends from various corners of the world. Calling the song subtle doesn't quite fit the in-your-face nature of the delivery, but it is layered and dynamic. And that's where Idles thrive, when their songs are many things at once, captivating on both a purely visceral level and on an intellectual one.
Talbot also explains in his band's pre-album statement the pain he was dealing with as the album was being created, as he and his partner lost a young daughter. This detail is what makes Joy As An Act Of Resistance such a rousing success, showcasing the ability to go beyond an unthinkable personal pain and instead create art that manages to both seek reform in the world and be a beacon of light in the darkness. There are many bands that are good at just one of these things, but Idles' ability to satisfy both of these goals is a rarity. Forget losing everything for what you believe in, Talbot has already lost it. But to still believe in something after that, and to put a concept like "joy" in the center of your art, takes what is already one of the great rock efforts of the year and makes it something truly special.
Joy As An Act Of Resistance is out now on Partisan Records. Buy it here.