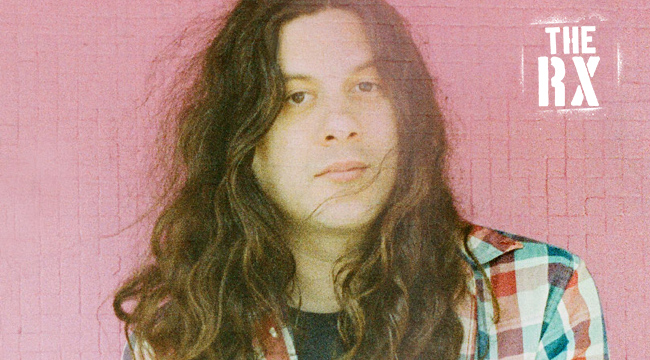 The RX is Uproxx Music's stamp of approval for the best albums, songs, and music stories throughout the year. Inclusion in this category is the highest distinction we can bestow, and signals the most important music being released throughout the year. The RX is the music you need, right now.
The thing that people always seem to get wrong about Kurt Vile — even now that he's a legacy artist about to put out his seventh album — is identifying him as a slacker. Pull up any interview or review from the past 10 years and the "s-word" will usually emerge lazily from a cloud of pot smoke. But the lanky and longhaired 38-year-old Philadelphian, for all of his externalized chill, is the opposite of a layabout. In fact, he never seems to stop working.
On October 12, Vile will release Bottle It In, his first solo record in three years. Though it comes almost exactly one year after Lotta Sea Lice, his winningly casual collaborative LP with fellow frequently mislabeled slacker Courtney Barnett. Vile recorded Bottle It In whenever he had breaks from tours and other professional obligations. Actually, it's kind of difficult to chart the album's gestation period, as Vile was also busy working on several other, as-yet-unreleased projects. He says there's a whole other album's worth of material still in the can. And there's an EP recorded in Nashville that's the purest expression yet of Vile's long-held love of country music. Apparently, Kurt even did some sessions with Dean Ween earlier this year that have yet to see the light of day.
For Vile, Bottle It In marks a return of sorts to his pre-indie fame days in the '00s, when he was just an eccentric singer-songwriter obsessively recording conversational, tragicomic psych-folk songs and distributing them by hand around Philly via homemade CD-Rs. Unlike the self-conscious sprawl of 2015's b'lieve i'm goin down, which Vile spent nearly two years shaping during tequila-soaked sessions in various cities, Bottle It In is the product of an unstructured creative explosion that wasn't necessarily directed at any single release. The idea was to follow his muse wherever it took him, and then cherrypick the songs that best fit together from a growing stockpile of material.
"My friend Mary Lattimore, who plays harp — she's from Philly, she plays on Bottle It In, on the title track, it's the most beautiful thing I've ever heard her do — she would say things like, 'So, is this the last session for the album?' I'm like, 'I don't record like that,'" Vile tells me during a recent phone call, breaking up his meandering anecdote with asides tossed off like winding guitar solos. "I just know I go in and out of studios, and somewhere in there is the record."
The result is an album that feels like a compendium of Vile's career up to this point, with compact, airy guitar jams like "Loading Zones" and "Yeah Bones" sharing space alongside the lysergic Americana of "Come Again," the stoner rock of "Check Baby," a surprisingly faithful cover of Charlie Rich's '70s pop-country favorite "Rollin' With The Flow," and several long, hypnotic songs that stretch towards the 10-minute mark. The best of these numbers, "Bassackwards," spotlights Vile's indelible mix of loopy humor and deep melancholy, floating through a series of dream-like scenarios in which the protagonist can't quite get a grip on his raging wanderlust.
"I was on the beach but / I was thinking about the bay / got to the bay but / by then I was far away," Vile drawls over a draggy, hypnotic beat and backward-recorded guitar blips. "I was on the ground but / looking straight into the sun / but the sun went down."
Much of Bottle It In operates on this subconscious, intensely introspective level, with seemingly disconnected lines and references gradually revealing their shared resonance over several listens. Sometimes, the meanings buried in Bottle It In surprised even Vile. For instance, when I pointed out that "Check Baby" appears to quote Wreckx-N-Effect's 1992 hit "Rump Shaker" — "check baby, check baby, one two three" — Vile registered genuine bemused surprise.
"I can't get sued for 'check baby, one, two, three,'" he jokes. "I went to Pen Wood High School outside of Philly, and on the bus they'd be playing that stuff. I'm still nostalgic about '90s hip-hop in particular, so maybe I heard that on the bus or something."
When Kurt Vile first broke out nationally in 2008 with Constant Hitmaker, a cheekily titled compilation of his best mid-'00s CD-R tracks, he seemed like the ultimate underdog — a true-blue, working-class songwriter and guitarist who found common ground in the shaggy-dog sonics of Neil Young and Pavement, making him instantly stand out amid a field of brainy, arty, well-heeled indie rockers. Ten years later, Vile is no less of an iconoclast, even as the indie world around him has changed radically, with Brooklyn-bred freak-folk giving way to ostensibly "underground" homages to maximalist Top 40 pop.
And yet Vile has maintained his unique place by disregarding the outside world and cultivating his own indelible aesthetic. Few artists have been able to update the signifiers of '60s and '70s guitar-based music as memorably or distinctively as Vile. For an emerging corps of indie-rock auteurs, Vile might as well be classic rock now. Among the budding stars that have emerged from the Bandcamp Generation this decade — from Car Seat Headrest to Alex G to Snail Mail — Vile remains an essential touchstone.
Lindsey Jordan, the 19-year-old Snail Mail frontwoman whose debut, Lush, is among 2018's most acclaimed indie releases, has frequently cited Vile as one of her primary influences, singling out 2011's masterful Smoke Ring For My Halo as particularly formative. "Everyone told me Smoke Ring was amazing, so I checked it out and loved it. The guitar playing, the lyrics — everything," she said. "His style of songwriting is distinct and has always been really exciting to me."
For Vile, the secret to longevity has always been traveling. As it is for numerous touring musicians, forward motion remains a powerful source of inspiration.
"I travel for work anyway, so if I'm out somewhere, you can sit in your hotel room, which sometimes you need to do, but you don't have to get as much rest as you think," he says. "If you're out there playing music, you might as well go into the studio."
As he bounced from one recording session to the next, Vile managed to hook up with some familiar compatriots, including producers Peter Katis and Rob Schnapf, both of whom worked on b'lieve. He also met Shawn Everett, an extremely busy engineer of late who notably worked with Vile's old friend and former bandmate Adam Granduciel on the most recent The War On Drugs record, A Deeper Understanding.
Other times, Vile sought creative stimulation in less obvious places. At the end of one particular mixing session in California, Vile met up with his wife and two young children, and lit out for a road trip through the southwest that eventually wound up at Willie Nelson's ranch, "an amazing experience," Vile enthuses. Along the way, the family stopped in Marfa, Texas, where Vile picked up a CD that profoundly inspired him: Juarez by literate cult country artist Terry Allen.
"It's a masterpiece from the '70s," he says. "There's things like that to inspire you along the way, and it's just one small example. Your mind is forced to nourish it, it just makes you move."
During our conversation, Vile listed a virtual syllabus of books he's read lately about the history of country music, including Peter Guralnick's Lost Highway, Jimmy McDonough's Tammy Wynette: Tragic Country Queen, and Waylon Jennings' autobiography Waylon. Though the idea to cover Charlie Rich ultimately came from J. Mascis of Dinosaur Jr., Vile says. Incredibly, "Goin' With The Flow" — with its chill-dude title and easygoing delivery — fit perfectly in Vile's wheelhouse.
"I got a cheap, used CD copy of Charlie Rich's Greatest Hits, and that song was on there," he says. "There's elements of it that are very cosmopolitan and extra cheesy — there's these girls singing in the background and some extra soupy, sappy strings. But it's still cool."
While Vile suggests that his unreleased Nashville tracks take him even deeper into twangy territory, Bottle It In echoes the less reverent folk and blues elements of Vile's past work, twisting and subverting roots music in strange and unexpected directions, like the squall of noise that eventually envelops the banjo-accented mountain music of "Come Again."
For me, the heart of the record lies with the long, meandering tracks, like "Bassackwards," the stark "Skinny Mini," and the title track, which feel alive and extemporaneous in the way that all the best road trips do. "Some people don't really have that in their brain, that you can play one chord infinite different ways," he says. But Vile is still excited about exploring those lost highways, whether it's in his music or behind the wheel.
Bottle It In is out on October 12 on Matador Records. Pre-order it here.