For nearly a year, rumors have circulated online alleging that Normani and DK Metcalf were an item. But now, thanks to the "Candy Paint" singer's latest posts in her Instagram Stories, it has finally been confirmed. Normani posted a photo of the Seattle Seahawks wide receiver planting a soft kiss on her cheek as she brightly smiles while embracing his arm.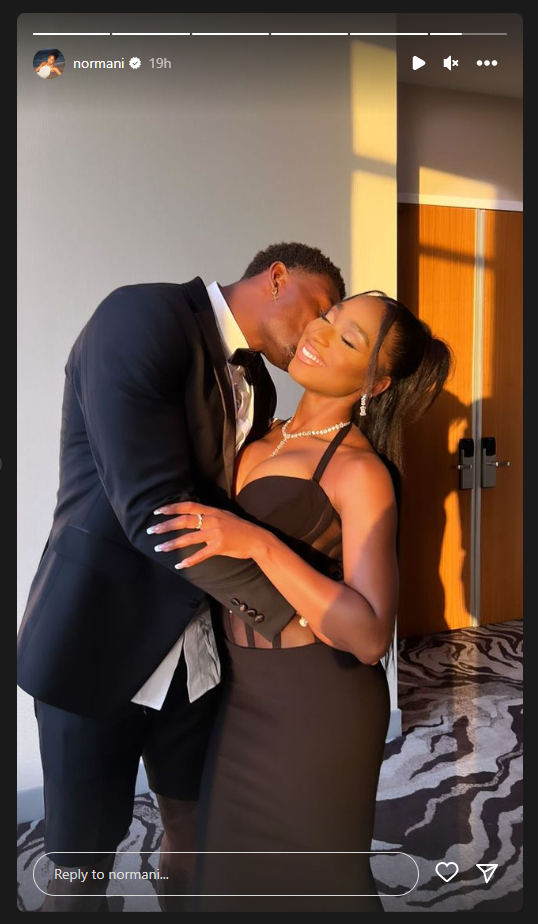 Initially, when the pair were spotted on a romantic dinner out in Santa Monica, fans were not too thrilled. Now it seems that the tides have turned, with people on social media having an overwhelmingly positive response to the news.
One person wrote, "Oh, I'm so happy for her! 😍 Normani deserves some joy in her personal life. It's been a rough few years."
Another added, "This is absolutely no shade — but I've been saying for over a year now that Normani would be an excellent football or basketball wife 🤷🏿‍♂️."
"The hate in these comments? Bruh," another wrote. "Music career can't hold you at night, aye. I think we all want more from Normani, but demanding your fav creatives to create on YOUR time never works. One has to be inspired to create great shit. Maybe let her be loved so she can finally deliver."
"The Ciara prayer looks STRONG in this… hoping for long-term success," wrote yet another, referring to Ciara and Russell Wilson.